Detailed Information About Swing Sets
Nov 30th 2022
Swings are one of the most popular backyard features for kids (and adults) of all ages. They allow us to relive those childhood memories while also giving our kids a chance to create their own. Nowadays, there are different types of swing sets on the market. Some come with slides, monkey bars, ladders, and more. But with so many options available, it can be tough to decide which is right for your family.
However, finding the perfect set doesn't have to be hard. With a little bit of knowhow, you can avoid wasting money on a set that doesn't suit your kids. Instead, you'll have one that is sturdy, fun, and just right for your space. So, before making a final decision let's explore some key things you'll need to consider.
What is the best type of swing set?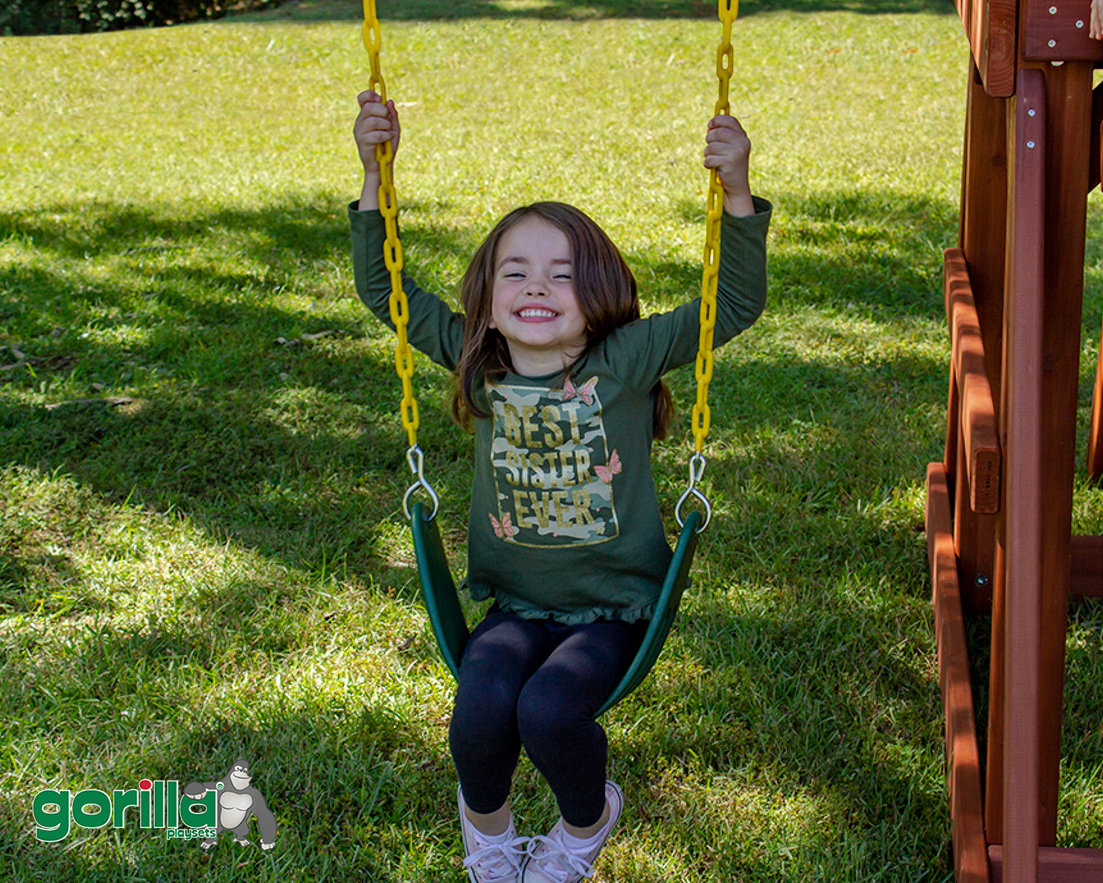 The best type of playset depends on several factors including the age and abilities of your children, the amount of space you have in your backyard, and your budget. You want to get a swing set that is made from ethically sourced, high-quality materials. The last thing you want is for your swing set to fall apart after a few years of use. Here at Gorilla Playsets, we offer a wide range of swing sets that are sure to meet your needs and exceed your expectations. We have something for everyone, from simple and affordable swing sets to luxurious and feature-packed models. Gorilla Playsets have been manufacturing high-quality swing sets for over 25 years. We're dedicated to providing families with the best possible products and customer service, and we're proud to be one of the leading swing set manufacturers in the country.
Our swing sets are made from the highest quality, ethically sourced lumber from certified forests. This lumber is pressure treated to resist rot and insect damage, and it is also splinter-free for your child's safety. We offer a wide variety of swing set models, including ones with slides, monkey bars, sandboxes, telescopes, rock walls, and more. We also have several accessories that you can add to your swing set to customize it to your child's needs and interests. If you're not sure which swing set is right for you, our team of experts would be more than happy to help you find the perfect model. We can also provide you with on-request installation services to ensure that your swing set is installed correctly for the safety of your family.
What do I need to know before buying a swing set?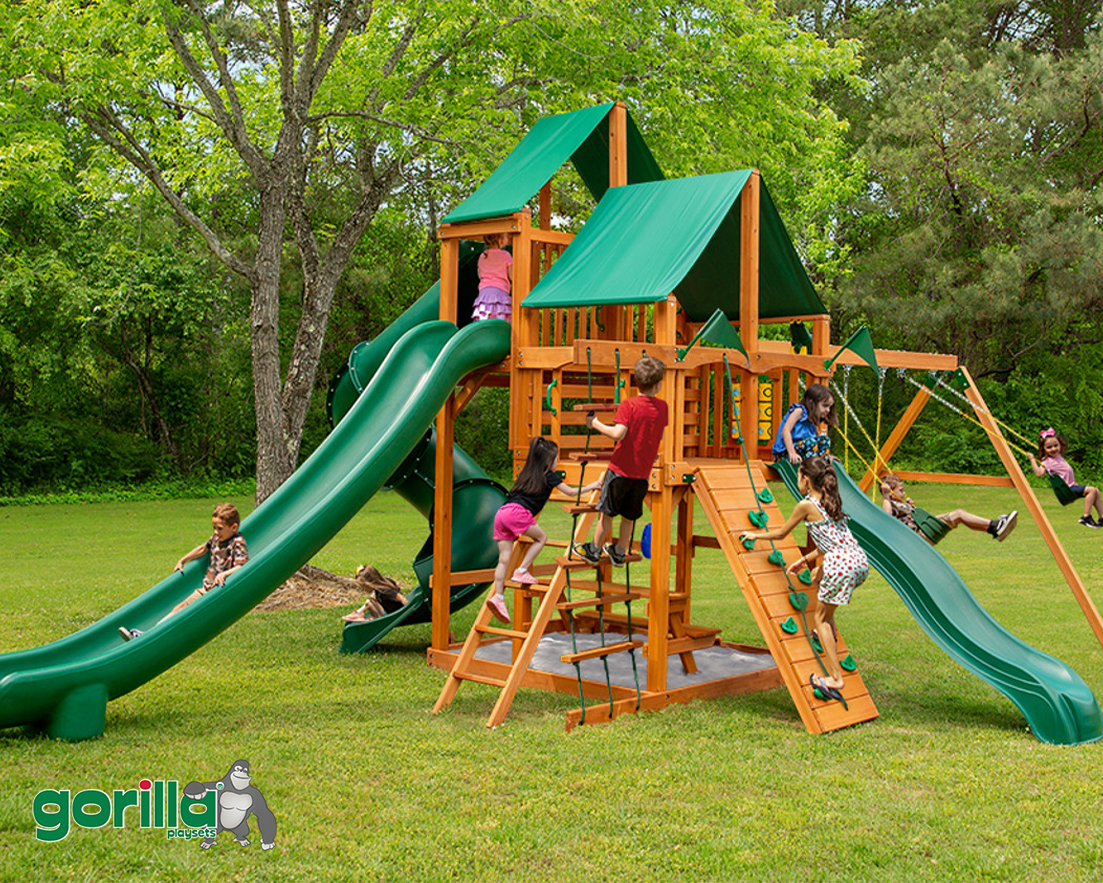 Durability
One of the most significant considerations when looking for a swing set is its durability. You want a playset that will grow with your children and provide years of enjoyment. A swing set should be made from quality materials by competent, experienced professionals. The best swing sets on the market are designed to last for generations. Don't just settle for any old set. Make sure that the wood is strong, and the features are safe. At Gorilla Playsets we pride ourselves in only using primum cut cedar and high-quality, non-toxic plastics in all our sets. Not only that, but cedar wood is naturally resistant to rot, decay, UV, mildew, water, and insect damage. When it comes to the materials that make up our sets, we go the extra mile. Not only because it makes the sets super safe, but also because we believe our customers deserve better. These easy-to-assemble swing sets come with all the hardware and instructions you need for a quick and easy installation. Also, they come pre-drilled, pre-stained, and pre-sanded for your convenience. They're backed by a 10-year limited warranty on wood and structure components, so you can rest assured knowing that your investment is protected. You shouldn't have to worry about if your playset is durable enough for your child. A set should be fun and able to support multiple kids playing under a variety of conditions. No matter if it's rain or shine, summer or winter, all our sets are guaranteed to hold up. So, before you buy make sure your choice is quality and built to last.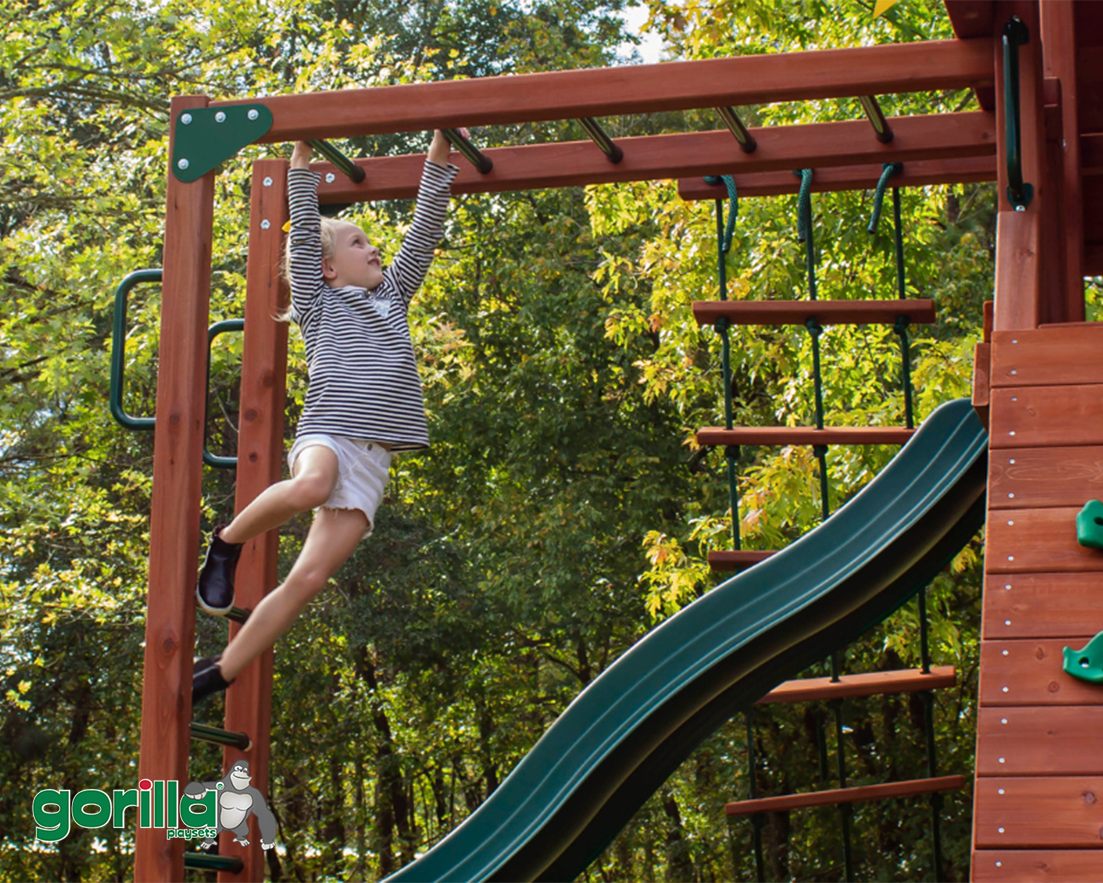 Required Space & Safety
It's also important to consider the size of your backyard when choosing a swing set. You want to make sure you have enough space for the set and plenty of room around it for safe play. Most sets require at least 10 feet by 12 feet of level ground, so be sure to measure your yard before making a purchase. Also, you'll want to stay away from spots that are too close to outdoor structures like fences, sheds, and decks to ensure the play space is safe. Your child's safety is always our top priority, which is why we only use the highest quality materials in our products. We also subject our swing sets to rigorous third-party testing to ensure they meet or exceed all ASTM safety standards. Additionally, the self-reinforced slides, wide and flat ladder steps, safety-coated swing chains, and commercial-grade hardware have made us an industry leader in swing set safety.


Is it costly?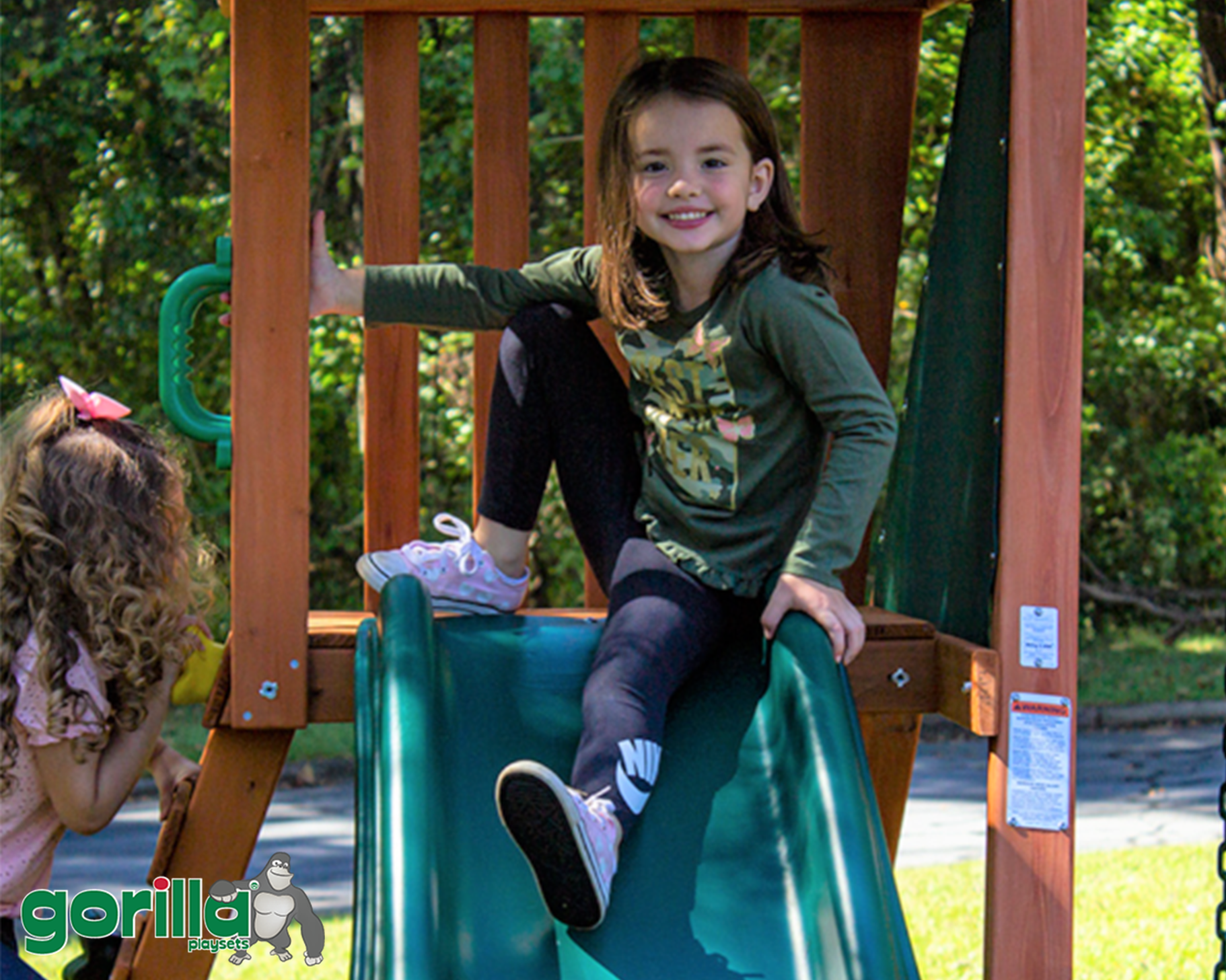 The price of the swing set is another important consideration. No matter if you are looking for a smaller set to fit a tight space or a larger one to create the backyard play space of your dreams you are sure to find the perfect one for your family in our extensive catalogue of wooden sets. Looking for a low commitment set that's still loaded with classic playset activities? Go with the Gorilla Basic Swing Set with Slide. It's perfect for anyone just starting out and is great for smaller kids who may not be ready for the full playset experience. On the other hand, the Empire Extreme and Everest Elite each have all the fun playset experiences your kids could ask for and more. From slides, swings, monkey bars, and sandboxes, the fun on offer is endless. Plus, as kids get older there will always be something new and exciting for them to discover. While price is important, it's also important to remember that a swing set is an investment that will provide years of fun and enjoyment for your family. When choosing a swing set, consider the quality, features, and durability to ensure that you get the best set.
How long does a swing set last?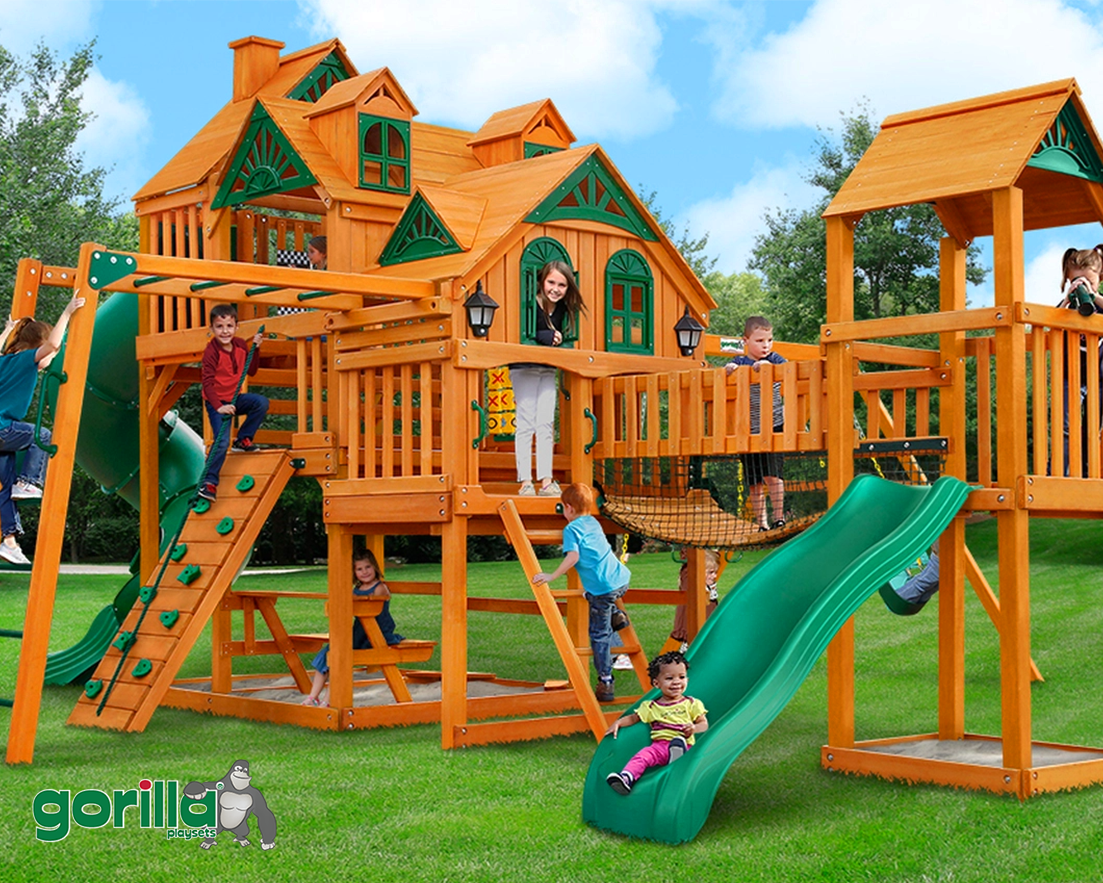 With proper care and maintenance, a swing set can last throughout childhood and beyond. Wooden swing sets can last for decades if made from high-quality materials and stellar construction. The workmanship of the swing set is also important - be sure to choose a reputable brand that stands behind its products. At Gorilla Playsets, we use only the highest quality materials in all our products. Our wooden swing sets are made from 100% cedar lumber that is naturally resistant to rot, decay, and insect damage. Our lumber is pressure-treated for added strength and durability, and we use galvanized steel hardware to resist rust and corrosion. To prolong the life of your swing set, be sure to perform regular maintenance such as tightening bolts and screws, applying playset sealant, and checking for damage. We recommend applying sealant after the first ninety days of assembly and then again, every other year. This will not only help retain the beautiful appearance of your swing set but will also protect the wood from the elements and help prevent deterioration. By taking proper care of your swing set, it will stay looking brand new even after years of extensive use.
How can a swing set benefit my child?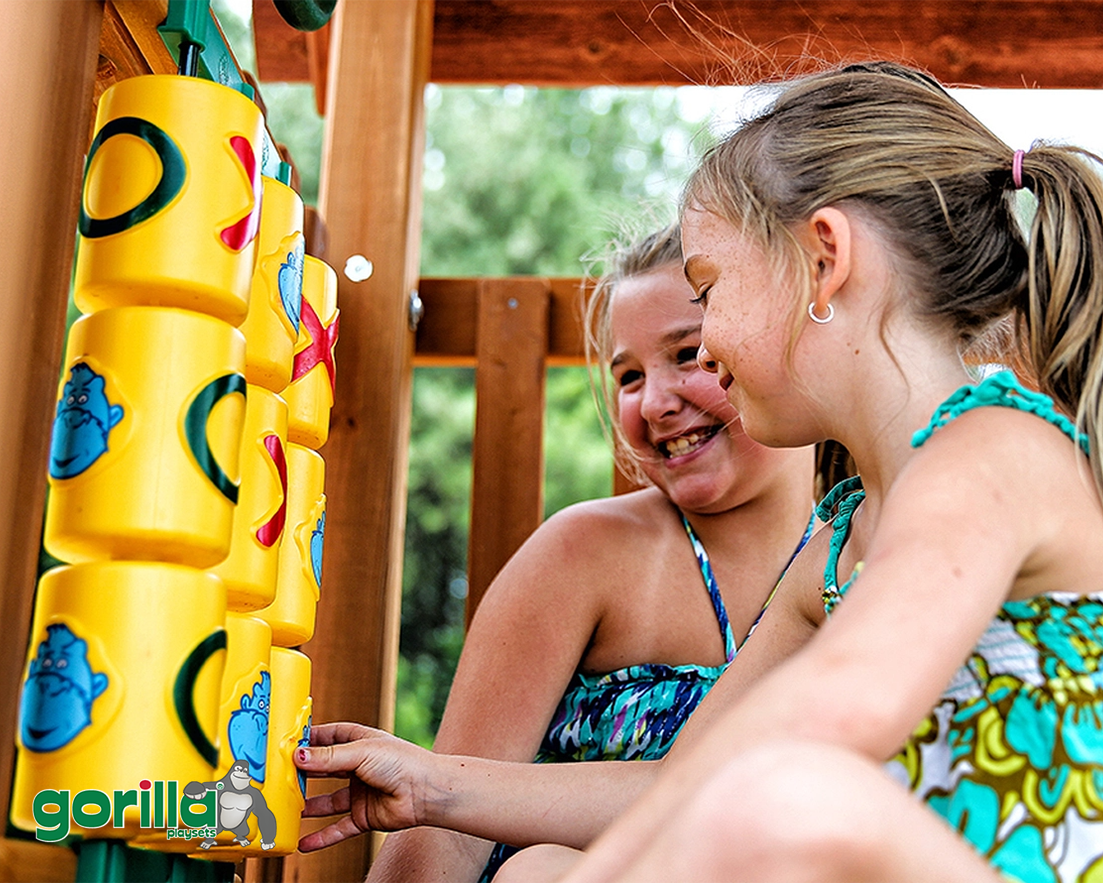 There are many benefits to having a swing set in your backyard. First and foremost, swing sets provide hours of fun and enjoyment for children of all ages. They're also a great way to encourage active play and get your kids up and moving. They promote social interaction, cooperation, and teamwork too which is great for building friendships and making lifelong memories. In addition to being a lot of fun, swing sets also offer many developmental benefits for children. Swinging, climbing, and sliding all help to develop core motor skills like coordination and balance. It creates an excellent opportunity for children to explore, play, and learn - all while getting some great exercise. As a parent, you'll appreciate the fact that swing sets give your kids all these great learning opportunities right in the backyard. You won't have to worry about them climbing trees or running around the neighborhood - they'll have the most exciting play space for them and their friends just a few steps away. They make great places for birthday parties and for when their favorite cousin comes to visit.
Wrapping Up
Hopefully this little article has given you the insight and motivation to start your swing set journey off right. From quality materials, expert craftsmanship, longevity and more, all of these are things to keep in mind when making a final decision.
So don't wait, by following the information laid out here it won't be long before you find the playset that your kids will be enjoying all year round. For more information visit our website where you'll find FAQs, warranty information, and detailed guides on all our sets. Or give us a call to get one-on-one insight into all our products. We would love to hear from you!