The Benefits Of A Backyard Playset
Feb 15th 2023
Looking back to when you were still a child, what are some of your best memories? Chances are many of them involve playing on a playset. Playsets have been around for generations, and they offer children endless hours of outdoor fun and exercise. They also allow them to explore, improve physical and mental development, and build social skills. Owning a backyard playset means that you can keep your kids active and entertained while getting to relax a bit knowing that they're having loads of safe fun. Besides, these sets also give parents the chance to create family memories that will last a lifetime. From swings, slides, rock climbing walls and more, today's backyard playsets are individually designed to be as engaging as possible. They are crafted to help children develop balance, coordination, and strength in such an enjoyable way that they won't even realize they're exercising. With that said, let's cut through the fog and explore some of the benefits that come with having a backyard playset.
Playsets Help Children Learn to Play with Others
Playsets such as our Nantucket II Swing Set can help children learn to play with others by providing opportunities for cooperative play, and social interaction. They provide a space to create genial relationships without parental assistance. By sharing and taking turns with the wide range of playset activities, children can learn important social skills such as communication, problem-solving, and negotiation. As the kids define and change the rules to create a meaningful challenge, they are promoting autonomy and healthy decision-making. This is an essential skill for children to develop, as it will help them in their future relationships and interactions. Playsets can also encourage imaginative play and role-playing. While this may seem insignificant, it actually helps children develop empathy and perspective-taking as they explore different scenarios and roles. Overall, playsets provide a fun and engaging way for children to learn and practice important social and emotional skills.
Playsets Help Them Learn to Play Alone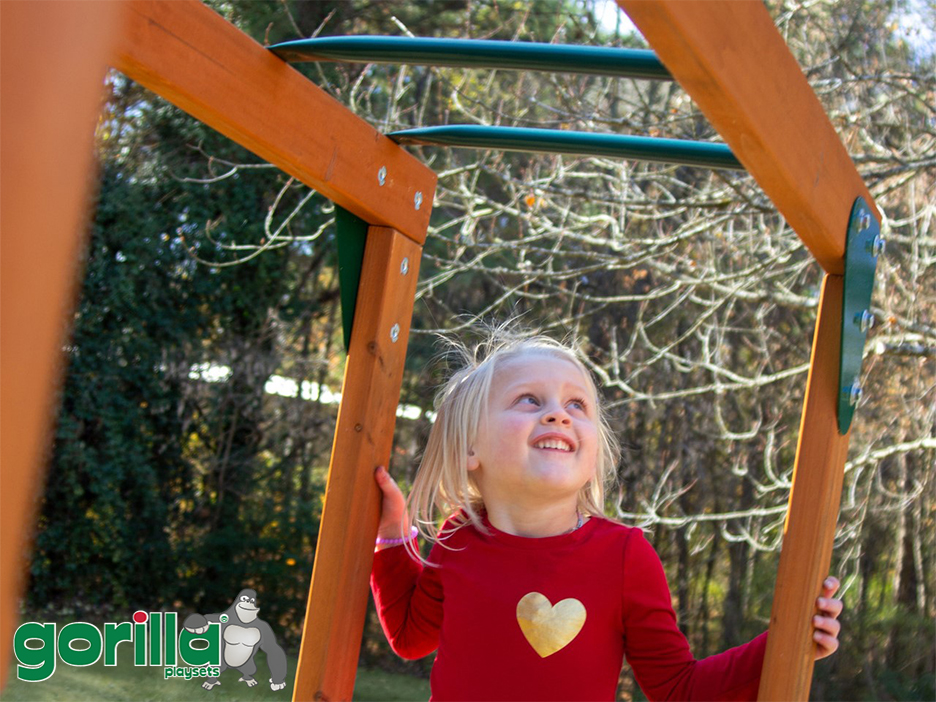 Think of playsets as a self-guided adventure that allows your kid to explore the world around them. While it's unfortunate, friends won't always be around to play. However, that doesn't mean the fun has to stop! With a quality playset right in the back yard having super safe, super engaging fun will be easy – no matter who's available to play. At-home playsets can help them learn how to entertain themselves and become more independent. By playing alone, children can learn how to express themselves in a creative way and develop their natural curiosity as they explore the playset. In addition, playing alone allows children to use their imagination to create a different world for themselves, one in which they can be the hero of their own story. Through this kind of play children can also experience the joy of accomplishing something on their own and develop self-confidence and self-esteem. The Outing w/ Monkey Bars Swing Set is a perfect example of a playset that's engaging both with a friend and by yourself. With the trapeze bar, alpine wave slide, and of course the monkey bars, your little one will love going on an adventure in their own backyard.
Playsets Help Develop Muscles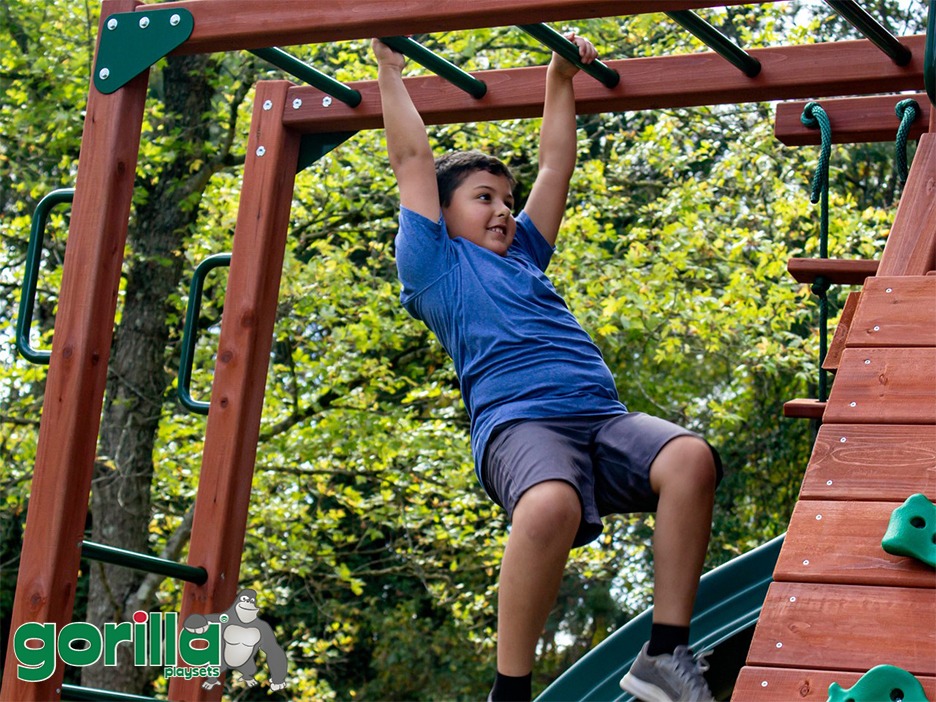 While playsets are built for fun, they are also designed to help kids develop physically. Climbing, jumping, swinging, and all the other playtime activities are important movements for kids to master. Not only do they improve gross motor skills, but they also help strengthen the muscles and improve balance. One of the most popular playsets that is sure to add brain and body stimulation to your kid's outdoor play experience is Sun Valley Swing Set. Featuring an alpine wave slide, trapeze swing, tire swing, and a super challenging rock-climbing wall, this playset offers a variety of activities to keep your ball of energy busy for hours, allowing their core muscle strength, coordination, and agility to improve.
Playsets Help Develop Motor Skills
A backyard playset like the Pioneer Peak Swing Set has everything your little one needs to develop their agility, dexterity, and balance. This playset includes a two-person glider, two belt swings, an 5' wave slide, a rock wall, and monkey bars, which are all perfect for motor skills development in toddlers. The combination of different activities encourages your little one to use their muscles in new ways and helps them establish a strong core and balance. Not only that, but they'll also help your child to develop sensory processing skills, motor planning, and problem-solving abilities as they complete challenges at the playset. Some of the best elements of the playground for developing fine motor skills are activity panels, rope ladders, and rock-climbing walls. These elements help children strengthen their hands, fingers, and wrists muscles while improving coordination, control, and concentration.
Playsets Help Encourage Physical Activity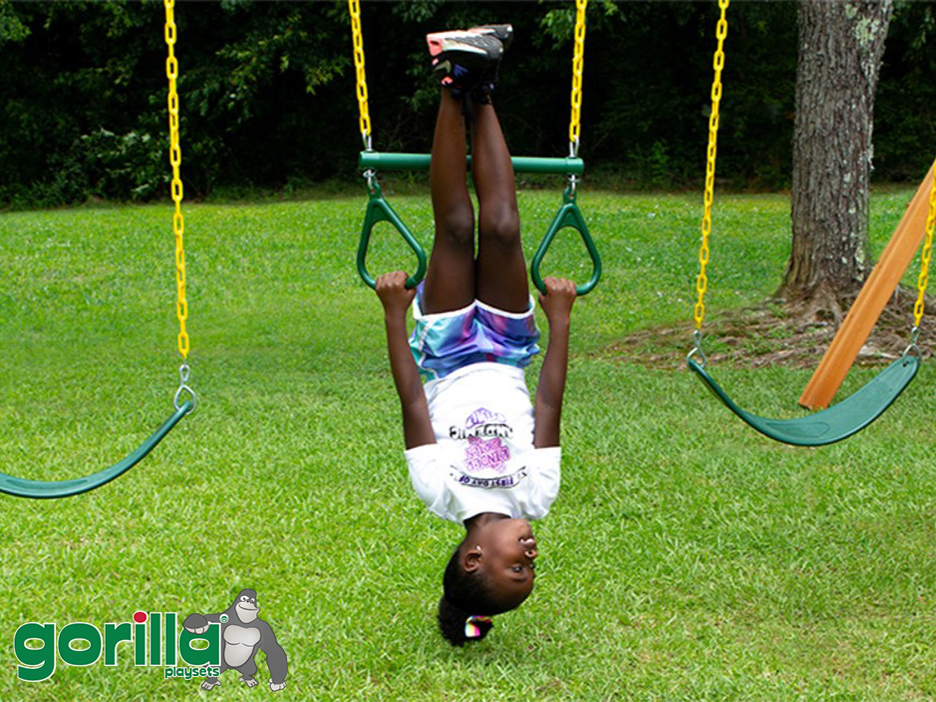 Open spaces encourage more active play such as jumping, running, climbing, and swinging. Playsets are designed to provide an engaging and fun environment that makes kids want to play and test their skills. However, for a set to be truly effective, it must provide a variety of activities and challenges. This is why the Savannah Swing Set is one of our favorite playsets. With features such as Deluxe Rope Ladder, Alpine Wave Slide, Extreme Tube Slide II, and Built-In Picnic Table, this playset offers enough activities to keep your kids active and entertained for hours. And as they grow older, they'll develop a healthy attitude toward physical activity and a sense of well-being that will stay with them for the rest of their lives.
Shop for your playset today!
Spending time outside presents multiple benefits for your child's social, physical, and mental health. Playful children tend to be happier, more cooperative, better adjusted, and more popular with their peers. They also develop more empathy and understanding toward others, as well as a stronger sense of self-esteem. That's why it'simportant to invest in quality backyard playsets like the ones from Gorilla Playsets. These sets provide a fun and safe outdoor environment that helps your child enjoy the great outdoors and develop an active lifestyle from a young age. With an exciting range of activities, these playsets are sure to keep your child entertained for hours and help foster healthy development. Shop one of our thoughtfully designed playsets today and watch their eyes light up with joy every time they swing, climb, slide, and explore!