Six Crucial Questions to Ask Before Choosing a Playset
Nov 28th 2022
Gorilla Playsets offers distinctive wooden playsets and playset accessories at affordable prices for the average homeowner. We are dedicated to creating safe, modern, and sturdy playsets with a wide range of customizable options that stimulate creative play and imagination in kids. Putting up a swing set in your backyard is a great thing to do for your children. It is a smart way to invest in their development and well-being. Playsets allow youngsters to have hours of fun while creating treasured childhood memories. They're great for creating a passion for fitness in kids as well as assisting in the development of muscles and coordination. Furthermore, they enhance children's mental health and overall well-being by challenging them to think creatively as well as develop problem-solving and social skills. Above all, they allow them to take a break from stressful activities like homework and just be a kid. We develop outdoor play sets that will provide you and your family with fun and unforgettable memories. We've learned from you, heard from your children, and restructured key areas of playsets that needed a modern update. If you haven't decided on a playset yet, here is our advice on what to consider when weighing your selections.
How much space do you have?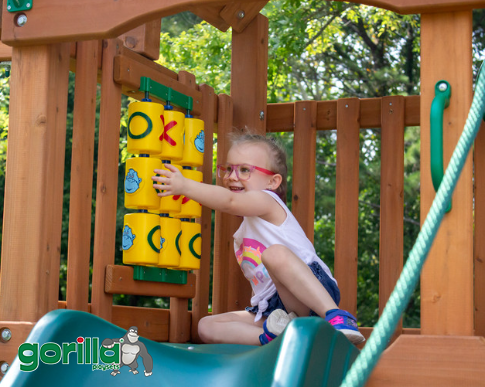 You must assess the amount of space in your yard to ensure that the playset you are considering will fit. We're talking about the "Minimum Use Zone" here. This includes the playset's needed footprint as well as a 6 ft safe zone around it. Each swing set design has its own minimum use zone outlined in each kit's specifications on our website and included in the product manual. Safety is the most crucial consideration when deciding where to position the playset. Avoid taking shortcuts. Any safety precautions you take now will ensure greater fun in the future. Select a place free of obstacles such as fences and trees to prevent accidents. For any set you choose, we include ASTM safety guidelines to help you determine the proper safety zone. Finally, select a spot that allows for convenient monitoring. Avoid installing the set on a steep slope to ensure you can see everything from inside your house. While all our sets are designed with safety as our main priority, it's always a good idea to monitor your kids play, especially if they are younger. Also, make sure to clear up any debris from fallen tree branches, leaves, or twigs.
Is there adequate grounding?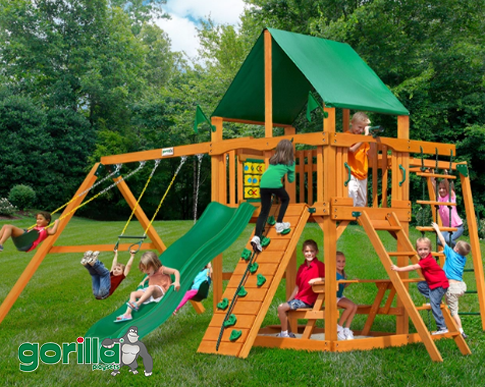 You want your children to be safe while out having fun. To do that you'll need to place your playset on solid, level ground, such as soil or grass. Stay away from steep slopes or abrasive surfaces such as asphalt or concrete. Also, avoid sprinklers, underground utility pipes, or other obstructions. If your site isn't within a 3-inch grade, you'll have to dig it out to make it level. Additionally, it's a good idea to use shock-absorbing material such as rubber mulch, wood chips, or mulch chips. Rubber mulch is the most effective cushioning surface as it's slip-resistant, available in popular hues, and doesn't require much upkeep. Meanwhile, wood chips are broken-up bits of wood, while wood mulch is much finer and created from shredded wood. All three of these make excellent padding and will add an extra layer of safety to your set. We advise against using bare earth or grass as protective layers because they don't provide adequate cushioning when children fall. Don't use gravel or sand either. Gravel is a choking hazard, and sand tends to be unstable and attract litter.
What's your budget?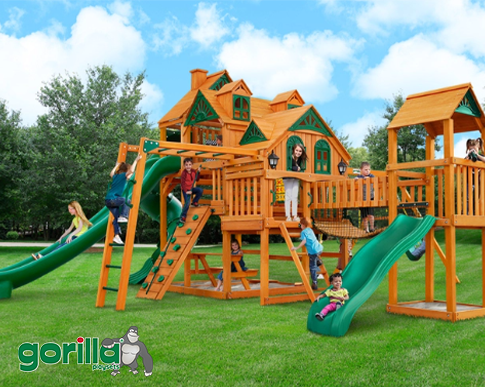 When assessing different playset options keep your budget in mind. While all our sets offer loads of classic playground set fun, each set will offer something different in terms of size and number of activities. The lower end sets are great for families with two to three kids and easily accommodate for afterschool adventures with all their friends. On the higher end we have sets that are designed for both larger families and those looking for the ultimate playset experience. With all the play activities you could ask for and loads of space to run around, your kids will never run out of new ways to play. Also, birthday parties and family get togethers with all those favorite cousins are a breeze when you have space for everyone to explore and play together. Our playsets feature wood components, durable playset accessories, and all the necessary hardware. Also, we use high grade cedar wood because it's not only attractive but is also super resistant to the elements and insect damage. Apart from the equipment price, you must consider whether you want to build the set yourself or have it professionally installed. Doing it yourself will take longer for assembly, but by following the instructions it can easily be done over the weekend with just a few tools. While having it professionally installed does come with an additional cost, it saves time and is good for anyone wanting to start their kid's outdoor adventure off stress free.
Do you know the necessary materials and maintenance needed?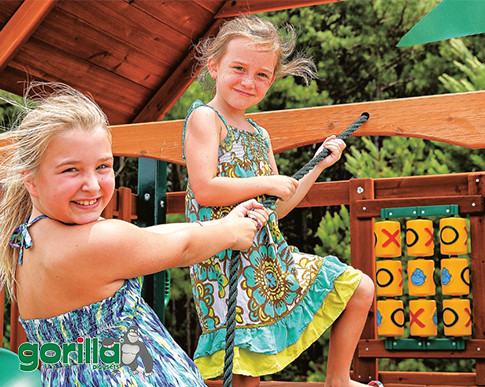 It is important to keep a backyard playset in good condition and to make sure the wood components are taken care of. While sturdy woods like cedar and redwood are naturally resistant to insects, water, mildew, UV and more, applying additional protection like our playset sealant is a good idea. It will ensure that your set stays looking brand new for years to come.
Is it appropriate for your child's age?
Not all playsets are the same and some are even made for specific age groups. However, we have designed all our sets so that no matter if your child is two or twelve, they can have a blast. When deciding which set is right for your family it's a good idea to choose one that fits your kid's individual needs. Want something with a smaller footprint that is great for kids who are just starting out? Go with the Basic Swing Set or Five Star Space Saver. Both provide timeless playset fun and easily accommodate for less confidant kids. Not only that, but as they get older the sets will still provide the same level of excitement kids expect from outdoor playsets. However, if you are looking for a set that will last throughout childhood you can't go wrong with an Outing, Riverdale, High Point, Empire or more. A playset should grow with your child so that when they get bigger, they can keep discovering new ways to play. From the classic swings to the bold twister tube slide, a quality playset will offer fun for all ages.
Is it durable?
Durability is important too. Don't go for sets that your children will outgrow quickly. Purchase playsets that will serve your children throughout childhood and beyond. This is especially true for young families that intend to expand their families. You don't want to have to pay for a new playset every time a new member of the family comes along. Just because many playsets are built of wood does not mean that you should settle for the lowest quality. Playsets crafted from hearty, strong wood can last for up to 20 years. Apply a protective stain every 24 months to protect the wood from water damage and ensure durability. Many water-repellant stains are also designed to enhance the natural beauty of wood, and this will keep your playset looking good. With the proper care it won't matter if it's year one or year ten. Your set will look just as stunning and be just as safe as the day it was built. Finally, consider the warranty. No matter how durable a set is it needs a strong warranty for when accidents happen.
Wrap-Up
Recreating the magic of your favorite childhood playset right in your own backyard is one of the main reasons people from all over have chosen a Gorilla Playset for their outdoor space. We don't only offer quality; we offer the kind of classic outdoor fun that can only be had on a playground. Yes, we've listened to you and your kids and now deliver swing sets that let you personalize your kids' play experience. That's why we produce a vast selection of playsets to fit your specific needs! From big to small, bold to imaginative, there is guaranteed to be a set for everyone. Hopefully, the above guide helped you know what to look for if you haven't already selected a playset. If a set has already caught your eye, just follow these simple guidelines and you'll be all set to transform your backyard into an exciting play space!