Top Qualities of Wooden Playsets
Dec 6th 2022
Want to turn your backyard into a super fun, super safe play space for your kids? Well now you can! With a quality wooden playset right in the backyard kids of all ages will have a safe spot to grow and play that's all their own. Nowadays, buying a playset is more than picking the right swing: playsets come with many exciting components and features for kids to enjoy. For adults, purchasing a playset may be a bit of a challenge. For instance, choosing the right material is crucial. You'll find playsets made from metal, plastic, and wood - each one with its pros and cons. Plastic playsets are colorful but usually far from durable. Metal playsets may look like the sturdier option - but are far from stable unless cemented to the ground and can become hot when exposed to the sun. That's not to mention the cracks and rust. In contrast, buying a wooden playset is the perfect option for first-time buyers. They are durable, strong, and eco-friendly. It's the right choice for your kids, your backyard, and the planet! In fact, the Consumer Product Safety Commission (CPSC) recommends wooden playsets specifically for these reasons. Want to learn more? In this article we'll go over the top qualities of wooden playsets so you'll know what to look out for before you buy.
Durability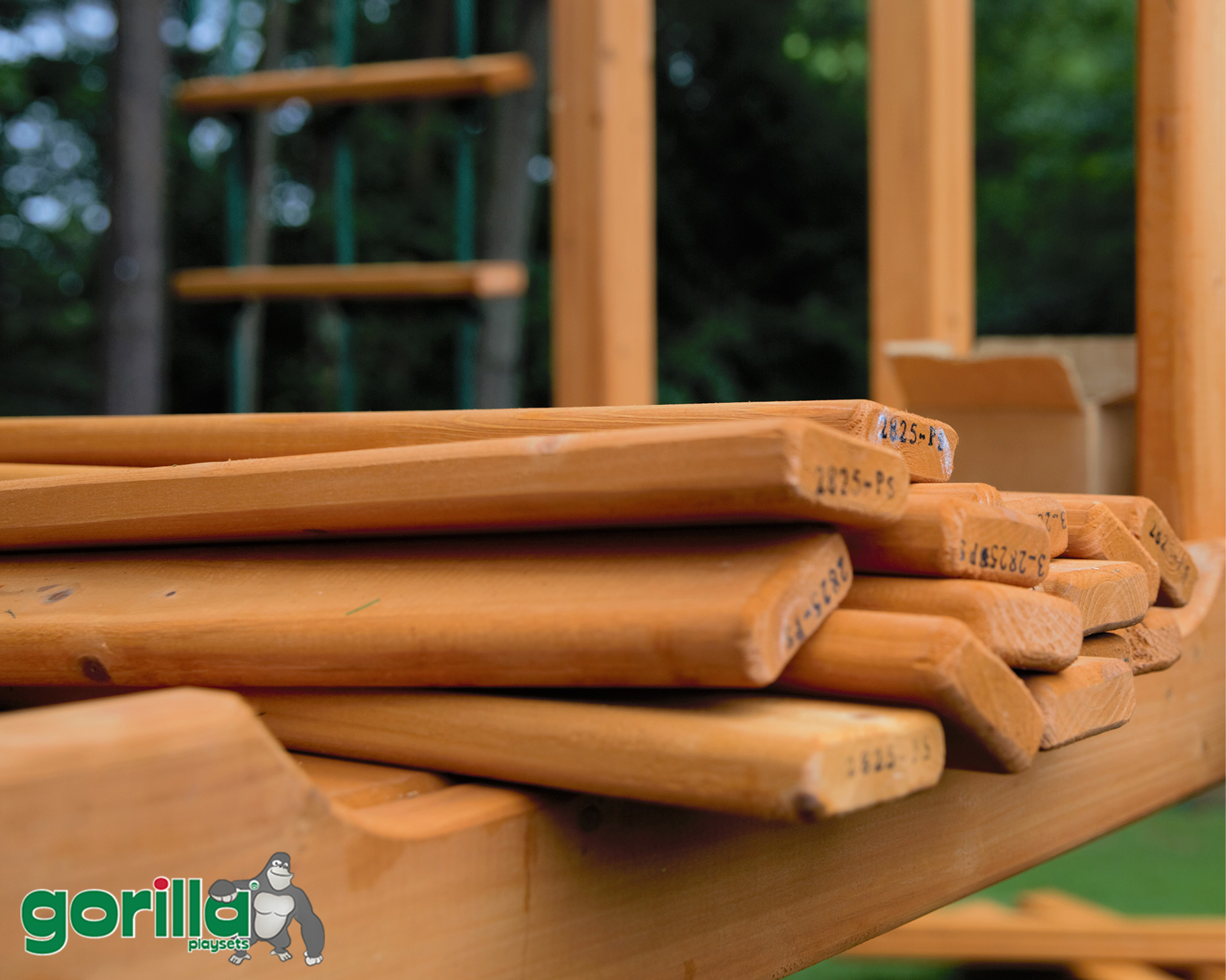 It's difficult to get the kids playing outdoors when they love being in front of a screen. A playset is the perfect way to get them out in the sun and help them exercise while they have fun. So just how durable are wooden playsets? Turns out it's more than you might think! With the right materials, quality construction, and proper care a wooden playset will last from childhood and beyond with minimal decay. In fact, we've designed every one of our playsets to stand strong under the sun, rain, mildew, and everything else nature might throw at them. Not only that, but we only use high-grade cedar wood to make our playsets. It's a type of wood that's durable, sturdy, and naturally resistant to the weather and insect damage. Thanks to this, humidity will not crack or change it. That means your next cedar playset will hold strong no matter the season! We believe in our playsets so much that we give our customers a 10-year limited warranty. So long as the set is properly cared for and maintained you can be sure it will provide you kids with a fun, engaging outdoor experience that will last for years.
Safety
When it comes to outdoor play, a wooden playset is one of the safest choices you can make. Wood itself has several advantages over other materials like being non-toxic. Also, it doesn't heat up as much during spring and summer as plastic and metal does. When your kids go to play outside, you want something that won't be too hot to handle when the temperatures rise! That's not all: cedar wood, the one we hand-pick for our playsets, doesn't rust or corrode and has less splinters than regular wood. It's the type of material that can stand the test of time all while retaining its signature natural look. Nevertheless, remember to properly maintain your playset to ensure you and your kids will have no issues down the line. Fortunately, cedar wood is easy to care for because it's durable and resistant. In other words, your cedar playset can stand on its own - but you should give it a helping hand once in a while! Every season, you should tighten bolts and check for any damage. Also, after the first 90 days of construction and then every other year following, you should stain and seal the wood components of your playset to give them an extra boost of durability.
Versatility
Metal and plastic playsets often come in the same model: a simple swing set - and, if you're lucky enough, you'll get a slide on the side. It's difficult to find other features, like climbing structures, playhouse attachments, and tunnels, when you buy a plastic or metallic playset. In contrast, wooden playsets are full of features and are the go-to place for your kids to have countless hours of fun! Kids need to have many options when it's time to play outside. When you buy one of our wooden playsets, the kids in your family will enjoy running, swinging, sliding and more all while getting a good workout. They'll also have plenty of ways to engage their imagination with the included playset accessories like chalkboards, steering wheels, and more. Having a wooden playset in your backyard means there's an endless world of possibilities waiting!
Beauty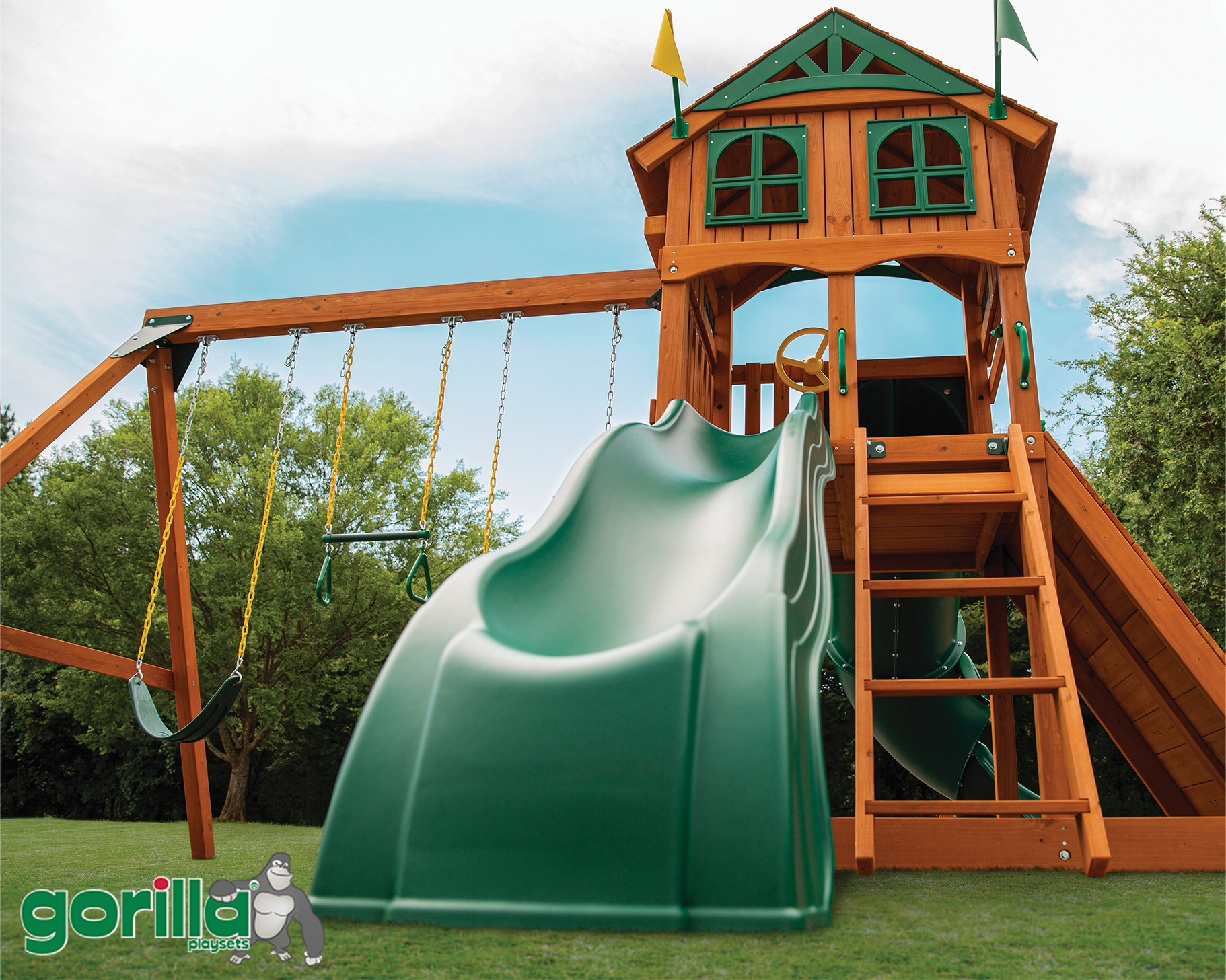 A wooden structure has a timeless look that'll improve the aesthetics of your backyard. It's different from the cold appearance of metal or plastic. Many parents love our wooden playsets because it reminds them of the playset they knew and loved when they were kids. They blend well with existing backyard features and have that classic playset look that's hard to beat. It'll compliment every other piece you have and will be a sight to see. In fact, if you have other wooden items on your property, you can seal your playset to match the color of the pieces you already have.
Cost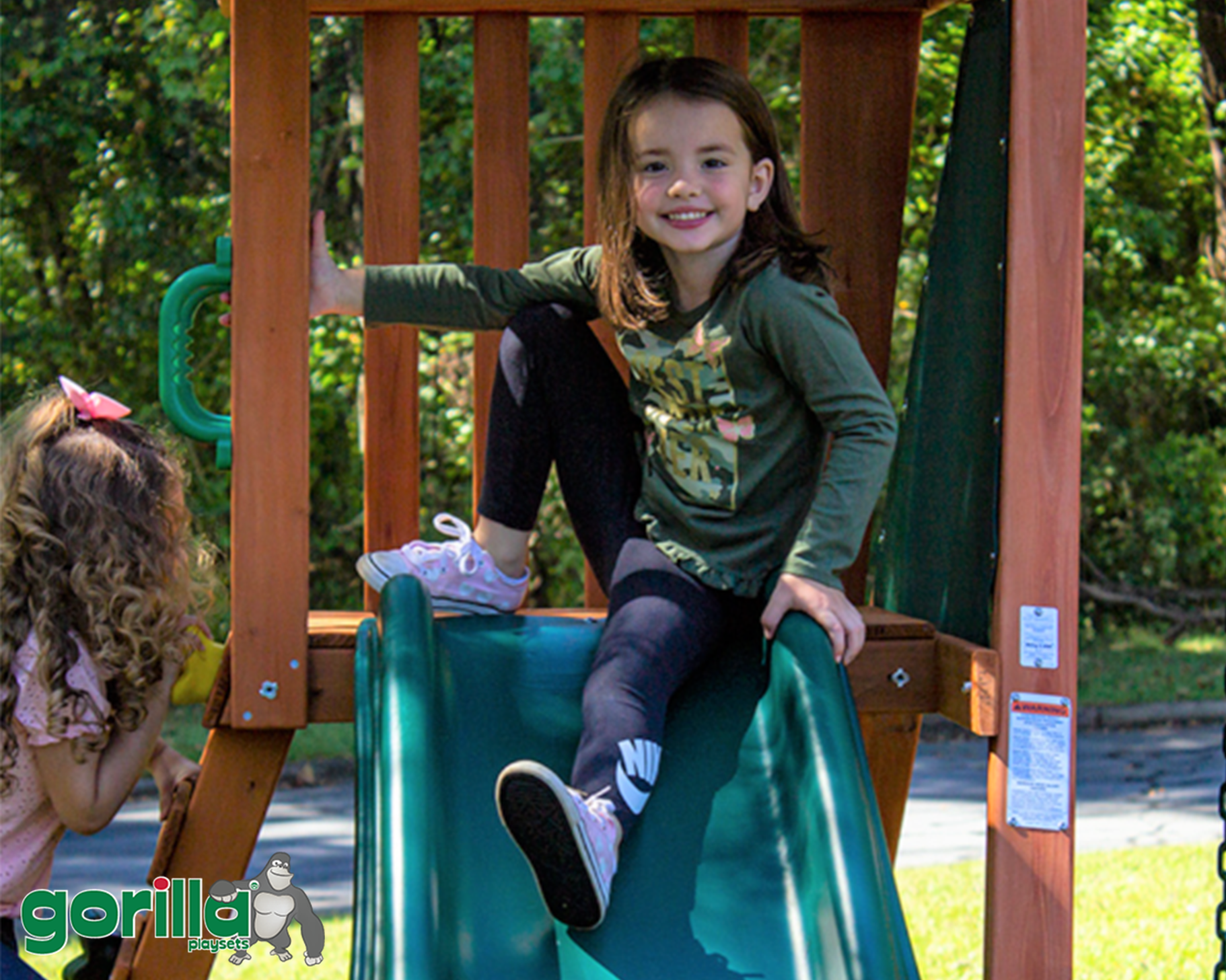 Price is always a factor when you make a purchase. Metal and plastic playsets are often cheaper than wooden ones. There's a reason for that! They are normally simpler in design and made from lower quality materials. That's why at Gorilla Playsets, we offer a wide range of playsets at a wide range of prices. You'll find many options in our store ranging from smaller, more compact sets to larger ones that make for the ultimate outdoor play space. New parents may have a hard time picking the perfect playset for them. We have a few suggestions if that's the case! Our Basic Swing Set with Slide is ideal for smaller families. It provides everything a kid needs without overwhelming them. Larger families will want to choose the Everest Elite swing because it has the space and play features to accommodate many children playing at once.
It doesn't matter if you're looking for a small playset or something massive: you should always consider these top 5 qualities when buying something for your children. There are a lot of things to think about before purchasing a playset. However, by following all the guidelines in this article discovering the set that's the right fit for your family will be easy. If you need a bit more help deciding, contact us and we'll be happy to help you find the ones that's perfect for you!