How To Work From Home With Kids
Dec 6th 2022
Living with your family and working from home can be a tough nut to crack. You have to balance your job with your role as a parent, and sometimes it can prove more difficult than expected. Taking care of your children and keeping them busy in a healthy way is a full-time job. On top of that, you have your 9-to-5 job too as well as other commitments. Fortunately, you can take care of both things when you have a routine in place and a few tricks up your sleeve. One such trick is purchasing a quality playset. It's the perfect way to keep your kids happy, entertained, and having fun in a constructive environment. Having a set right in the backyard makes keeping an eye on them a breeze while you get work done. Plus, they'll be getting plenty of exercise while building core strengths and confidence. Are you looking for the perfect swing set for your home? In this article, we'll show you our top picks for parents who want to get a swing set for their kids.
Frontier Swing Set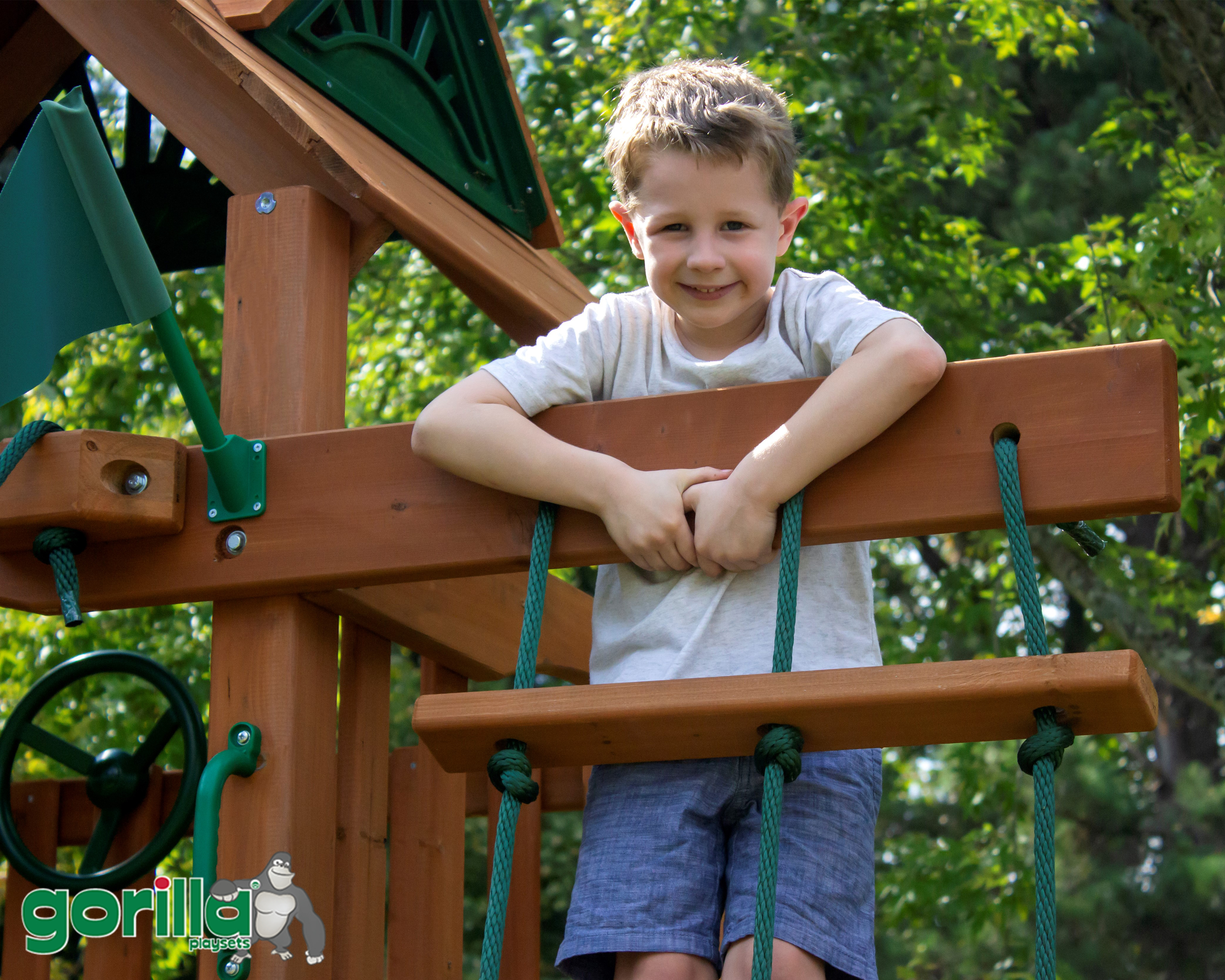 The Frontier Swing Set will feel like a brand-new world worth exploring for your kids. It has everything an afternoon full of fun needs: four swings, two swing beams, and two belt swings, which come with a trapeze swing and a tire swing. It also comes with lots of room for kids to move around while they swing, climb, and run around. All in all, this swing set brings countless hours of fun for your children and plenty of peace and quiet for you to take care of your work calls with no disturbances. Of course, the most important factor is safety: at Gorilla Playsets, we hand-pick the wood we use for our playsets, so you know this swing set can handle whatever your kids do while they have a blast playing! And don't worry about anything when your kids are climbing - because this set has safety handles that'll help your children climb to the upper deck.

Riverdale Swing Set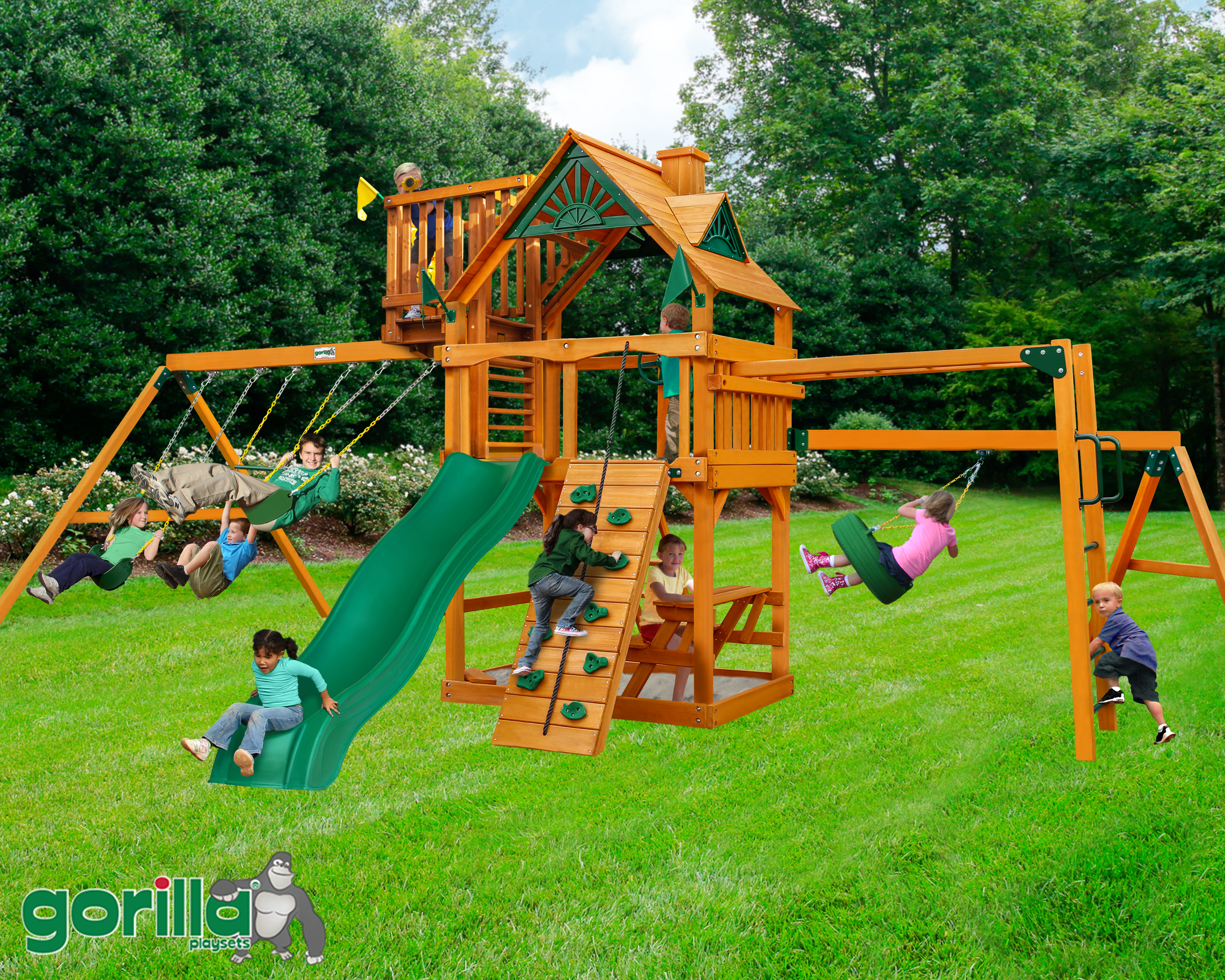 The Riverdale Swing Set is the perfect fun castle for children to play with. It comes with swings, slides, and places to climb. Not only that, but it also comes with monkey bars, something that helps children develop their muscles in a fun and healthy way. That's not all! With the included Sky-Loft add-on they'll reach new heights and feel like a mountain climber with the raised platform. It's great for when your children are tired from swinging all day and need a fun hangout spot to rest. Plus, it has a fun play telescope to boost imagination in a play castle that's all their own! The set also has a spacious lower area with a picnic table and a sandbox. It makes having lunch outdoors a breeze and gives the set even more functionality.

High Point II Swing Set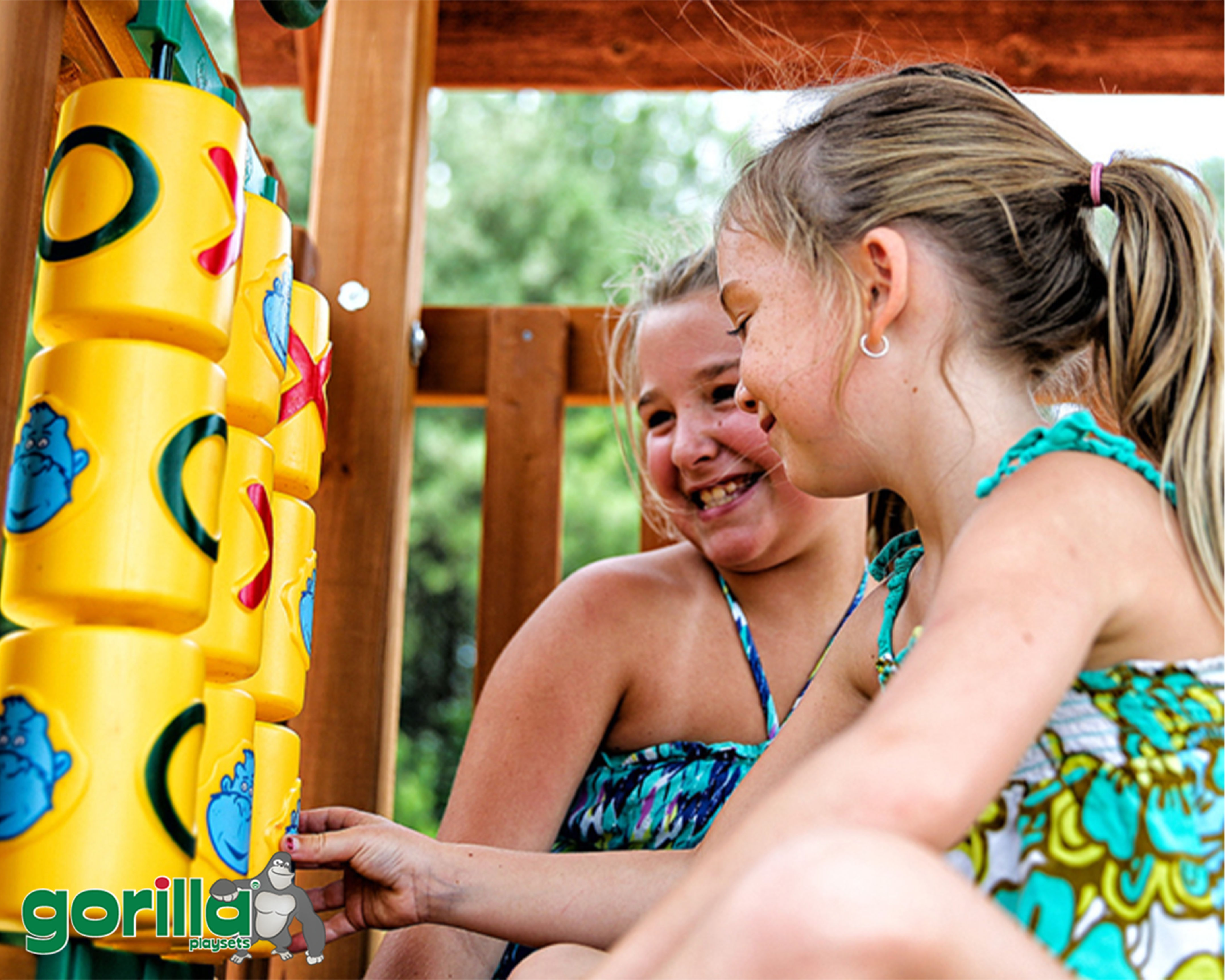 The High Point II Swing Set has more features than you can think of! It's the perfect swing set for a big family reunion or for kids with lots of energy. Of course, you can expect the usual: plenty of swings, a slide, and a rock wall - but that's far from everything this set has to offer! It also comes with a tic-tac-toe panel, a punching bag, and a telescope. That way, your children can train their body and mind in multiple ways while you work in your home office. Plus, its more compact design means it won't take up as much space in the yard as larger sets while still being loads of fun. It's the ideal choice for families with limited space or who want to make the best use of their outdoors.

Treasure Trove II Swing Set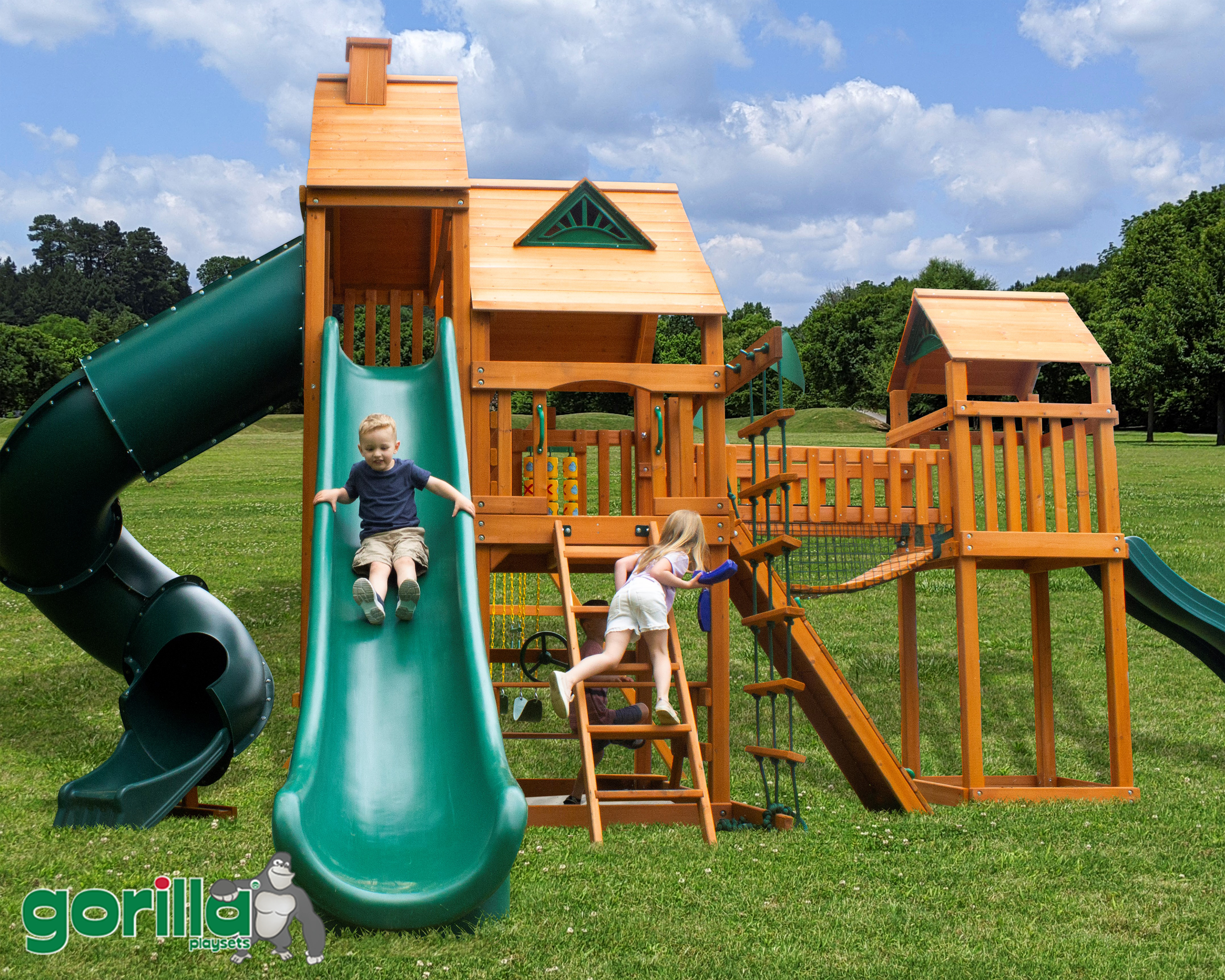 On the other hand, the Treasure Trove II Swing Set is perfect for a big backyard with plenty of space. There's a reason for that: it comes with two decks and a tower - and they are all connected via a bridge! That's far from everything this swing set has to offer, though. You will find three unique slides that let kids have tons of fun while each offering a different sliding experience. And how will they get to the top of the slide? They can choose to use the rock wall or one of the two different ladders they have available. Before they go down on the slide, they can choose to play tic-tac-toe, use the telescope, or have fun with the steering wheel. The hard part here is choosing how you want to have fun!

Playmaker Deluxe Swing Set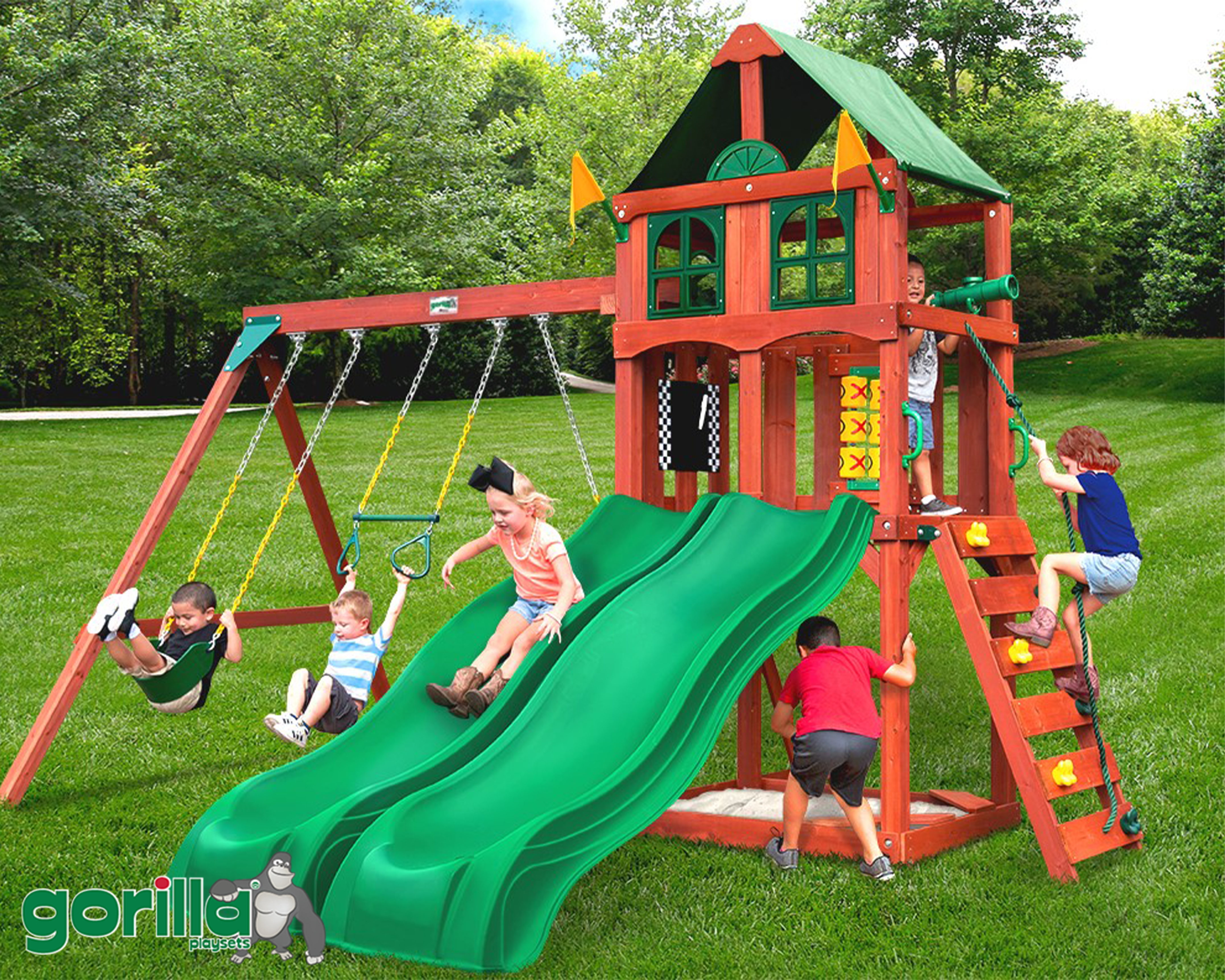 The Playmaker Deluxe Swing Set is perfect for parents who want to keep things simple but also want to give their kids that bit of classic outdoor playset fun. However, what makes this set stand out is the two wave slides situated front and center. It makes cooperative play and forming friendships a breeze when kids can play together! Also, the smooth sliding action is designed to be both super fun and super safe with their signature wave design. Aside from that, this set comes with the classics: two swings, a trapeze bar, climbing wall, sandbox, and loads of fun accessories. So don't let its simple design fool you. This playset has enough fun built in to keep you kids playing for years!

Add More Fun to Your Backyard with a Swing Set from Gorilla Playsets!
Purchasing a swing set is the best way to keep your kid away from their screens too much and get them to have fun outdoors in a healthy way. At the same time, it'll also help you work from home without constantly figuring out ways to keep your children busy. At Gorilla Playsets, we make it our goal to provide parents everywhere with the best playsets. We want children to have countless fun, whether their backyard is big or small. Because of that, we can help you customize your next swing set with anything you can think of. Having your kids play outside while you work from home is one of the best things that can happen. You'll enjoy the peace and quiet necessary to get your job done while your kids have a blast outside. Do you have any questions? Contact us so we can help you figure out what's the best swing set for you. We're more than happy to help!