Features Only The Best Playsets Have
Feb 22nd 2023
Playsets help deliver some of the most exciting experiences for kids. They are energy expending and creative play tools that encourage children to use their imaginations and develop vital skills like problem-solving and social interaction. In fact, the best playsets have loads of unique and fun play features that offer years' worth of engaging outdoor fun. However, before we get started let's cover some of the basics.
They get kids outside. Let's face it, in this age of smartphones and tablets, it's easy for kids to get stuck inside all day. A backyard playset provides a fun, exciting reason for them to get out in the sunshine and fresh air.
They encourage physical activity. Childhood obesity is a real problem these days, but a backyard playset can help combat it. Climbing, swinging and sliding all get kids moving and burning off energy.
They promote imagination and creativity. A backyard playset is like a miniature playground, but with a lot more potential for imaginative play. It can be a castle, a fortress, or a secret hideaway. The possibilities are endless. Kids can use the different components in any way they choose, creating stories and scenarios as they explore their imaginations.
They provide a safe place to play. When you have a playset in your backyard, you know exactly where your kids are and that they're playing in a safe, controlled environment. No need to worry about them wandering off or getting into trouble.
They're a great investment. Investing in your child's happiness and well-being is always a good decision. Plus, if you choose a sturdy, well-made playset, it can last for years and provide countless hours of fun for your family.
When it's your first time shopping for a playset, it can be difficult to know what to look for in a quality set. Between the different materials, sizes, features, and designs, it's always a good idea to have some help. That's why we've compiled a list of features only the best playsets have.
Imaginative Play Features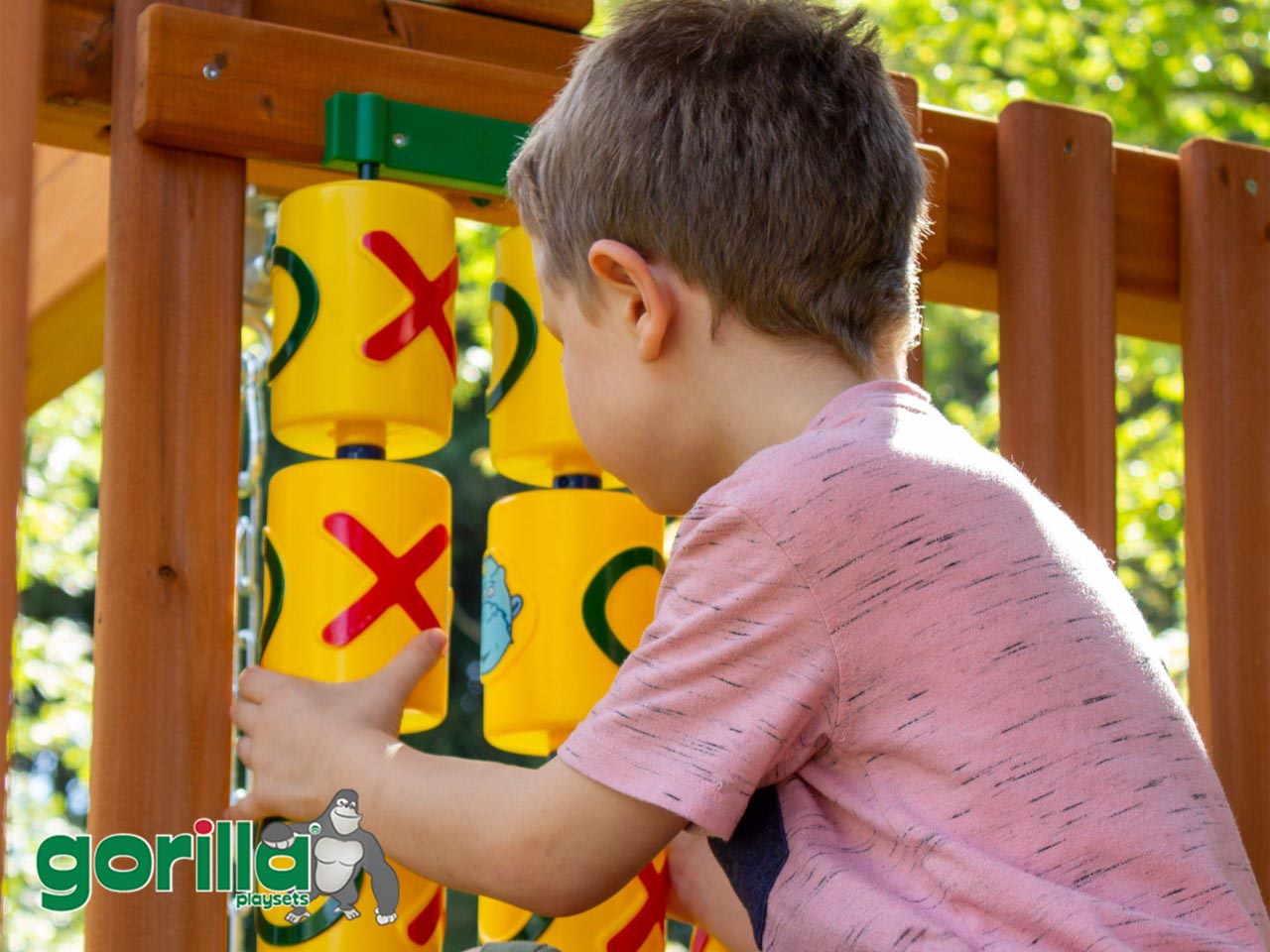 Pretend play on the playground creates a sense of wonder in children. They give new meaning to objects, people, locations, and situations. Quality playsets such as the Chateau Swing Set come with imaginative play features like steering wheels, lookout towers, shop fronts, and more that provide kids with a chance to explore their creativity. Playsets with treehouse kits are perhaps the most iconic backyard playset features. They make the perfect hiding spot for your kids to pretend they're on their own adventure or having a secret clubhouse meeting. It's where kids play with toys and use their imagination to take them out of the backyard and into a world of their own. They can be a cozy cottage, a secret hideout, or even a fairy tale castle. Other imaginative play features include: Climbing walls: Climbing walls are a popular feature on playsets that can help children develop their strength, balance, and coordination. They can also serve as a mountain, a fortress wall, or any other imaginative structure your child can dream up. Swings: Swings are a classic playset feature that can provide hours of fun.They can also be a magic carpet, a spaceship, or even a superhero's gadget in your child's imaginative play. Slides: Slides are another popular playset feature that can be used in a variety of ways. They can be a slippery slope in the rainforest, a winding road through the mountains, or a magical portal to a secret world. Steering wheels: Steering wheels can be added to playsets to give children the feeling of driving a car, a pirate ship, or a spaceship. This feature is perfect for children who love to imagine themselves as race car drivers, pirates, or astronauts. Binoculars or telescopes: Binoculars or telescopes can be installed on a playset to allow children to explore the world around them. They can be used to spot birds, search for treasure, or observe distant galaxies. Tunnels: Tunnels are a fun addition to a playset, as they can provide children with a secret passage to a hidden world. They can also be used to crawl through a jungle, or even escape from a dragon's lair. Tunnels can also help children develop their gross motor skills, spatial awareness, and problem-solving abilities. Monkey bars: Monkey bars are an excellent imaginative play feature in a playset because they can be used in so many different ways. Children can use them to pretend they're crossing a river, swinging through the jungle, or even climbing up to the roof of a castle.
Climbing Features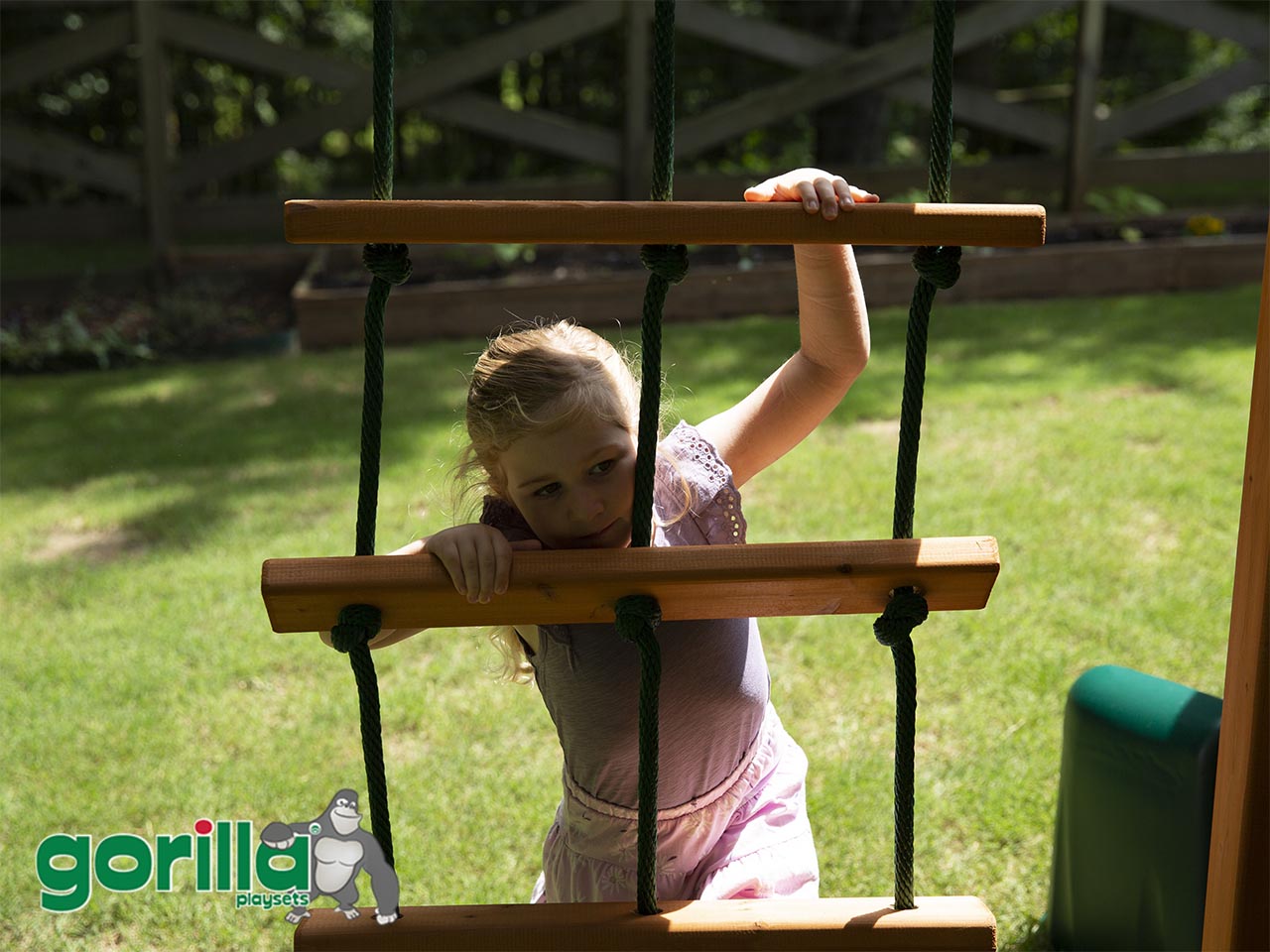 Climbing features are an essential part of any backyard playset, as they help children develop their strength, coordination, and balance while also promoting imaginative and creative play. Here are some of the staple climbing features found in the best backyard playsets: Rock walls: Rock walls are a popular climbing feature in many backyard playsets. They come in various shapes, sizes, and levels of difficulty and can be used to simulate rock climbing or mountain climbing. Cargo nets: Cargo nets are another popular climbing feature in backyard playsets. They provide a challenging climb and help children develop their upper body strength, balance, and coordination. They can also be used in imaginative play, such as pretending to climb up a tree in the jungle or scaling a wall of a castle. Rope ladders: Rope ladders are a classic climbing feature in many backyard playsets. They provide a fun and challenging climb while also helping children develop their hand-eye coordination and grip strength. Monkey bars: Monkey bars are a favorite among children and a classic feature in many backyard playsets. They provide a challenging and fun way for children to develop their upper body strength, coordination, and problem-solving skills. Climbing ropes: Climbing ropes are a challenging climbing feature that helps children develop their grip strength, upper body strength, and coordination. It's a timeless feature that is as fun as it is engaging.
Slides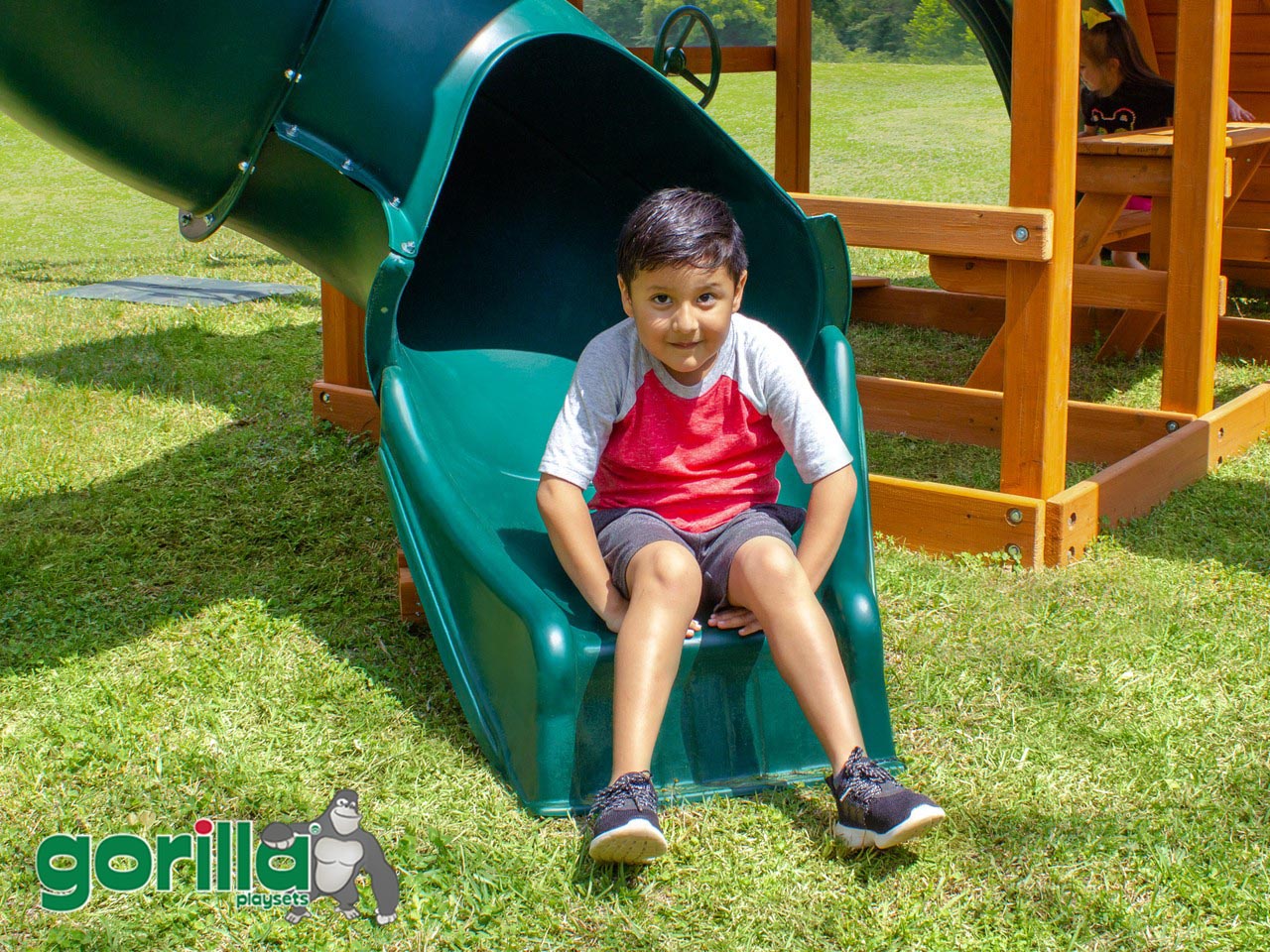 Slides are one of the most popular and classic features found in the best playsets. They offer children a thrilling way to enjoy the outdoors and provide a fun and exciting way to develop their balance, coordination, and gross motor skills. Our Great Skye I Swing Set is a great example of a playset that includes an exciting and exhilarating slide. But why are slides such an essential feature for the best playsets? They provide a safe and exciting way to play: Slides are designed with safety in mind, and they offer a unique play experience kids can't get anywhere else. They are available in various sizes, shapes, and styles, so parents can choose a slide that suits their child's age, ability, and interests. They promote healthy physical activity: Slides promote healthy physical activity, as they provide an opportunity for children to engage in active play and burn off excess energy. Children can climb up the ladder, slide down the chute, and then run around to do it all over again. This type of physical activity helps children to develop their strength, coordination, and balance. They enhance imaginative play: Slides are a great way to enhance imaginative play. Children can pretend that they are going down a mountain, escaping from a dragon, or racing to the finish line. Slides can be used in conjunction with other playset features to create a whole world of imaginative play, promoting creativity and cognitive development. They offer social opportunities: Slides are a great way to promote social interaction among children. Kids can take turns going down the slide, cheering each other on, and even inventing new games to play. Playing on the slide with other children helps develop social skills such as cooperation, communication, and problem-solving. They can be customized: Slides can be customized to match a child's interests or the overall design of the playset. There are different colors and styles available, so parents can choose a slide that's perfect for their kids.
Swings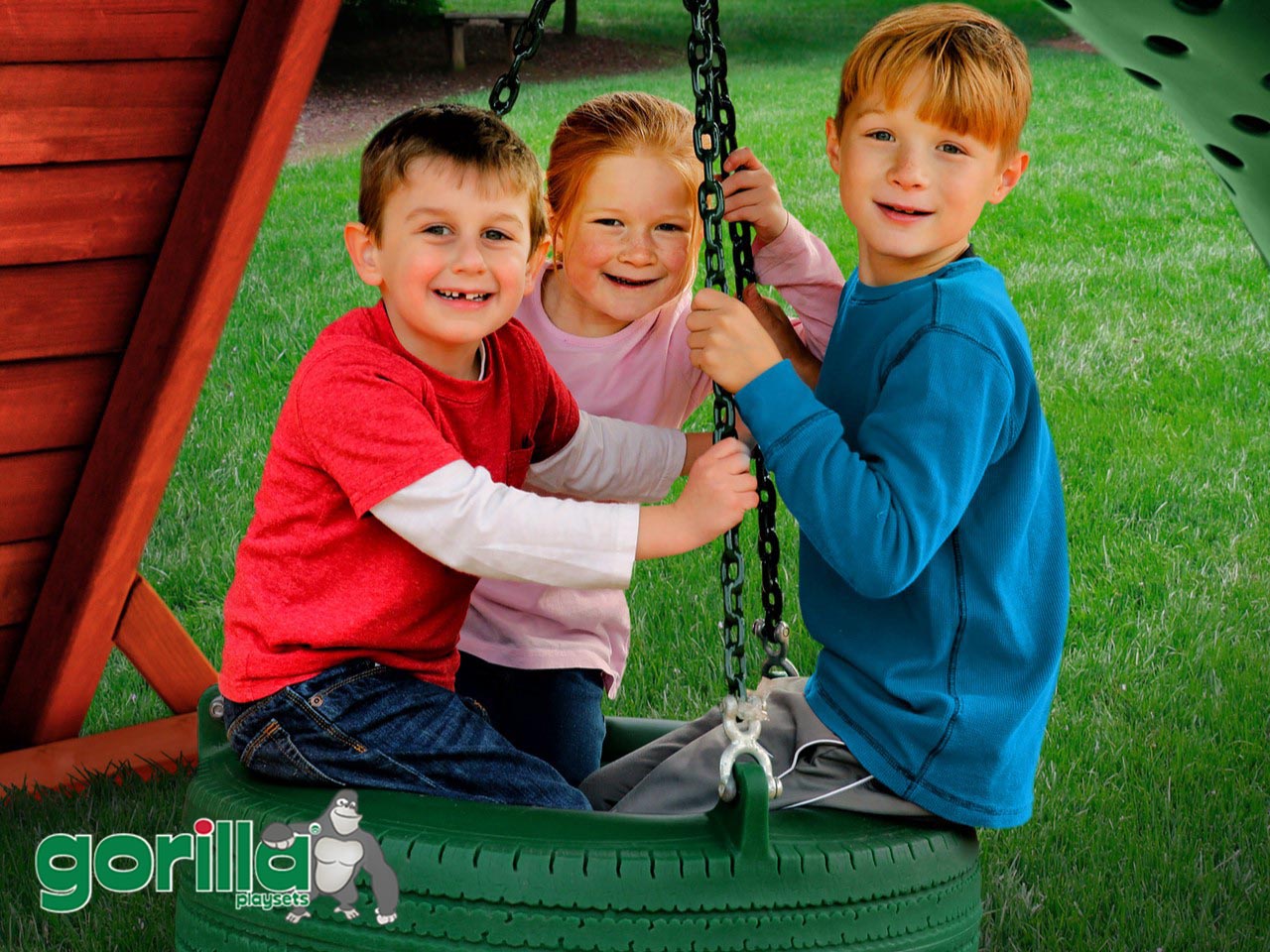 Ah, the classic backyard swing! It's no secret that swings are an essential part of any backyard playset, and for a good reason. Swings offer a unique and thrilling way for children to enjoy the outdoors, and provide a variety of benefits, such as body balance, core strength, and motor skill development. This makes them an indispensable feature of high-end playsets like The Homestead Swing Set from Gorilla Playsets. Swings are a very dynamic play feature. They provide opportunities for children to use their imagination, dream big, and explore the world around them. Kids can pretend they are flying over mountains and soaring through the sky, all while staying safe! These quintessential items provide a unique sensory experience that is unlike anything else. The sensation of swinging through the air, feeling the wind in your hair, and the gentle swooshing sound is both thrilling and calming at the same time. It's a great way for children to experience the world in a different way and provides a sense of freedom that they may not get from other play activities. You'll agree that many of us remember swinging fondly. It's a simple pleasure that can bring a lifetime of memories and nostalgia. Plus, it's a great way for parents to bond with their children. Swings can be used in combination with other playset features such as monkey bars, rock walls, and slides to create playset games such as 'jungle gym tag', 'king of the castle,' or 'treasure hunt.'
Shop our playsets today!
Not all playsets are crafted with the same care in mind, and the best playsets are designed with only the finest features. If you're looking for a high-quality playset that your little ones will enjoy and benefit from for years to come, look no further than Gorilla Playsets. Our playsets are designed with your child's age, ability, and interests in mind so that they can get the most out of their outdoor playtime. We offer a variety of playsets that are sure to go beyond your expectations. From classic wooden swing sets to multi-level playsets with rock walls and slides, shop our selection today to find the perfect playset for your backyard!