Why Cedar Wood Is The Best Playset Material
Feb 22nd 2023
Playsets are a great way to provide your kids with hours of outdoor fun. When it comes to picking the perfect playset for your family, there are a lot of factors to consider. From design to construction materials, you'll want to ensure your playset will keep your kids safe and provide them with years of entertainment. If you're looking for a playset that will stand the test of time, cedar wood is your best bet. Not only is it strong and durable, but cedar wood is also naturally resistant to rot and weathering, making it an ideal outdoor material. With proper upkeep, cedar playsets can last from childhood and beyond. What makes cedar so special? Why is it the best choice for outdoor playsets? Here are a few of the top reasons:
Longevity and Durability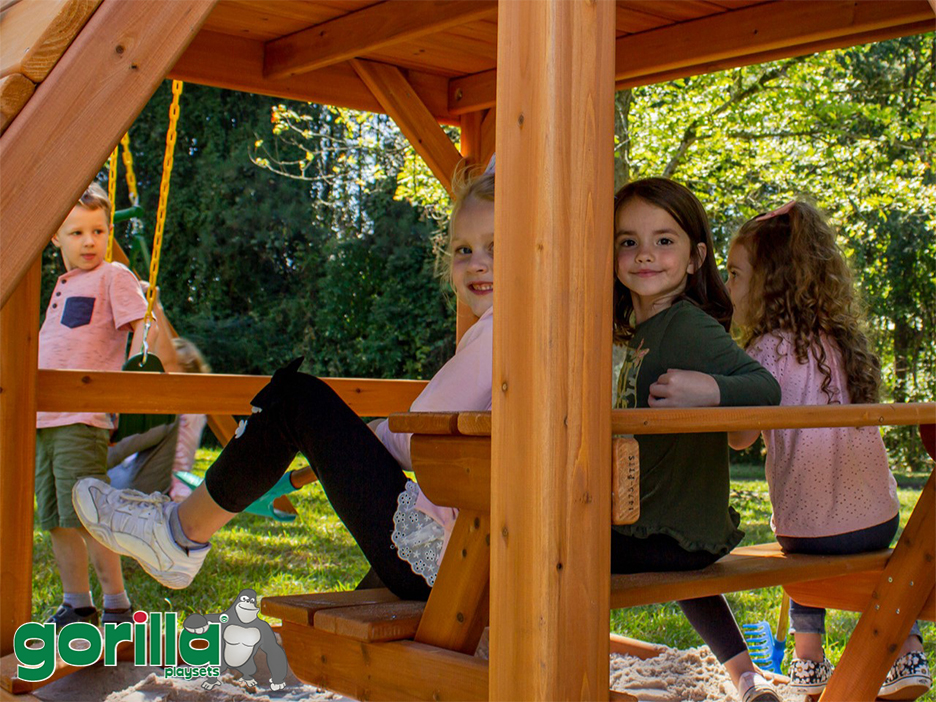 One of the main benefits of using cedar wood for your playset is its durability. Cedar wood is a strong and sturdy material that can withstand the wear and tear of daily use and outdoor elements. This means that your playset will last longer and require less maintenance over time, saving you both time and money in the long run. Cedar wood is also naturally resistant to rot, decay, and insect damage, which are common problems with other types of wood. It has a tight-knit grain that doesn't allow water, bugs, and other destructive elements to penetrate its surface. This grain structure also prevents warping, sagging, splintering, and cracking, ensuring that your playset will remain safe and sturdy for many years. But perhaps its main advantage is that, aside from applying a sealant every two years, cedar wood doesn't require any special treatments or coatings to stay in good condition. It has natural oils that protect it from the weather, which means you won't have to paint or stain your playset every year to keep it looking its best. A cedar playset can stay looking brand new for years with the proper upkeep, making it a great investment for your family's outdoor fun. At Gorilla Playsets, we only use the highest quality cedar wood to create our playsets, so you can rest assured knowing that your children will be playing on a playset that will stand the test of time. A good example is the Navigator Swing Set which promises endless amounts of outdoor fun for your family! It has sturdy, weather-resistant construction and is designed to withstand whatever Mother Nature throws at it. With its beautiful cedar wood finish, it's not only super fun, but also super stylish too with a classic natural look.
Pests Don't Like It
While we all love cedar's distinct and pleasant earthy smell, pests, such as ants and termites, don't. No backyard is immune to pests, and they're always looking for new places to set up shop. With cedar wood, however, you don't have to worry about them finding a home in your playset. Cedar's tight-grain structure also prevents pests from penetrating it, providing an extra layer of protection for your playset. This is how we know the Double Down II Swing Set will stay pest-free, even after years of use.
Cedar Dries Quickly After Rain or Snow
Let's face it - if your playset is made from a material that doesn't dry quickly, you're in for some serious problems. Wood that stays wet for too long can be damaged by rot and fungus. Luckily, cedar wood is highly resistant to moisture. Its oily texture allows it to quickly repel water, and its tight grain prevents moisture from seeping in. To ensure that our playsets have superior moisture protection, we use only high-grade cedar wood that comes pre-sanded, stained, and drilled for optimal protection. The High Point II Playset is a testament to cedar wood's moisture-resistant properties. This premium cedar wood playset has been specifically designed to go from box to built in no time flat, all while featuring a high standard of resistance. All you have to do is put it together and watch your children enjoy it even in the wettest weather.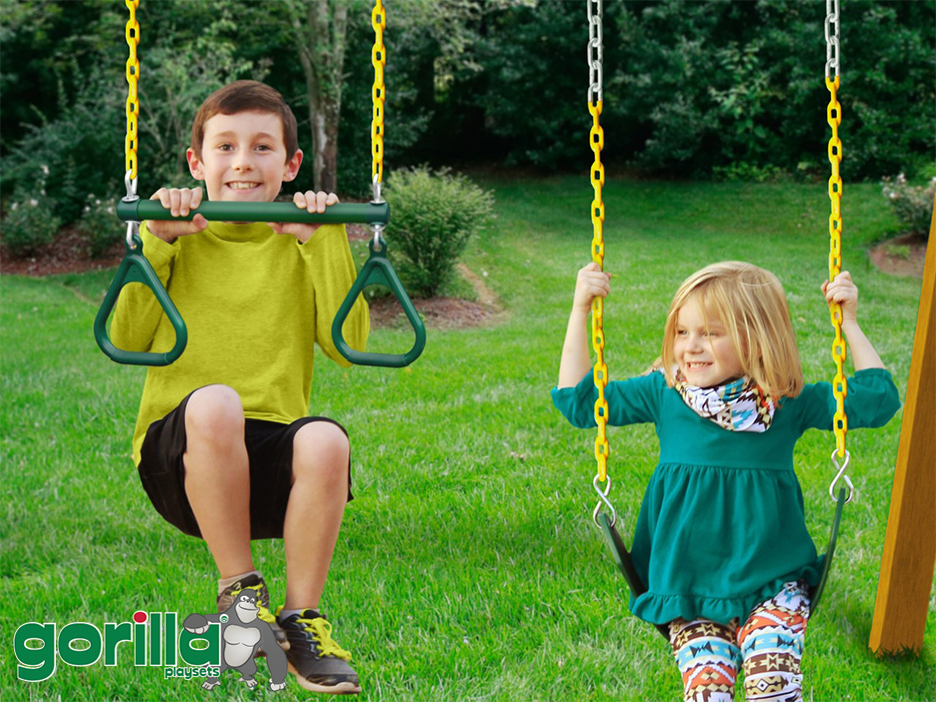 Safety of Cedar Swing

Safety of Cedar Swing Sets

Safety is a huge concern when it comes to playsets. You want your children to have hours of fun, but you also want to make sure that they're safe while playing. Cedar wood is the perfect solution for parents looking to provide their children with a safe and secure playset. Its tight-grain structure prevents splintering and cracking, so you don't have to worry about your children getting injured. Since it can be easily sanded, it is much smoother than other woods, making it ideal for play areas. It also doesn't hold water, so there is no need to worry about slippery surfaces either. With its natural strength and stability, you can rest assured that your children are playing on something that is built to last. Cedarwood playsets such as the Chateau with Sky Loft are made with safety in mind. Even when exposed to hot temperatures, it remains cool to the touch, making it safe for children to play on. Not only that, but its heavy-duty construction means that it will hold up to whatever your children throw at it.
Appealing Appearance of a Cedar Playset
Your backyard is a reflection of your home. It should be an extension of your living space and the perfect place to entertain family and friends. Cedarwood has a warm, inviting appearance that adds natural beauty to your outdoor space. Unlike other woods, cedar has a unique and luxurious look that sets it apart from the rest. Its natural grain adds character and charm to your playset, while its vibrant colors make it a showstopper in any backyard. As it ages, the wood develops a weathered, silvery-gray patina that adds even more charm to your playset. Not only is cedar visually appealing, but its natural oil also helps to protect it from insects and moisture, ensuring that your playset maintains its beauty for years to come.
Ready to Shop Cedar Swing Sets?
See Gorilla Playsets First! As a parent, you deserve the perfect playset for your children. You'll want something that is safe, durable, and visually appealing. With cedar wood playsets from Gorilla Playsets, you can have it all. Our cedar playsets are the perfect combination of style, quality, and safety. We use only the finest kiln-dried cedar wood that is sealed with a water sealant to ensure maximum protection against the elements. With superior moisture protection and a smooth finish, you can rest assured that your children are playing in a safe environment. When you're ready to turn your outdoor space into a play paradise, be sure to check out Gorilla Playsets first. Our cedar wood playsets are designed to provide your children with years of fun and laughter while also giving you peace of mind that they are playing in a safe environment. Shop now and start creating memories that will last a lifetime.