The Best Playsets For Toddlers
Jan 11th 2023
The little ones are always full of energy. They bounce around from one place to the other looking for exciting things to do. However, it can be difficult to find ways to stimulate them physically and mentally, which is necessary for development. Fortunately, backyard playsets can help both parents and children alike get healthy activity. One backyard playset can get multiple kids training both their bodies and brains – all while having tons of fun! What's the best part? They get to enjoy having a good dose of constructive backyard activity out in the open, where they can breathe fresh air. Kids get to climb, slide, and use their imagination while they enjoy their playset. Of course, you could find a park for kids to play - but it's often difficult to have the time to drive there, let alone find one that's open and safe. The answer to that issue is having a backyard playset right at home. The only thing you'll need to decide is which one will be right for your family. Don't worry! We've created the perfect list for parents of adventurous toddlers.
Basic Swing Set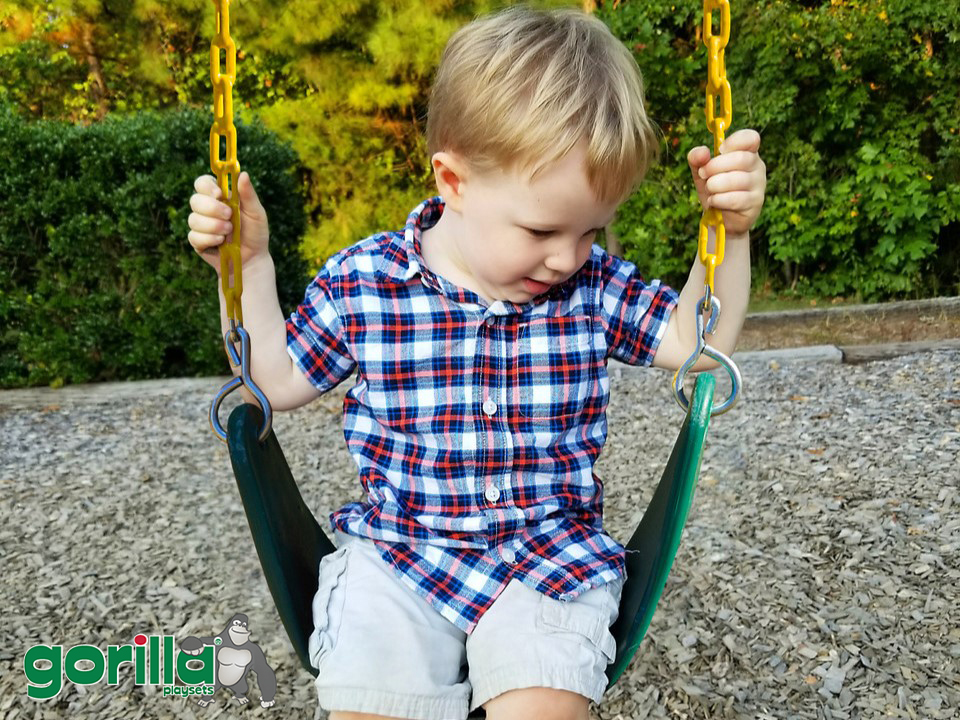 Why make things difficult when you can choose the simple option? It doesn't get any simpler and more fun than having a Basic Swing Set right in your backyard. Parents will rest easy knowing this playset is easy to assemble. Kids will have a blast playing with both swing seats and the ring and trapeze combination swing. Every element comes with a pinch-free coated chain, so the little ones don't hurt themselves while they're swinging around. The go-to option for a basic swing set comes from Gorilla Playsets. It has everything your kids need to have fun: premium cedar lumber, handpicked hardware, and swings. Let your children take their fun to new heights with either one of the swing seats that come with this playset. They can also let their inner acrobat fly on the ring-trapeze combo swing. Both come with coated chains to keep children safe. These swings support up to 115 pounds and are height adjustable. Do you want to take your basic swing set to the next level? You can use the A-Frame to shake things out and include another swing, such as a toddler or bench swing (which are sold separately).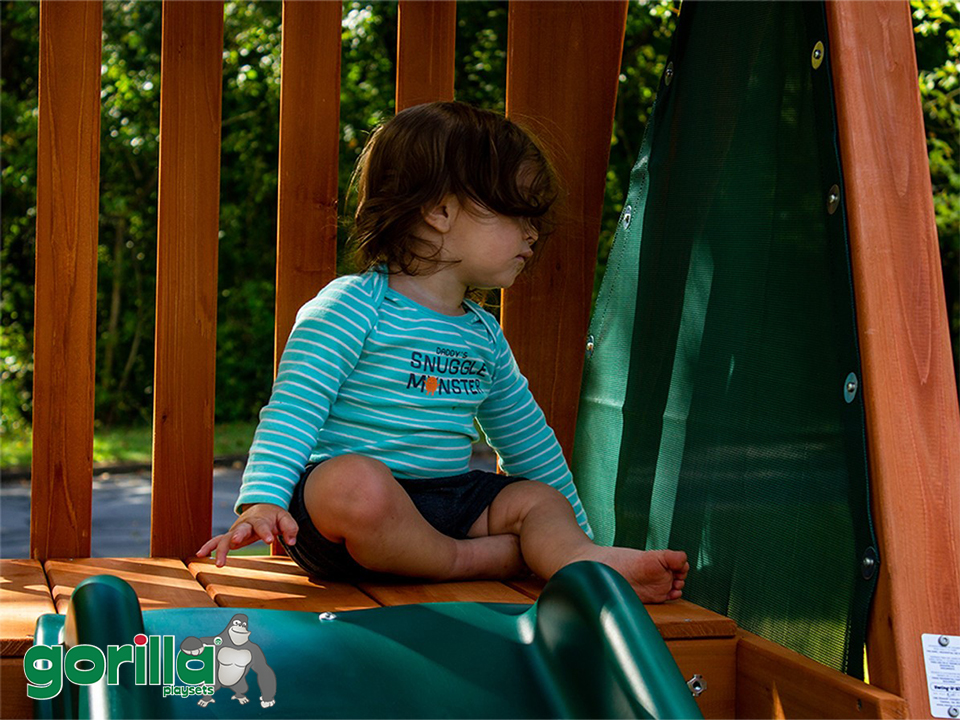 Basic Swing Set with Slide
Let's turn things up a notch and add a little twist to our loving Basic Swing Set - and add a slide! The Basic Swing Set with Slide is perfect for your kiddos: they'll get to work on their strength and other important skills while having a blast. The slide isn't the only thing this playset brings: your kids will also find they have two swings, a ladder, and a trapeze bar to play with. These are all great for improving their motor skills, such as balance and coordination. At the same time, they help your kid work their core muscles. This playset can entertain four kids without trouble. It's perfect for parents with a small backyard: kids will have a blast with this space- and budget-friendly option..
High Point II Swing Set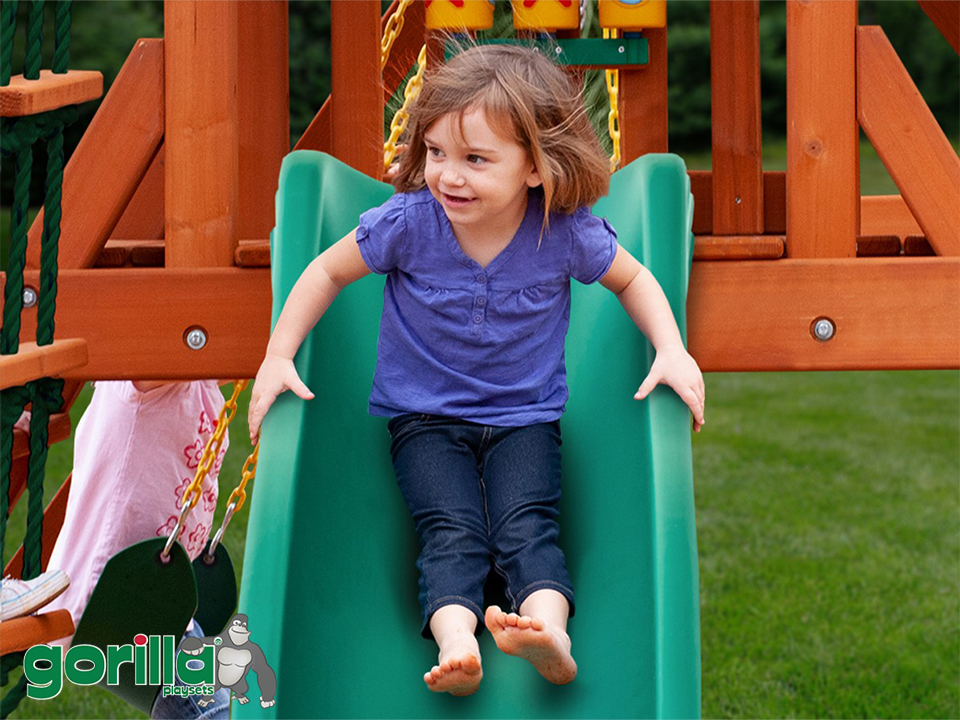 Is basic not enough for you and your kids? We understand! You can take things to another level with the High Point II Swing Set. It's perfect for kids with a lot of energy and who want to be on the ground for as little as possible: it comes with a rock wall, a climbing rope, and a large safe-entry ladder. Kids will spend their entire afternoon playing outside and come back inside to have a well-deserved good night's sleep after playing for hours on end!There are plenty of other accessories your kid will love, such as the punching ball. This playset is full of surprises your kids will have a blast playing with!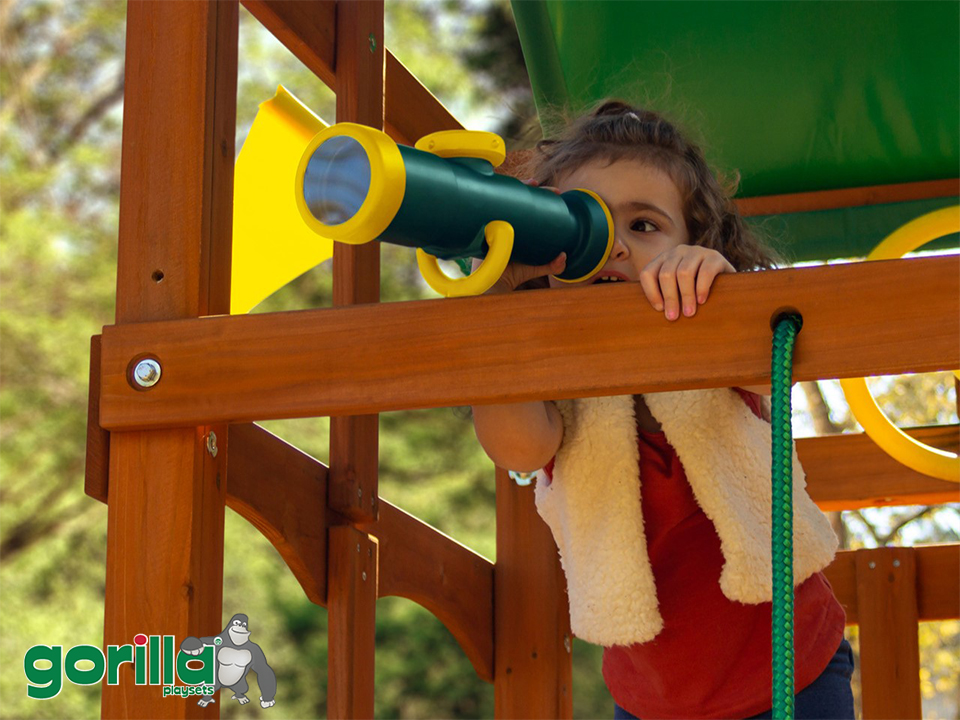 Outing Swing Set
Do you have a hard time choosing the best accessories for your kids' playset? There's no need to choose! We have a playset with slides, trapeze bars, rock walls, a sandbox, a telescope, and more. You read that right! The Outing Swing Set comes loaded with goodies for your kids to play with. There are so many things to play with that your kids won't run out of options for many years to come! Getting bored is not a possibility when you're on this playset.
That's far from the best part. Your children will always be safe when playing. It has one upper level, which is perfect for parents to see what their kids are doing. You can add countless other accessories to this playset if you want to as well.
Chateau Swing Set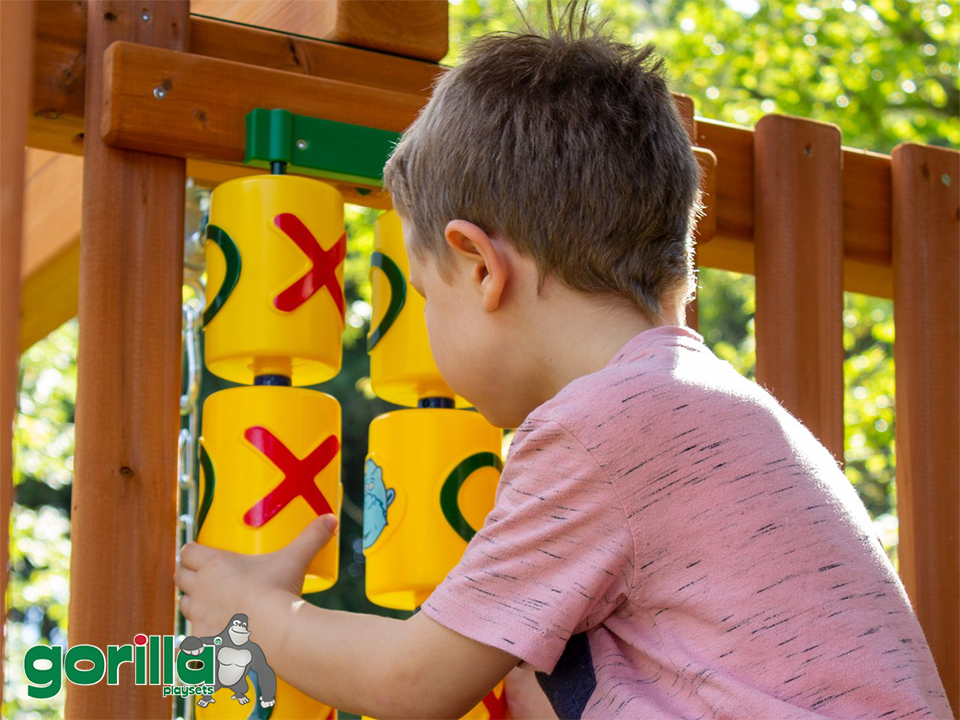 Do you have a large family? Do you love to host big parties that end up with a lot of kids running around? We can help you with that!
The Chateau Swing Set is ideal for anyone who needs to keep a large number of children busy. This playset is made from handpicked cedar wood that is bug-resistant, plus a canopy that covers the play deck, so kids are safe from the excess sunlight.
That's far from everything it brings: it also comes with two swings, a trapeze swing, a rope ladder, a climbing wall, a tic-tac-toe station, and many more things. We told you it was perfect for keeping a lot of kids busy!
Final Thoughts
We want to give you one last piece of information. The age of your kids matters when it comes to choosing a playset. Fortunately, there are options for every age, budget, and child! At Gorilla Playsets, our products are built for children aged 3 to 11.
We take safety very seriously at our company. We are always willing to listen to feedback - or help you with any questions you have! You'll see that reflected in our new designs and old products that now come with new twists! Contact us if you have any doubts.