Quality Swing Sets For Smaller Spaces
Jan 26th 2023
Kids - They love to explore, build, pretend and so much more. And what's a better way to bring all the excitement than transforming your outdoor space into an engaging and entertaining space that your kids will want to go out and play in? You might have noticed that a plain, flat lawn, patio, deck, or yard doesn't always give your kids the perfect setting to let their imaginations run wild. They rarely are enthusiastic about going outside if there is nothing to do. That's why having a quality Gorilla playset can be an ideal solution - it's a great way for kids to play and explore outdoors. Unfortunately, if you live in a home with a smaller outdoor area, it can be tricky to get a set that will keep them entertained while still maintaining the look and feel of your outdoor space. Well, this is where we come in. And don't get us wrong. We are not talking about bland, boring sets with limited features. No! Think of high-quality, super fun swing sets with just as many towers, slides, climbing walls, accessories, and features-all perfect for smaller spaces. These compact swing sets deliver just as much fun, imaginative playtime, and high-energy thrills as the bigger ones without taking up too much space. Whether you have sprawling lawns or a small patio, these swing sets can fit in just about any type of space. Here are some of our favorite swing sets picks for smaller spaces:
Basic Swing Set with Slide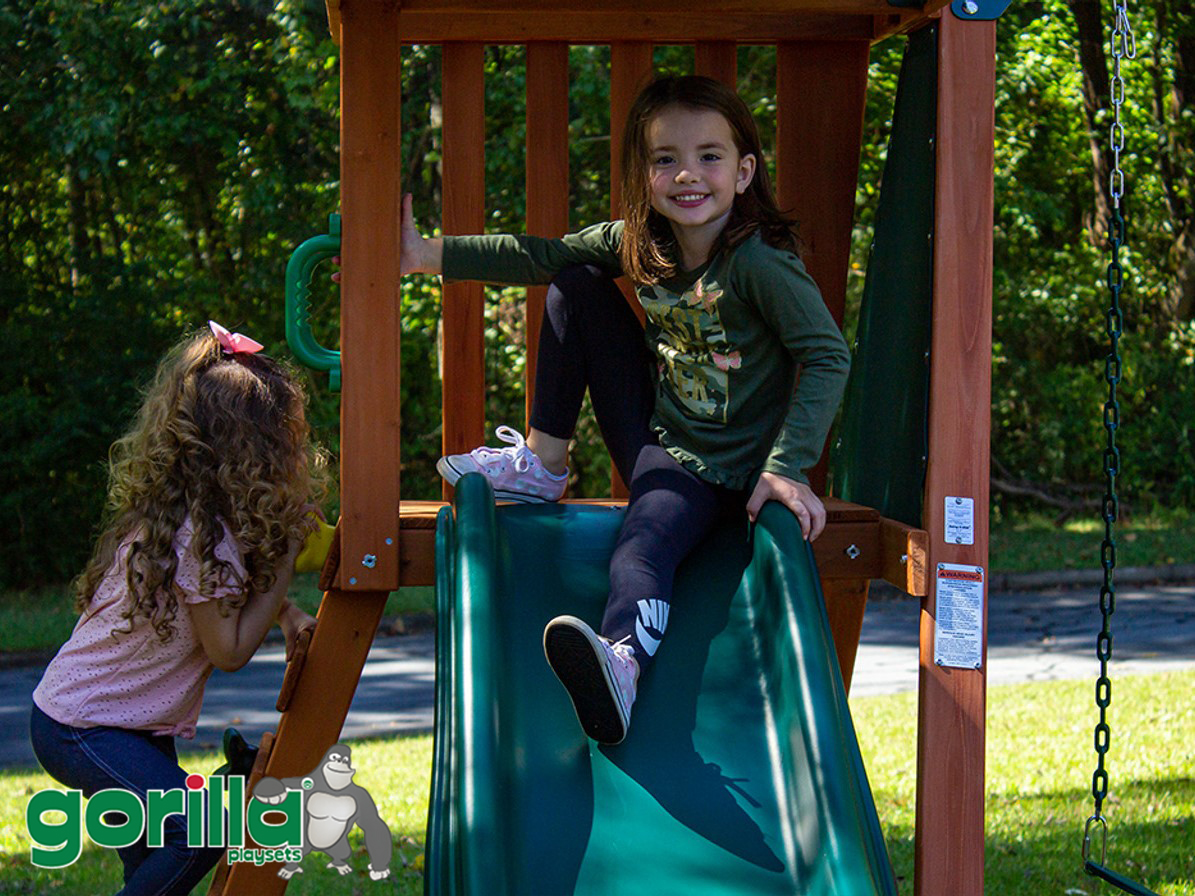 Even small yards can be the right place for your kids to pursue physical activities if it's set up correctly. If you want an exciting backyard set that doesn't take up too much space, the Basic Swing Set with Slide is perfect for you. Designed by the performance-centric team at Gorilla Playsets, this swing set is sure to deliver optimum fun, safety, and satisfaction to your little ones. It's equipped with two swings, a ring/trapeze bar, a slide deck with a climbing wall plus a slide combo - all designed to give your kids healthy and fun outdoor playtime. It features premium, pre-cut cedar lumber that gives it gorilla-tough strength and stability. It comes with fully illustrated instructions, allowing for easy installation.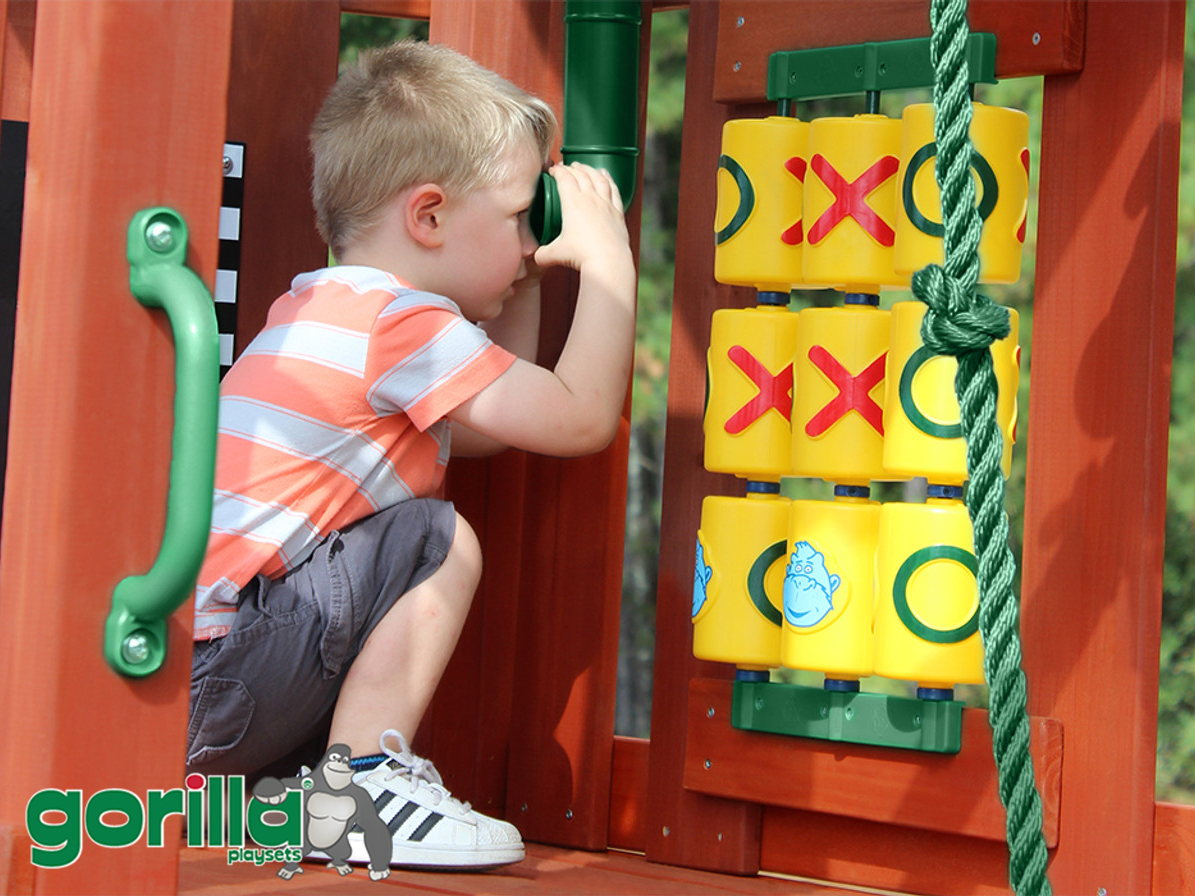 PlayMaker Deluxe Swing Set
This is one of the best-in-class swing sets for small yards. The PlayMaker Deluxe Swing Set from Gorilla Playsets is a super fun and interactive backyard structure that comes with two belt swings, 2 alpine wave slides, a glider, a deluxe green vinyl canopy roof, a rock wall with a climbing rope, a steering wheel, and a telescope. All these provide an opportunity for kids to play various playset games, allowing their imagination to roam freely and their energy to be burned in a creative way. It is an all-in-one playset that supplies hours of fun and keep your little ones busy in the backyard. Plus, it's constructed from premium-grade cedar wood for long-lasting durability. This ergonomically designed outdoor swingset is sure to encourage creativity, teamwork, and problem-solving that will help your kids navigate life's challenges seamlessly.
Chateau Tower Swing Set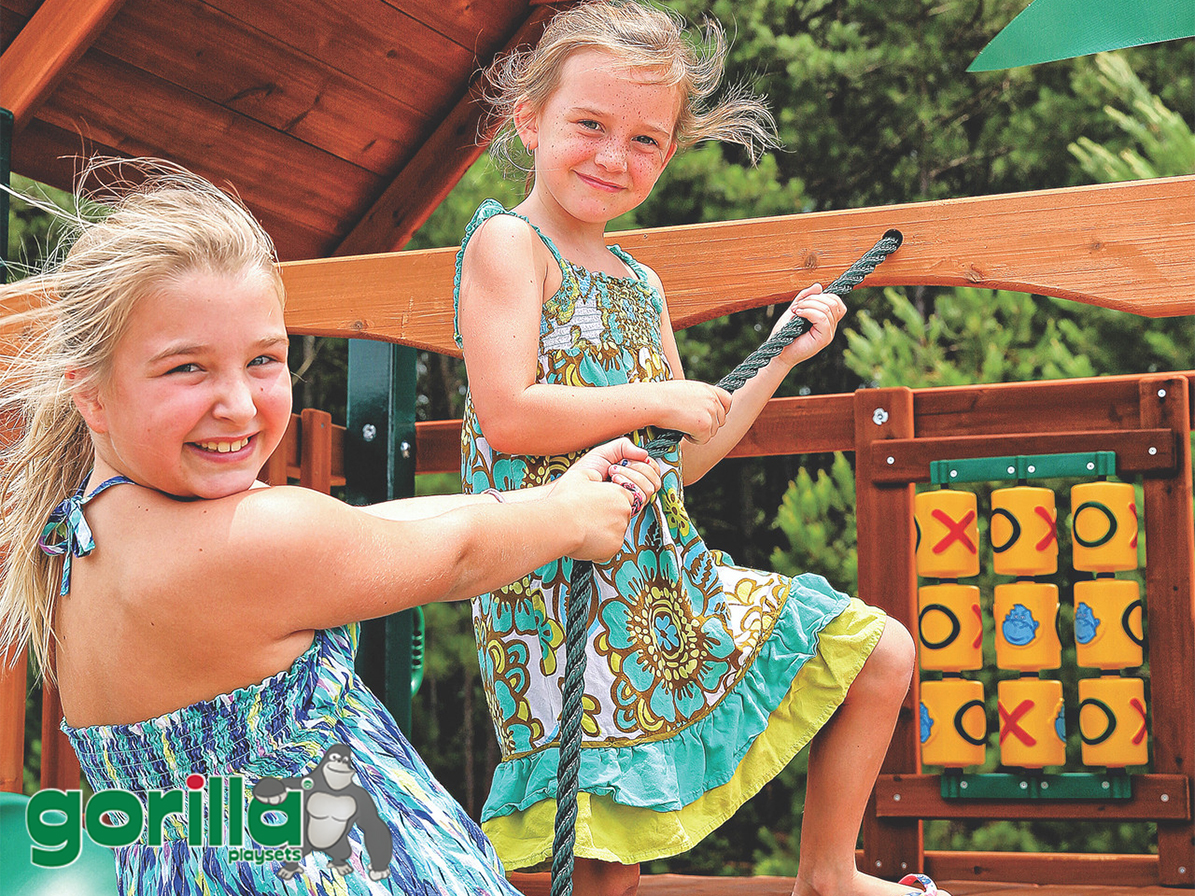 Your kids will have the time of their lives playing on the elaborate Chateau Tower Swing Set! According to the US Consumer Product Safety Commission, adequate spacing is a critical part of swing structure safety with a recommended spacing of at least 6 feet from the edge of the play area to any obstacle such as walls, fences, and other structures. This is why we have removed the swing beam (which needs more space) from this amazing Gorilla Playset and instead, added a single compact tower for optimum space utilization. The 9'W x 14'D x 11'H platform of the Chateau Tower Swing Set makes it a great option for smaller yards decks, and patios. It comes with a climbing ladder and a rock wall climbing rope-all designed to keep your kids busy. The Tic-Tac-Toe panel alpine wave slide and deluxe rope ladder make it a perfect yard addition that will push your little energy balls to be physically active and mentally engaged. It also has a safety sandbox area and a picnic table for socializing and creative playtime. This playground set is made from naturally rot-resistant cedar that has a beautiful amber stain that not only promises long-lasting use but also offers a luxurious look to your backyard.
Navigator Treehouse Swing Set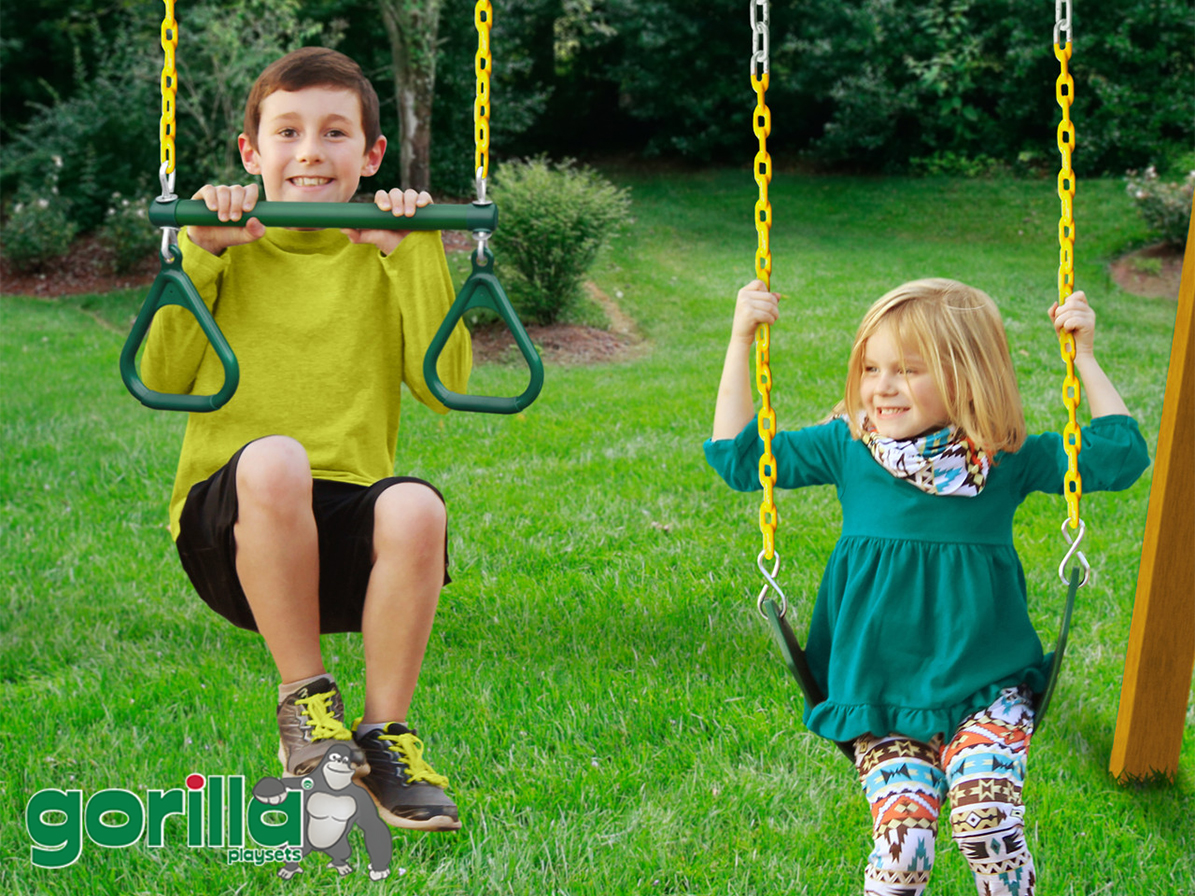 Feed your child's imagination with the Navigator Treehouse Swing Set. It is a complete backyard playset with all the bells and whistles that make it one of the most fun, interactive, and innovative swing sets for smaller spaces. The Navigator Treehouse Swing Set has a two-level play deck, two belt swings, an Alpine wave slide, a rock wall with climbing rope, a navigator wheel, and a telescope. All these features provide your kids with an opportunity to explore and discover the world from the pristine backyard of your home. This swing set is made from premium-grade cedar wood that's treated with an amber finish to give it a beautiful look and long-lasting durability. Featuring a standard wood roof with sunbursts, dormers, and a chimney, this swing set provides your kids with a realistic experience of living in a treehouse. What's more, this swing set also has a picnic table for friends to gather, spend time outdoors and create fun memories.
Shop For Small Playsets With Big Potential!
No matter what your needs and preferences are, Gorilla Playsets offers a wide range of beautifully designed swing sets for smaller spaces. These sets are designed to maximize space utilization and provide your little ones with an opportunity to explore the world from the comfort of your backyard. At Gorilla Playsets, we understand the importance of safety, comfort, and quality, which is why all our playsets are designed to meet the industry's best standards. Shop for the perfect swing set for your home today and give your kids the ultimate outdoor adventure!