Double Swings For Double The Fun
Dec 6th 2022
Does it get any better for children than the thrill of flying high on their favorite swing set? Not at all! They start going faster as they feel the breeze against their face and the excitement of being up in the air with nothing to stop them. Kids love it, and they'll always remember that moment, even when they're adults. There's more to swinging than entertainment, though, and that's a big part of it all. Children will get physical and mental stimulation from swinging - and that's without taking the socializing aspect of using a swing with your friends into account. The best part is, swinging is easy and safe so kids of almost any age can have loads of fun! When they do so, their body adapts to the movement as they train their muscles without knowing it. Remember, swinging is even better when it happens in groups. For that reason, we created a list of our favorite multi-person swings, so your kids can have twice the fun.
Tire Swing
The classic tire swing represents an opportunity for countless hours of fun for anyone involved! In fact, this type of swing encourages physical development by improving the balance and coordination of anyone using it. Your average swing only allows kids to move back and forth. However, the tire swing can go round and round in multiple directions, allowing up to three kids to swing together. Does that sound like something your kids want to do? Of course! What better way to make it happen than getting our Turbo Tire Swing? Our new and improved design prevents water buildups or any sort of pest infestation from happening. It's made of molded plastic, so there be no black residue or foul odor there! Lastly, the coated chain prevents kids from pinching their fingers. It's fun and safe for kids!

Nest Swing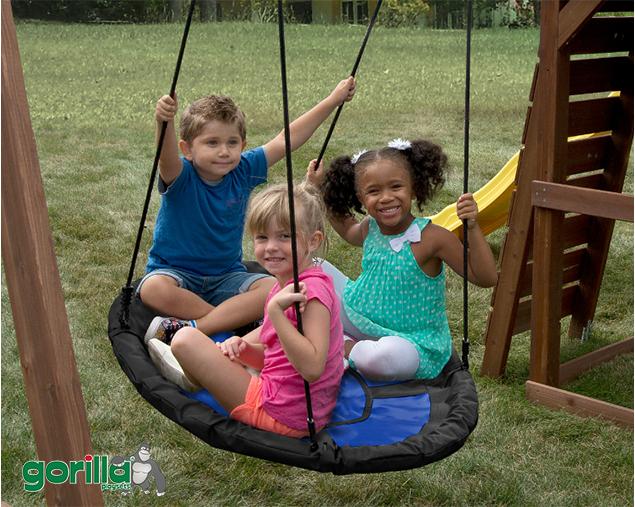 Do you want something like a tire swing but slightly more modern? We can make that happen - and we have! Introducing our Nest Swing, a unique type of swing that offers an alternative to the traditional swinging experience. Your kids will love to glide on a swing where they can either sit or lay down. It allows children to rest as much as it does to have fun, so you'll know your children will never have enough of it! Just like our Turbo Tire Swing, the Nest Swing lets up to three kids swing at the same time and is a great way for them to work together! Every product we release is tested and ready to take countless hours of children playing. The sturdy steel frame is proof of that! The swing can withstand a capacity of 200 lbs.

Double Glider Swing
The Double Glider Swing is a fan favorite. Kids love it, and we know why that happens: this swing feels like a seesaw floating in the air! It has handles on both sides, two footrests, and a wide saddle seat. It's the perfect combination of safety and adventure every child loves! The design of this swing didn't happen by accident. It's made for kids to use their legs to push and move forward. That way, they can train their muscles as they have fun. At the same time, this swing provides a safer environment for kids. Since the seat regulates the speed to avoid them going too fast or too slow, the little ones will feel safer here than in a regular swing, encouraging them to go outside and have a blast! Of course, there's enough room for two kids to play, so they can have twice the fun.

Chill 'N Swing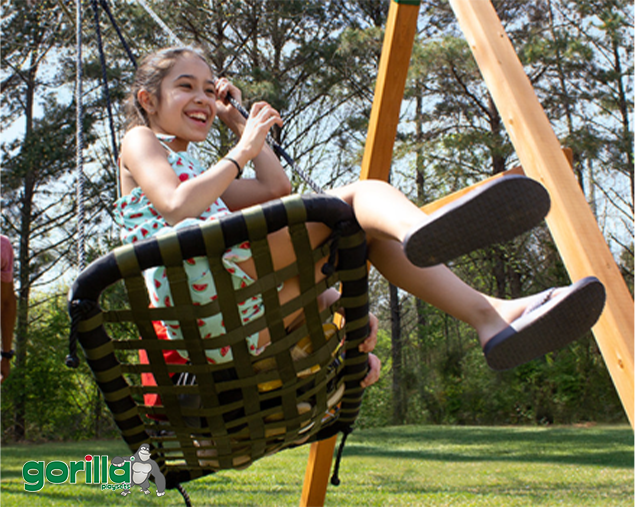 Do you want a durable, low-maintenance swing? Our Chill 'N Swing is a popular go-to playground activity for families nationwide. There's a reason for that! As you know, swings allow kids to develop their mental and physical abilities - and this swing is no exception! When kids start going back and forth, they'll have to use their muscles to keep their balance. At the same time, the simpler rope design makes it easy for kids of any skill level to have loads of swinging fun. A nice little detail is the net seat: since it's see-through, kids will look at what's below them at all times, so they can look down and around as they swing and have fun.

Babysitter Swing
Last but not least, we present our Babysitter Swing. This swing is the perfect place for kids to sit down and relax while they slowly swing back and forth and rest after having so much fun. That's far from the best part! We often talk about swings and children, but this swing presents the unique opportunity of allowing parents to join in too! It's great for parent-child bonding and is ideal for younger kids who still need a little help having some outdoor excitement. You can sit down as you watch kids have fun running around or relax on your own after a long day of work - because we know you deserve it!

Get Twice The Fun Today!
The sky's the limit when you love swinging. Children of all ages and stages will have countless hours of fun flying high and having a blast on these multi-person swings. It doesn't matter what type of swing you want to add to your play set as long as you do your homework and know what you're buying. In other words, you need something that's rust- and UV-resistant, as well as made from high-quality materials. Did you know swings have come a long way? They have! Swings have evolved throughout the years and now represent a cornerstone in childhood development. Parents everywhere should pick the perfect swing for their kids' playset, so their children can have fun and develop safely. Are you having a hard time picking the perfect swing set? We're here to help! Contact us at Gorilla Playsets, so we can help you get the best swing set for your kids.