The Best Playsets For Older Children
Dec 6th 2022
The older your kids get the more independent they become and their needs and wants change year to year. A few things don't change, though: older kids still need plenty of physical exercise and playtime the same way young kids do, and the best place to make that happen is outdoors! Sure, kids of all ages love videogames - but that's not the healthiest approach to playing. In contrast, outdoor playtime promotes all the right things, including mental, physical, and social well-being. So, how can you get your children away from screens and help them get outdoors? You can make that happen by having the perfect playset for them right in the backyard. Parents of older kids must choose a playset that's challenging enough and, at the same time, offers fun ways to keep kids active. Of course, you want to buy something that's durable and safe. What's the best playset for older kids? At Gorilla Playsets, we have a wide variety of outdoor playsets your older kids will love. From slides, swings, monkey bars and more, our sets are loaded with engaging play features designed specifically to keep kids active and help them grow. With the right care and upkeep our playsets will last throughout childhood and beyond thanks to our hand-picked, high-quality materials. We recommend children aged 3 to 11 use our playsets - but we'll go through the best outdoor play structures for older kids in this post. At the same time, we'll walk you through why playing is vital for everyone.
What are the essential playset features for older kids?
Your kids want space to move around and play freely. You can entertain young children with something small because they're beginning to learn what they can do, so everything is new and exciting for them. In contrast, older kids need a challenge to keep engaged in an activity. Here are the best three playset features for older kids: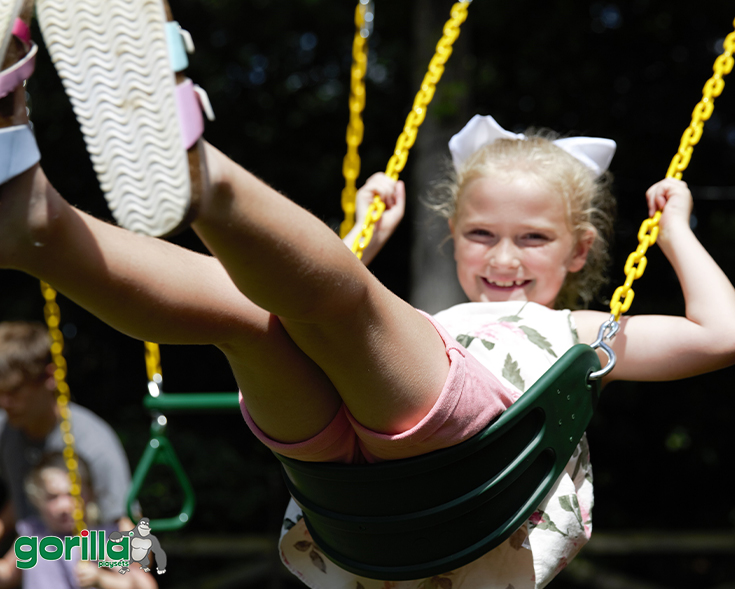 Swings
Everyone loves swings - including adults! Swinging can help build strength and burn calories. At the same time, they can also help them relax, talk with friends, and build memoires that will last a lifetime. Swings are an incredible opportunity for kids to do enjoy a diverse set of activities that build healthy habits. For example, by adding a disc swing to your playset kids can swing and spin like never before all while strengthening their balance and confidence. You can also choose the tire swing for a more versatile touch that promotes teamwork. Or go for the classic belt swing so kids can soar high in pairs. It provides that classic playground experience right at home and means healthy outdoor play doesn't have to stop at the park.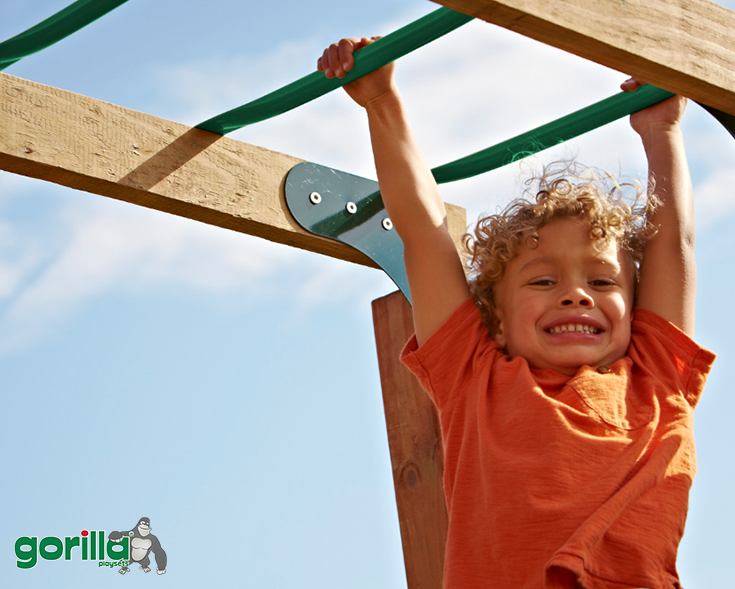 Monkey Bars
No quality playset is complete without a set of monkey bars. Older kids love them because they're the perfect place to build upper body strength and have tons of fun while facing a challenge. Not only that, but monkey bars give kids a chance to build confidence as they swing from one end to the other and back again. They are an essential feature for kids looking to take their play to the next level and will keep their set interesting.
Bridges
Want to turn your playset into a castle? If so, just add a bridge with mesh panels to the mix and you get the ultimate play space that's connected, functional, and fun. Adding a bridge to your playset allows your child to use their imagination. That way, they'll pretend they're in a forest, ruling a castle, and more. That kind of activity improves their cognitive abilities - and it's also engaging. Plus, it gives their set a unique edge that both looks great and adds a whole new dimension to playtime.

What are the best playsets for older kids?
Older kids need bigger, more challenging playsets to keep busy while exercising their minds and bodies. As they grow, they'll look for activities they can do themselves, and their playset is the perfect place for that. From extra slides, levels, monkey bars and more, it's important to have a set that has all the exciting features they could want all in one place. For example…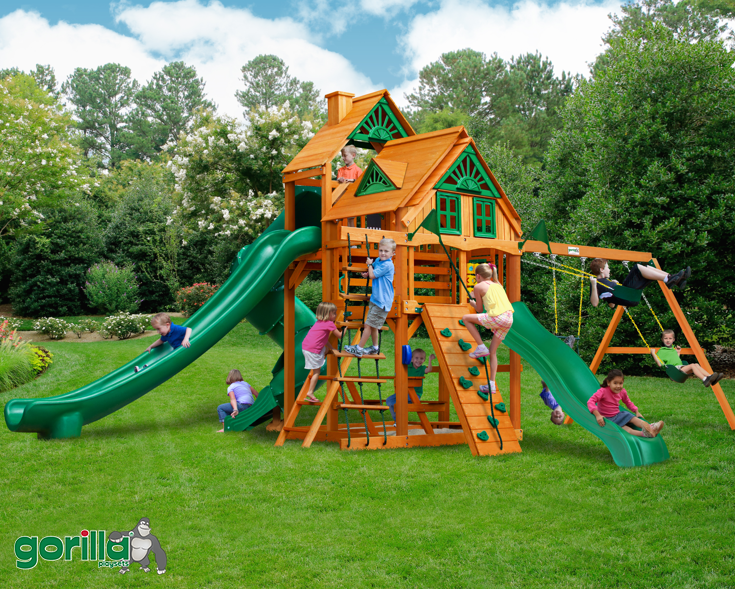 Empire Extreme Playset
Our Empire Extreme Playset is one of the best sets for your backyard. It really does have it all: three slides, three decks, and countless fun for your kids! Think something is missing there? A monkey bar or a rock wall with a climbing rope, perhaps? Well, think again - because they come included!
Wilderness Retreat Playset
Another great option is the Wilderness Retreat from Gorilla Playsets. This set is a bit more compact than the Empire Extreme but is still loaded with exciting play options like multiple slides, swings, climbing options, and plenty of imaginative playset accessories. It's perfect for families with multiple kids or for when friends come to visit.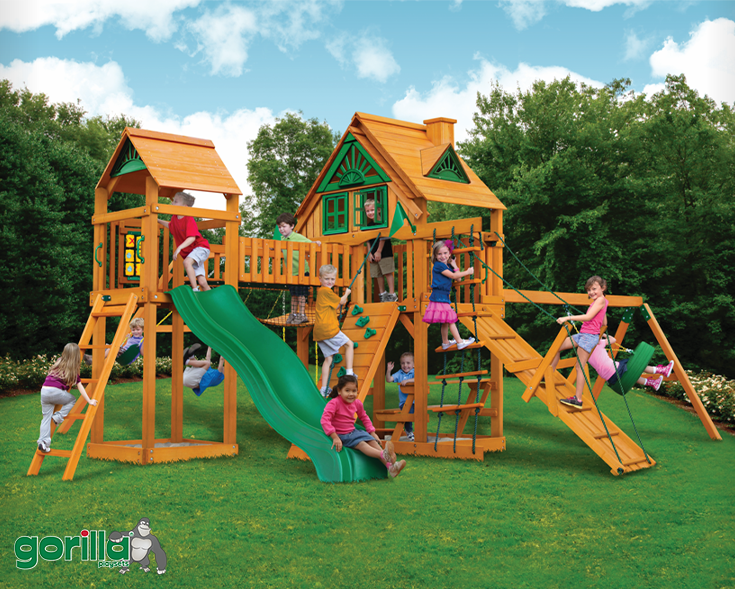 Treasure Trove I Playset
Our Treasure Trove Swing Set comes with more accessories than you could think of: a rock wall, sandboxes, slides, and every tool your kids need to have fun. It's impossible to get bored with this one. Your kids will feel like they have their very own castle right in their backyard! Plus, the addition of the play tower means they'll have even more room to run and have fun on a set made just for them.
Pioneer Peak Playset
The Pioneer Peak Playset is one of our favorites - and there's a reason for that. It comes with a slide, a rock wall, a bridge, and two sandboxes. The possibilities are endless! It's ideal for anyone with a little monkey in the family because of all the engaging climbing features. It'll be hard to bring your kids back indoors once this set is in the backyard!

Older kids grow out of many things - but they never grow out of having fun! Unfortunately, most kids don't have the right tools to have fun the right way. Physical activity is a must for older kids because it helps them maintain a healthy weight, boosts confidence, and helps with self-esteem. Screens and videogames are everywhere. Kids need a push in the right direction, so they can continue to play outdoors, build friendships in the real world, and exercise as they have fun. Having a playset is the best way to make that happen! We have shown you a few of our playsets for older kids. Nevertheless, finding the perfect one for your kid will take time. Don't worry! Do you have any concerns, doubts, or questions? Feel free to contact us so that we can help you right away!