Playset Essentials That Bring Hours Of Fun
Nov 30th 2022
Constructing a whole full-sized playground in your backyard can seem like a daunting task. However, when you know the essentials it's easy and can even be fun! Your backyard might not be just as big as a park or regular playground, but don't let that stop you. Even with limited space having an area in your backyard customized with the playsets your kids love to use had never been easier. So let us be your one-stop shop for all your kid's desired playset essentials.
At Gorilla Playsets, you can pick from a wide range of essential playset components and accessories. These playset essentials can be swing sets, slides, rock climbing walls, ladders, monkey bars, and much more. There are also add-ons for playsets and their accessories. The big question is how to know which one to pick? How are they any different? Are they even suitable for your kids or grandkids? In this article, we are going to discuss what playset essentials we recommend to bring hours of fun.
Swings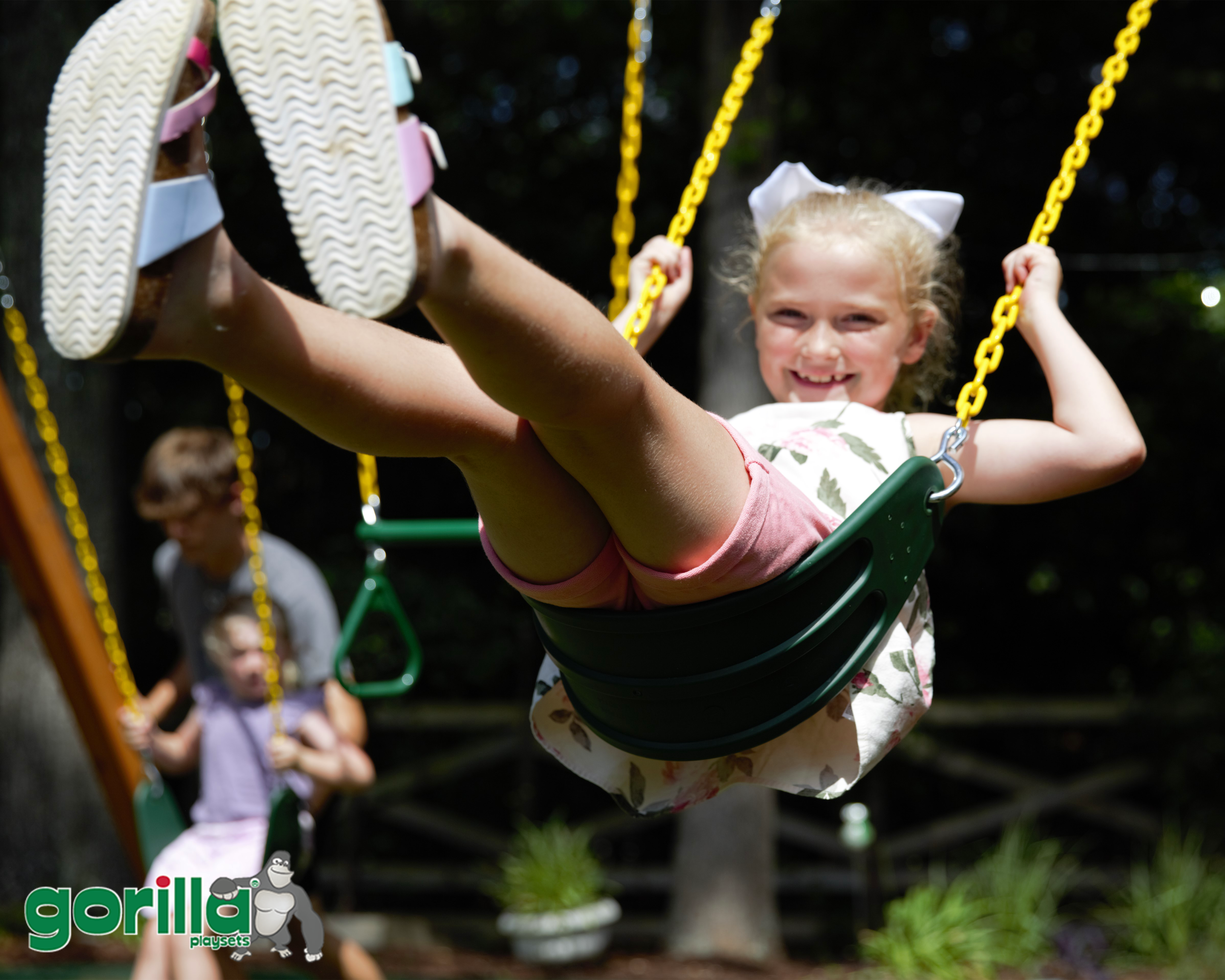 Kids love to swing. It's that simple fact that has made swings a staple of any playground for generations. Be it by themselves or with friends, swings offer the kind of high-flying fun that never gets old. They are great for bringing kids together to teach cooperation, sharing, and many more valuable outdoor experiences. Not only that, but each swing offers something different and can be customized to fit your child's specific needs. Have a little one who isn't quite old enough to play on their own? Try a High Back Infant Swing. It has all the smooth swinging action of a regular swing and lets even the smallest member of the family enjoy the outdoor fun! Plus, it's crafted to be super cozy to reduce stress and build confidence.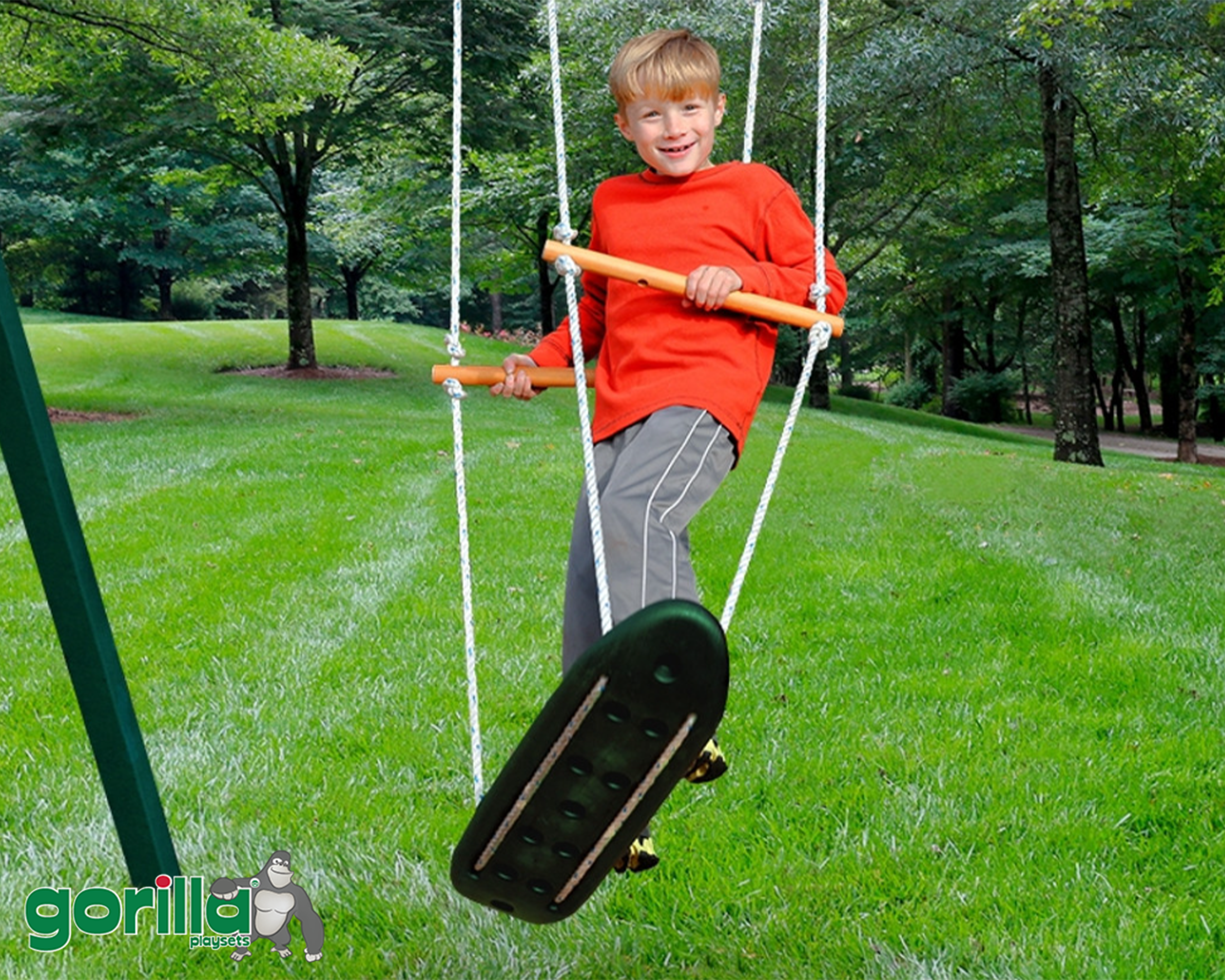 Maybe you have someone who champions adventure and loves being independent. Try the Stand-n-Swing or Skateboard Swing for a unique option that's sure to provide endless amounts of excitement. It's also great for improving core skills like balance and hand-eye coordination. However, if you just want to enjoy some low stress swinging fun you can't go wrong fitting your set with a Heavy-Duty Swing Seat. It's perfect for providing that classic swinging motion that your kids have grown to love. Plus, it comes built in with super durable material to be both strong and comfortable. These are just a few of the wide selection of swings available and each one is fun in its own way. No matter if your kid is big or small, bold, or just starting out, there is bound to be a swing that's just right for them!
Slides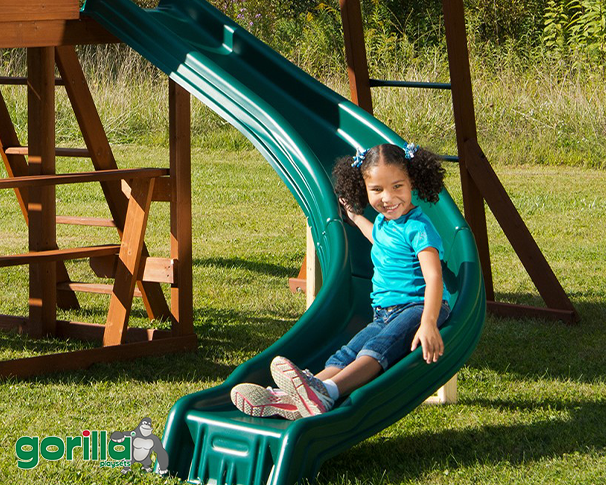 Other than swings, the second most recognizable and well-known playset essential is slides. No matter which playset you see, be it at the park or your best friend's backyard, it undoubtedly has slides. They come in all sorts of shapes and sizes and can easily become the standout feature of any set. That's why it is important to familiarize yourself with them so you can make the right choice for your kids. For the all-around classic playground slide experience, you can't go wrong with the Cool Wave Slide. It features a gentle wave in the middle to make the slide feel unique without it being too scary for younger kids. Plus, it's super strong, sturdy, and is sure to keep kids safe, no matter how hard they play!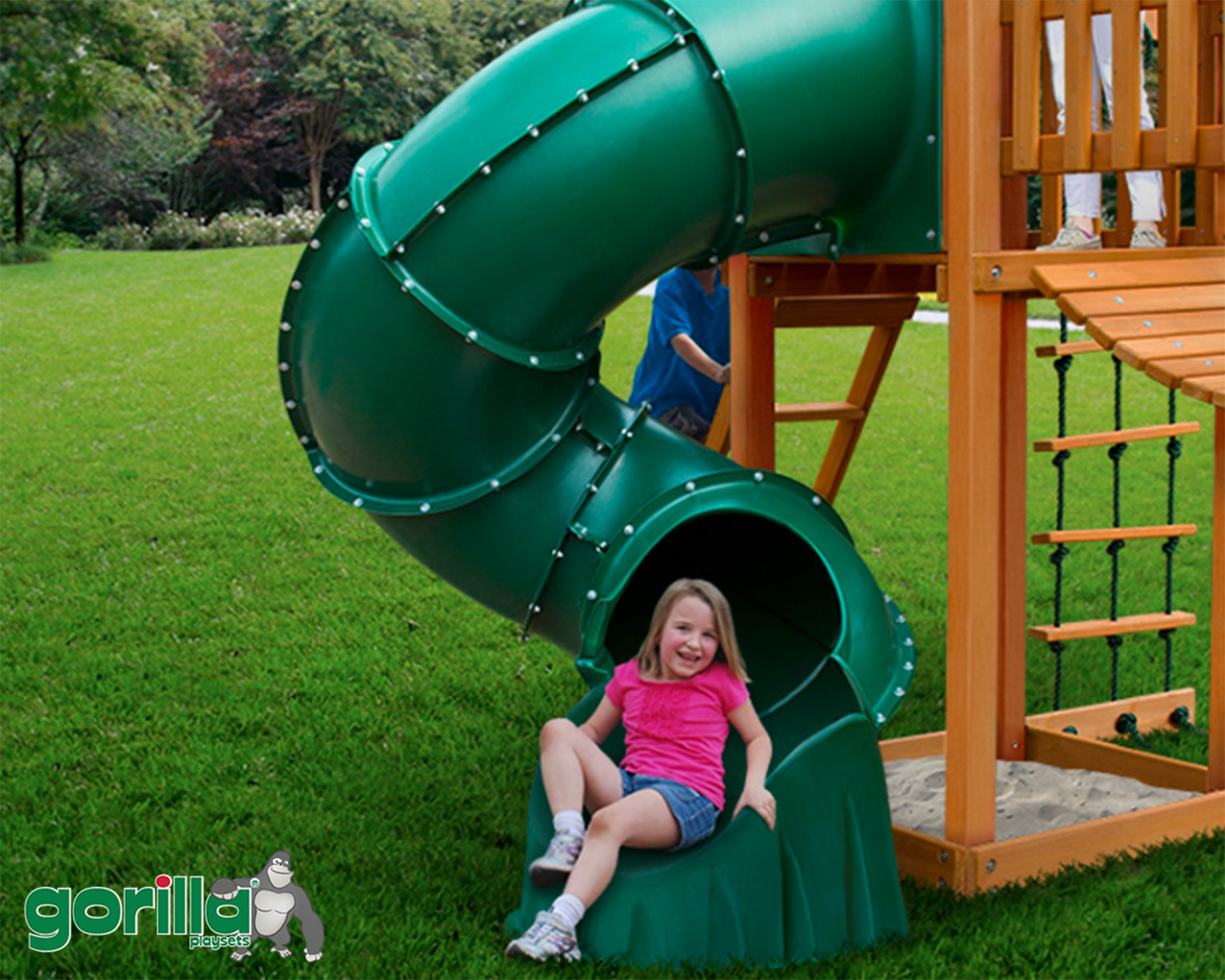 Or, add a twist to your set with an exciting Side Winder Slide! Not only does it add curve appeal to your set, but it's also space conscious. That means, even with a smaller backyard your kids can enjoy all the sliding action they could ask for. However, if your kid is a champion of adventure and likes trying new things the Super Tube Slide is a great choice! It works well with larger sets and adds loads of smooth sliding action. Not only that, but it helps build confidence with its twisting tube design. It's the kind of fun that never gets old! With so many great sliding options to choose from it might seem difficult to find the one that's right for you. However, once you know what kind of experiences are available choosing the best one will be easy!
Climbing accessories
Climbing is a full-body activity. That means it is a great way to improve overall physical fitness in kids. It builds core strengths like hand-eye coordination, balance, arm & leg muscles, endurance, and much more. Also, having a climbing accessory can make your playset both more accessible and exciting. It can add a whole new dimension to your set and bring loads of new ways to play. You can find all types of playsets and accessories for your kid's climbing needs at Gorilla Playsets. For instance, if climbing is your kid's favorite way to play then try adding a classic set of monkey bars. They go great with most 5ft. sets and offer the thrill of a challenging climb. It's the perfect activity for building both general fitness and confidence. After just a few tries it's sure to become a favorite of the playground! For a more unique experience why not try the rope ladder or climbing rock holds? They each give the feeling of swinging through the jungle or climbing a mountain all from the safe comfort of the backyard! Plus, they make great little additions that bring loads of fun. Kids of all ages can enjoy them, and they go a long way in making the playset more accessible.
Toys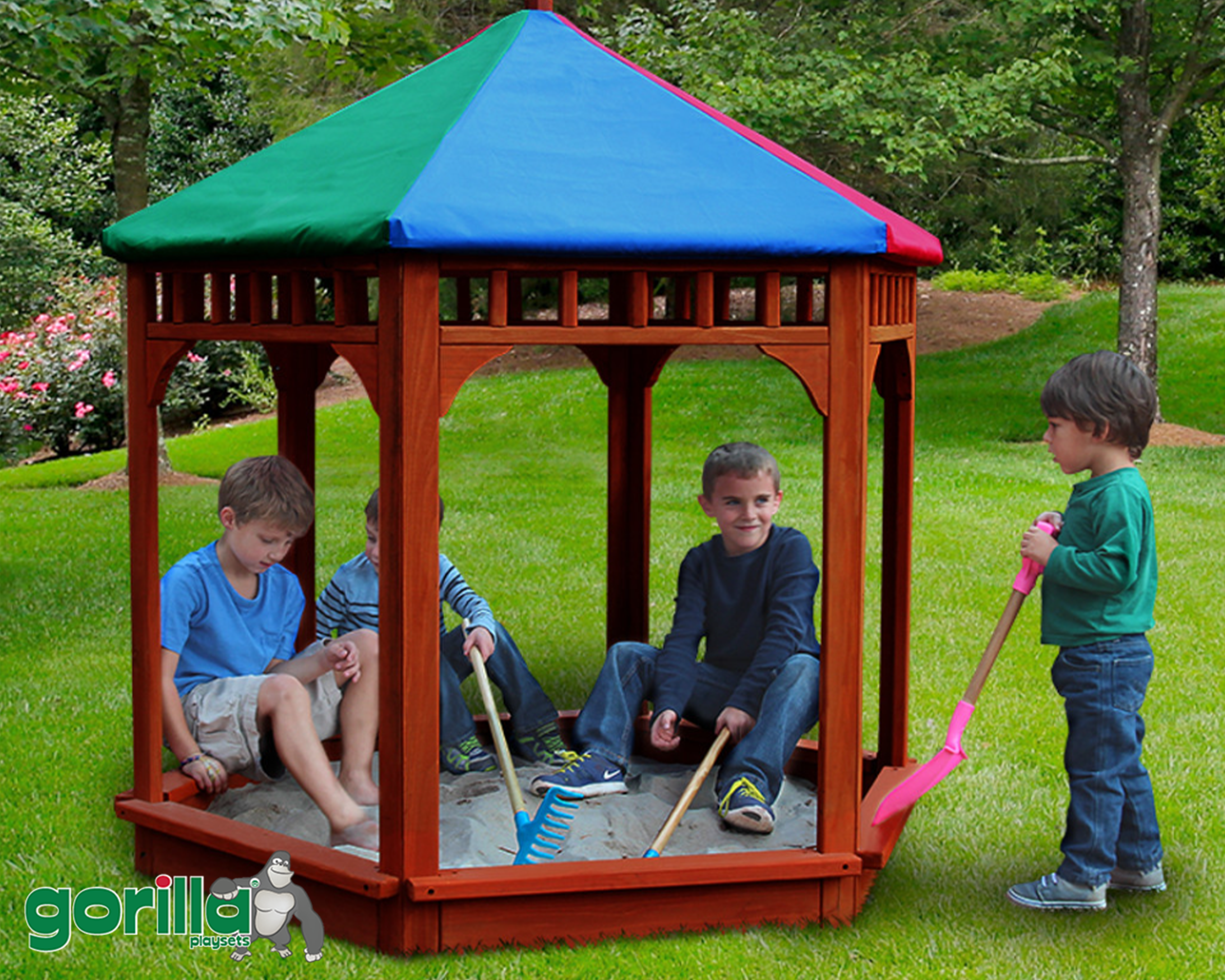 Toys
Need a fun way to foster imagination in your child's outdoor play? When you fit your set with quality toys, they'll have plenty of ways to spark imagination. That's why we offer a wide array of options that are specifically designed to be both fun and educational. From exciting additions like a pirate flag kit and telescope w/ compass to a seesaw and sandbox tool kit, the right toys can go a long way in making outdoor play feel personal. It lets them be pirates, basketball players, explorers and more. The possibilities are endless. Also, to boost learning you might consider a tic tac toe panel or interlocking sandbox. Both make creative play easy with simple yet stimulating ways to learn and create.
Accessories and add-ons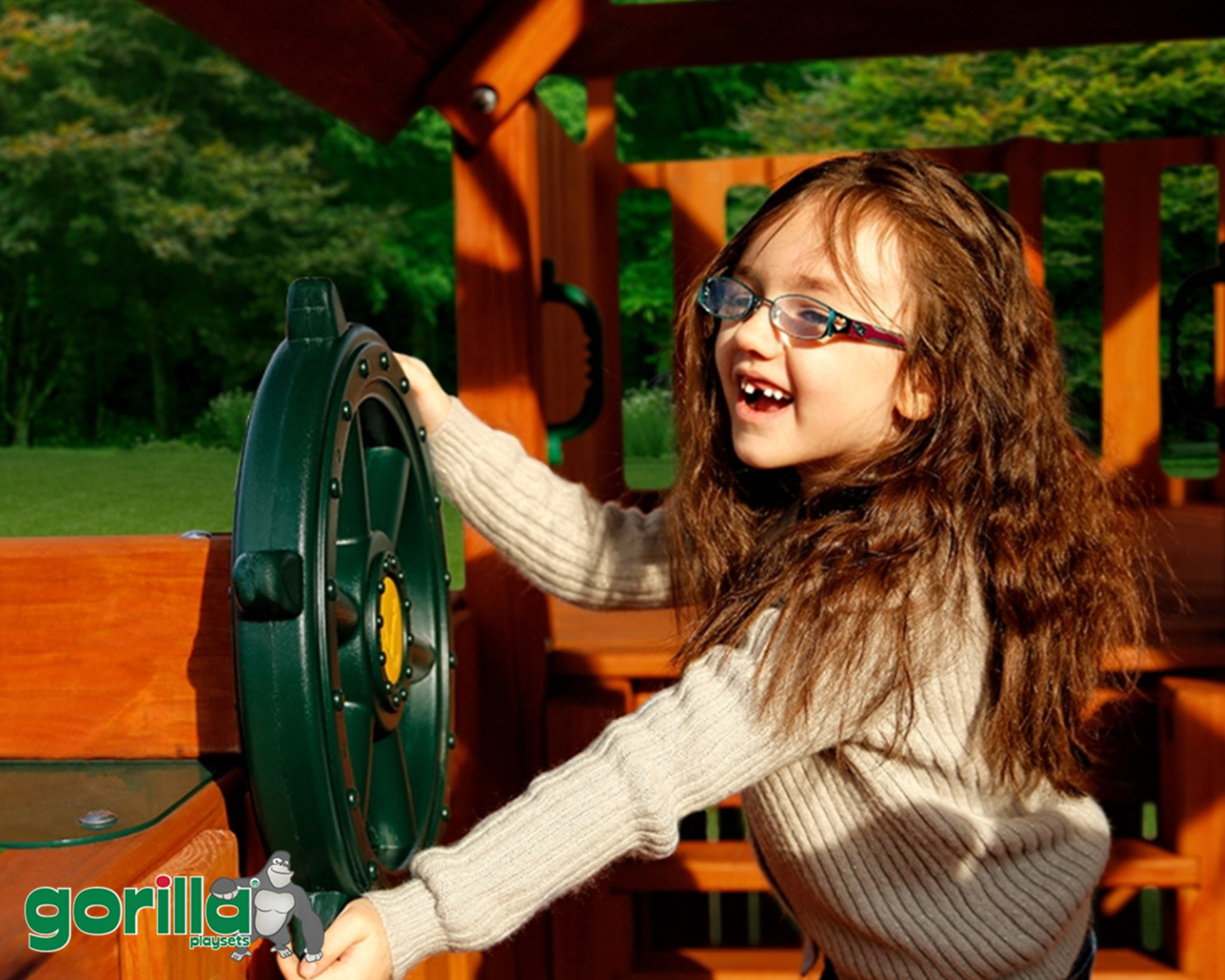 Once you have your home playground installed with playsets of your choice, you might want to personalize the place to accommodate your kids. You probably already know your kid's taste. You can bring that knowledge into customizing their playing space too. Who says upgrading your child's play has to be a hassle? For smaller yet meaningful touches we have rock wall rocks, playset clocks, solar wall lights and more. They all work to bring your set to the next level and can make your kid's play safer and more significant. However, if you want to go big with your playset, we also offer exciting add-ons to bring whole new ways to play! For instance, a Sky Loft add-on literally brings playtime to new heights with a safe, elevated platform. It's perfect for adding extra play-space and can be your kid's new favorite hangout spot. Or try adding a tire swing beam for a fun swing-set activity that naturally brings kids together. By allowing multiple kids to swing at once it actively encourages teamwork and helps build friendships.
Be their hero
Be their hero
So, whether you are a parent, grandparent, auntie or uncle, anyone can be a backyard hero for their kids by giving them a space to grow. From fun activities like swings, slides, and climbing features, to smaller more personal touches like toys and accessories, there are endless playset essentials to make your kid's next playdate a success.
Every kid is different, and no kind of play is the same. However, now that you know what to look for, you'll have no trouble fitting your set with features that fit your kids. You can browse our website to see all our exciting offerings, or feel free to give us a call and we'll help answer any questions you might have. Better backyard play is out there, so don't wait!