Monkey Bars: The Advantages and Activities
Sep 8th 2023
Parents, we know how much you care about having a fun setting to support the happiness and outdoor life of your kids. We have you covered for something innovative and educational to inspire your kids to be active and energetic throughout the day. As an outdoor playset company named after a lovable primate like Buddy the Gorilla, we're partial to the monkey bars to inspire outside fun.
Monkey bars have been a staple of playgrounds for generations due for so many reason. A monkey bar set will ensure physical and mental stimulation, and your little one will even learn problem-solving skills along the way.
In this post we will answer your queries about monkey bars, including the benefits and activities your child will have endless fun with. After going through this post, you can combine monkey bars with wooden swing sets and have the best backyard playset. With the right tools, a backyard playground can engage all your family members while offering several physical benefits.

Gorilla Playsets have a wide range of play structures for kids of all ages. With such an inspiring collection to choose from, and you can find the best fit depending on the space available and the kid's age group. Be sure to spare some room for this great playset addition! Keep reading to find out the benefits, fun games, and details of our quality monkey bar sets.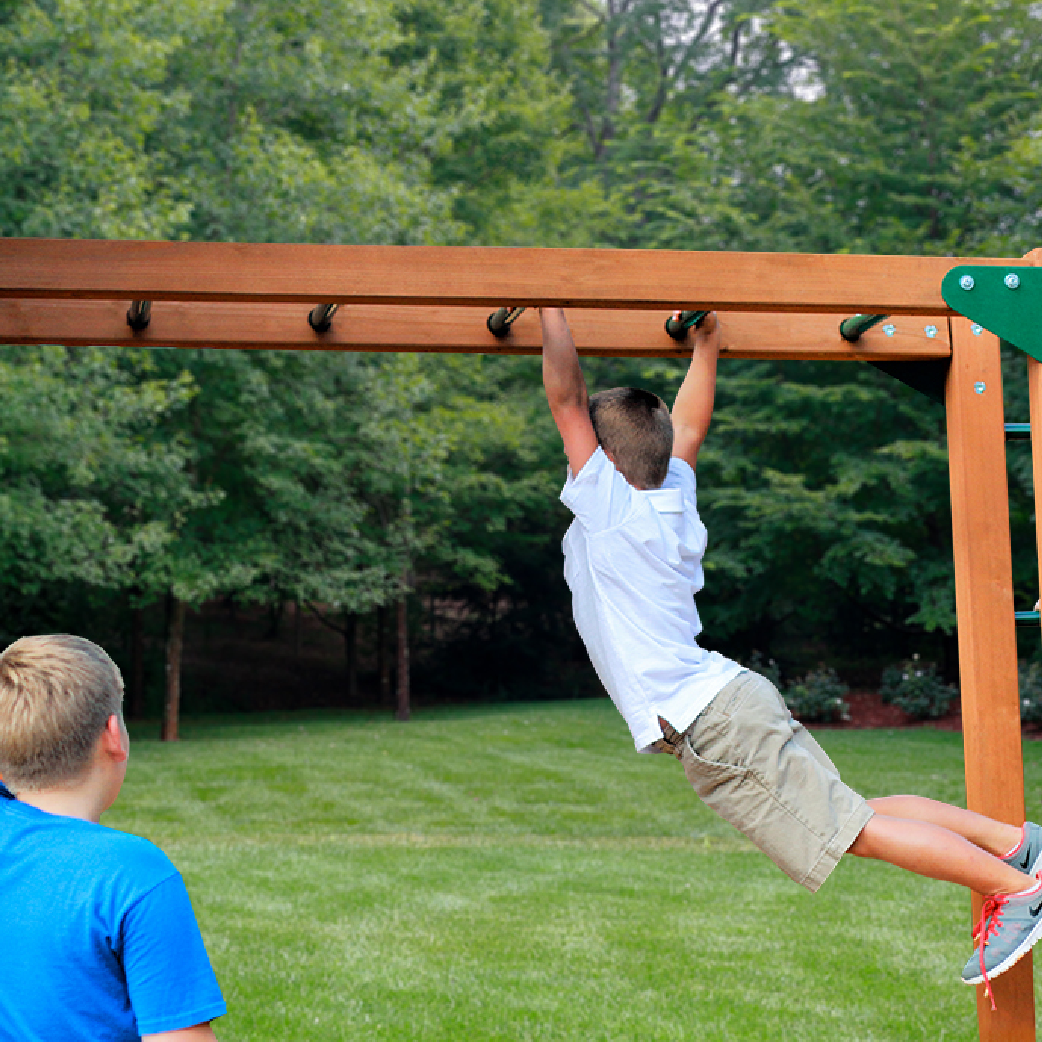 Benefits of Monkey Bars
The key benefit is that your kid will have a reason to explore outside and engage in physical activities. More importantly, Gorilla Playsets feature quality materials and have all the safety measures to keep kids happy and safe while they play. Here are the benefits of having monkey bars in your backyard playground to have an even better time.
Physical Activity: Monkey bars are a unique and engaging way to improve physical endurance. These structures work as full-body workout equipment. The playset will promote kids core strength along with many other benefits. It can also strengthen the shoulders, core muscles, and arms, that will improve your child's physical strength while keeping them focused on the challenging task of swinging from bar to bar.
Improved Hand-Eye Coordination: Monkey bars are adventurous and educational play activity, different from swings, and require fine motor skills, such as their hands and eyes to work together to cross to the other side. When maneuvering across monkey bars, your kid can improve hand-eye coordination and enhance spatial awareness. Once they get going, kids can move faster from one end to another with consistency and better hand-eye coordination. For smaller children just the mastery of grasping and controlling abilities can be a big achievement too!
Confidence Building: Kids need confidence to perform well inside and outside the classroom. However, you must put effort into developing their trust, and a proper playset can get your job done. Monkey bars will require effort and perseverance to reach the other end. Every kid will cherish this achievement, and it will build confidence. After accomplishing goals like these kids tend to feel motivated to explore new ones which is key in other parts of life.
Social Interaction: Monkey bars are such a valuable tool for learning social interaction. Taking all the skills mentioned above and adding them to a social setting is a very good growing experience. Kids love to explore things together and enjoy more when they have someone to cheer them on. Monkey bars bring kids together and promote interaction and bonding. This skill will help them connect quickly in the later phase of life and bond with others through shared experiences.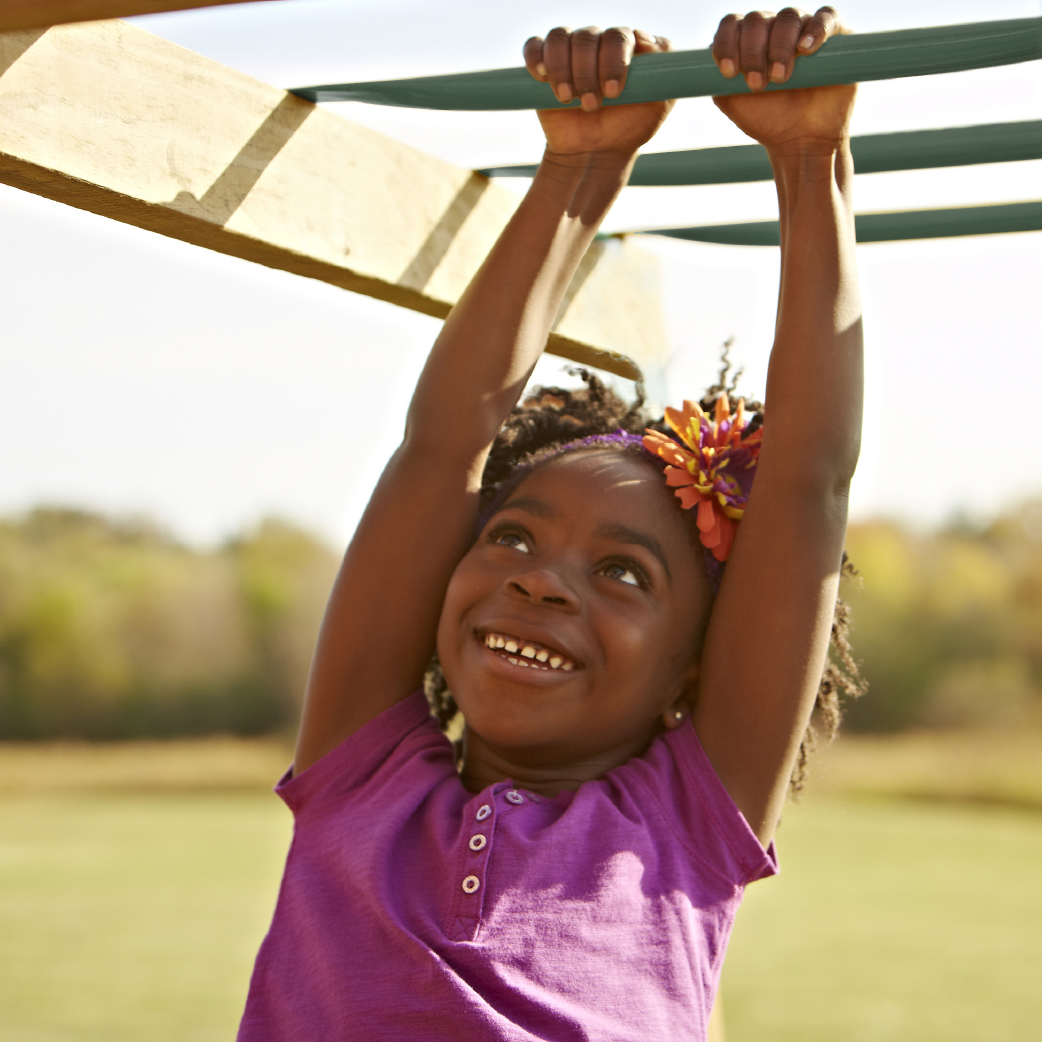 Games For the Monkey Bars
A home is the first learning stage for kids. Gorilla Playsets open the door to different activities and fun games to keep the excitement alive. Parents can get creative and incorporate different play structures with their at-home playground to improve specific skills in kids. We have many versatile playsets with add-ons including monkey bars, slides, and swing sets. Here are some fun and engaging activities you can try with monkey bars.
Follow the Leader: In this game each kid takes turns swinging across the monkey bars and does whatever moves they want (wiggling their feet, making animal sounds, stopping but then continuing to swing again etc.) and each kids behind them has to copy the moves of the previous one and maybe add their own for the previous player to go again or a new player to join in. This is an engaging way to get little ones interested in the goal of the monkey bars, to swing to the other side. When exploring this activity, have your kids focus on different moves, this keeps it interesting!
Monkey Bar Race: Have you heard of the monkey bar race? This game is all about speed! You can try different variations, including complex moves and rewards. However, here's the gist; you say "ready, set, go!" and your kids races to the other side of the monkey bars as fast as they can while you count. Whatever time they land on is their score and each kid tries to beat that time with their own. If you only have one kid playing, they can try to beat their previous time. To make it even more interesting, they can move backward and forward in different directions adding even more challenge!
The Hang Time Challenge: This game will test the endurance and grip strength of all participants. During The Hang Time Challenge your kid must hang on the monkey bars for as long as possible. If there are multiple players the way to win is by hanging until one player gives up, the one left standing is the hang-time champion! If they are playing on their own they have to beat their previous time! The benefit is more grip control and improved endurance and strength which actively engages all the muscles in their arms. A fun challenge on every level!
Monkey Bar Alphabet: This game is a great way to keep your child's mind active during physical play! While they cross the monkey bars you each go back and forth naming things you see around you in alphabetical order. For instance if there are ants around you'd start with the letter "A" and say "ants" and as they cross the monkey bars maybe they same "bars" for "B". Perhaps you have a cat around, so you'd say "cat" for the letter "C" and so on. The game ends when you child crosses the monkey bars! You can add extra stakes by having a winner be whoever isn't having to name a letter by the time your child is finished crossing the monkey bars.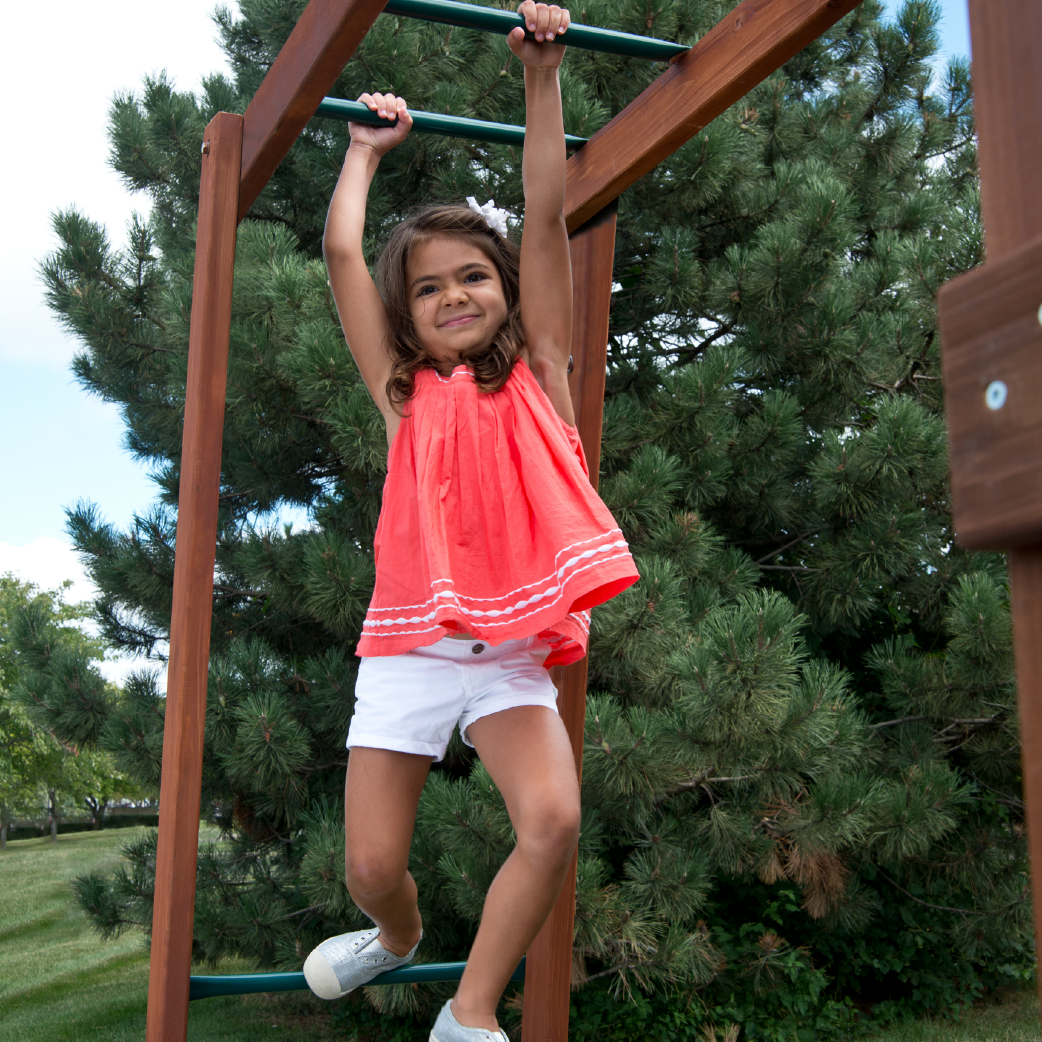 Monkey Bars on Your Perfect Playset
At Gorilla Playsets, the excitement of monkey bars is taken to new heights with a range of playsets designed to captivate young adventurers. From playsets like our Sun Valley Swing Set to colossal sets like the Empire Extreme swing set; our wooden playsets incorporate a variety of activities, all as engaging as the monkey bars! These playsets offer a world of opportunities for exploration, creativity, and active play.
We have different play structures with unique features to serve specific purposes. However, if you're looking for a set that incorporates the monkey bars there are plenty to choose from. Just browse our online catalog here. Remember to consider the size and features of the playset to get the perfect one for you. In addition, if you see a swing set you love but it doesn't come with monkey bars, you're in luck. We happen to offer monkey bars as an add-on! Made of cedar wood with a beautiful amber finish, this addition attaches to corner posts of the main fort structure of your favorite play set with very few exceptions. See our add-ons page to see if this option is right for you.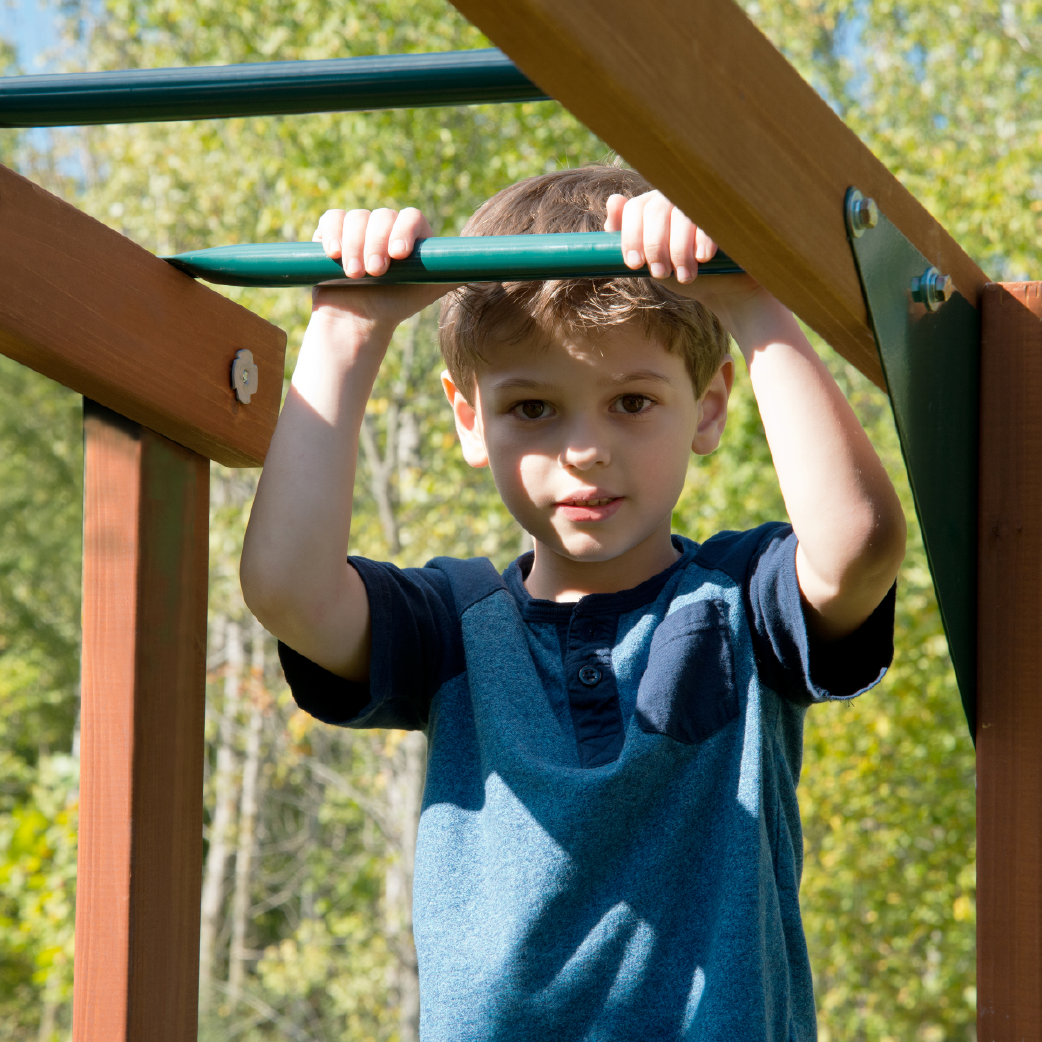 Conclusion
Monkey bars are a must-have playset necessity that offers so much playtime versatility and entertains kids while building strength and coordination! We are in a world where kids spend more time on digital activities than ever before and it's more important than ever to shift their focus from screens to the outdoors during their free time. Not only is this important for their physical health but mental health too.
Let's make the journey of the initial years more exciting for our children. Create a fun and safe play environment in your backyard with Gorilla Playsets.
The monkey bars are more than just a playground activity-they're a pathway to growth and excitement. Ready to ignite your little monkeys' climbing adventures? Check out our website to find the best playset with monkey bars for your kids to swing, hang, and climb to their heart's content. Witness the excitement and small achievements those simple joys can bring. Check out our swing sets page today!