Exploring Our Other Brands: Tortuga Outdoor
Nov 14th 2023
Many studies agree that children who play outside are happier, less anxious, and tend to have more mental clarity and improved attention than kids who spend more time indoors. This flourishing evidence shows that spending time in nature has a profound impact on the physical, emotional, and psychological well-being of our children.
However, this is not just for children, but adults too! Time spent outdoors helps everyone connect with the natural world, fostering a sense of wonder and exploration. The simplicity of children playing in the backyard, feeling the grass beneath their feet, and hearing the sounds of birds and rustling leaves can work wonders for their development.
However, we understand that getting them off the screens is not always as simple as saying, "Let's go outside." This is where brands like Gorilla Playsets and Tortuga Outdoor come into play, providing the perfect backdrop for your family's outdoor adventures.
Having a quality outdoor play structure such as Gorilla's backyard swing sets provides your kids with a safe and exciting environment to explore, climb, swing, and use their imaginations. But to create the ultimate outdoor experience for your family, consider the addition of outdoor furniture from our sister company, Tortuga Outdoor. While Gorilla Playsets offers an exceptional space for active play, Tortuga Outdoor complements it by providing a comfortable and inviting where you can relax as your little munchkins play around.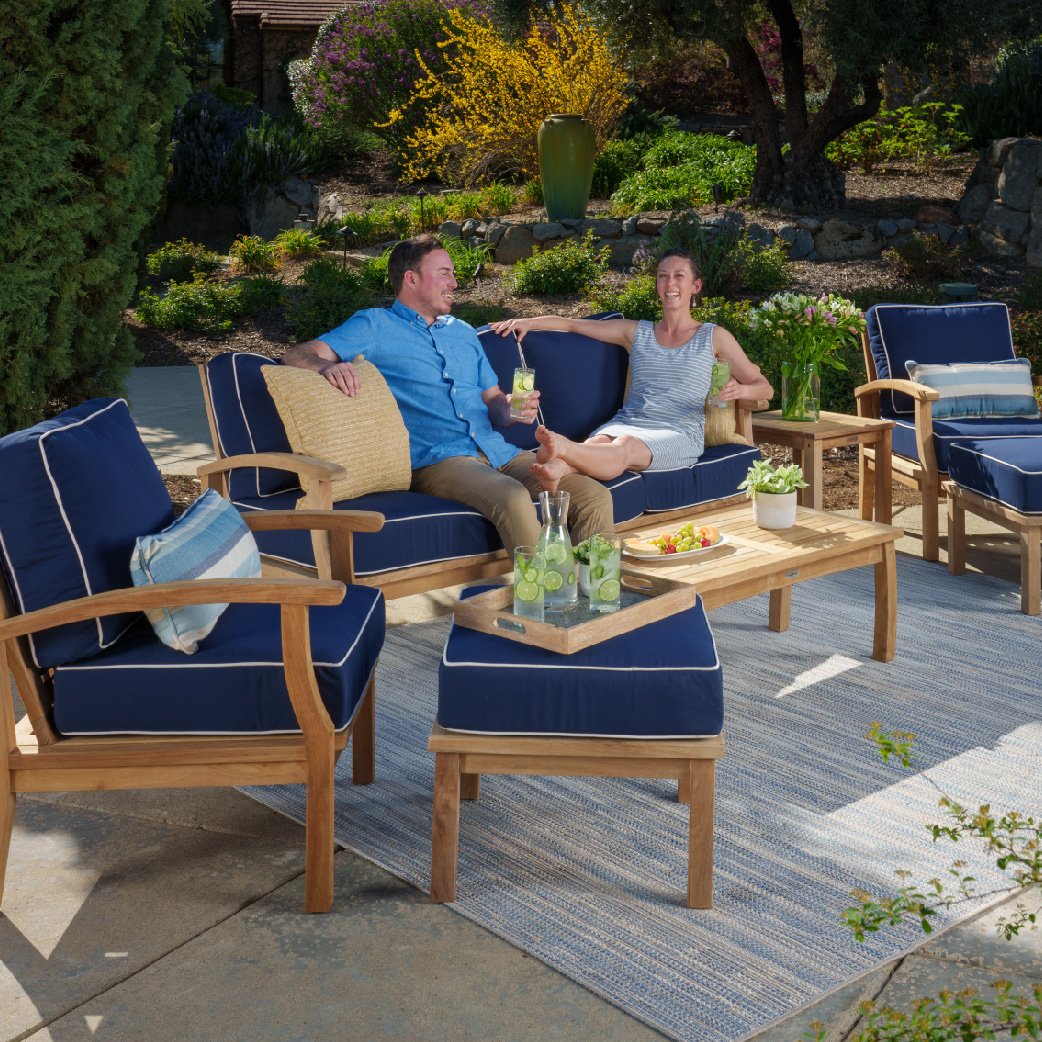 Elevate Your Outdoor Lifestyle with Tortuga's Quality Furniture
Tortuga Outdoor is a brand dedicated to enhancing your outdoor lifestyle with a range of high-quality furniture and accessories. We understand the importance of creating a harmonious outdoor space where your family can relax and connect with nature. With hundreds of outdoor patio furniture options to choose from, you can transform your outdoor living area into a haven of comfort and style.
Our outdoor patio furniture will give you endless hours of comfortable sitting time and create the perfect backdrop for your backyard. This ensures that you and your partner can have a good time while watching your little ones play and explore on their Gorilla backyard swing sets.
Here are the different types of furniture you can find from Tortuga Outdoor to enhance your outdoor living experience:
Dining Sets
Tortuga Outdoor offers a variety of outdoor dining sets, perfect for enjoying family meals or hosting gatherings. These sets typically include a table and chairs, often made from durable materials like weather resistant wicker, teak wood, or aluminum, designed to withstand outdoor conditions.
Sofas and Seating
You can find comfortable outdoor sofas and seating options to create a cozy outdoor living room. These pieces are ideal for relaxing with a good book, having conversations with friends, or simply enjoying the fresh air.
Chaise Lounges
Chaise lounges are perfect for sunbathing, reading, or taking a nap in your outdoor space. Tortuga Outdoor's chaise lounges are designed for both comfort and durability, ensuring they can withstand various weather conditions.
Outdoor Coffee and Side Tables
Complete your outdoor seating area with stylish coffee and side tables. These provide a convenient place to put drinks, snacks, or decorative items, enhancing the aesthetics of your outdoor space.
Outdoor Accessories
Tortuga Outdoor offers a range of accessories, including outdoor cushions, umbrellas, and storage solutions. These accessories can enhance the comfort and functionality of your outdoor furniture.
Bar Sets
If you enjoy outdoor entertaining, Tortuga's bar sets are a great choice. They typically include a bar table and barstools, creating the perfect space for serving drinks and snacks to guests.
Rocking Chairs and Gliders
For those who enjoy the gentle sway of a rocking chair or glider, Tortuga Outdoor provides options that combine comfort and style.
Fire Pit
Extend your outdoor enjoyment into the cooler months with Tortuga's fire pit. These add warmth and ambiance to your outdoor gatherings.
Tortuga Outdoor's furniture is known for its durability, stylish designs, and resistance to the elements. Whether you're looking to create a cozy lounge area or an elegant dining space, Tortuga's wide range of outdoor furniture options can help you elevate your outdoor living and create a welcoming environment where you can relax and enjoy quality time with your family.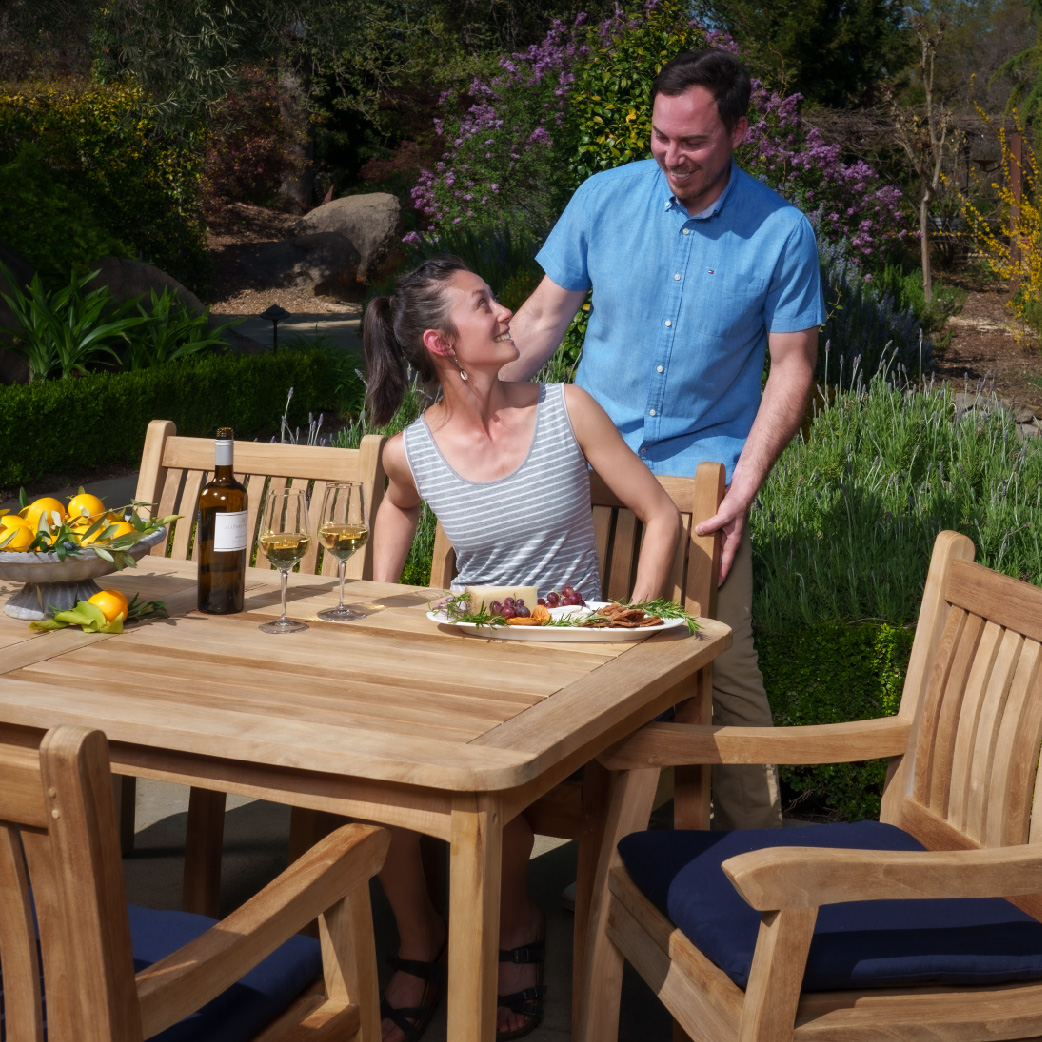 Creating A Harmonious Outdoor Blend for Play and Relaxation
Adding an outdoor play structure to your backyard is sure to win you some cool points as a parent. But why stop there? To create the ultimate outdoor experience for your family, combine the thrill of active play with the comfort and style of Tortuga Outdoor's high-quality furniture.
Here's how to craft a harmonious outdoor blend for both play and relaxation:
Configure for Supervision
Position your Tortuga Outdoor furniture strategically, ensuring you have a clear view of the playset area. This allows you to supervise your little ones while they have a blast on their Gorilla Playsets swing sets.
Create a Comfortable Oasis
Arrange your outdoor furniture in a way that provides a comfortable and inviting space. Use sofas, chaise lounges, and side tables to craft a relaxation zone where you can unwind.
Al Fresco Dining
If you have a dining set from Tortuga Outdoor, place it nearby for family meals. This adds the convenience of dining in the great outdoors while keeping a watchful eye on your children.
Shade and Accessories
Consider adding an umbrella or shade structure to your seating area. These provide relief from the sun and create a pleasant outdoor ambiance. Don't forget to include cushions and throws for extra comfort.
Safety First
Ensure that your outdoor setup is child-friendly, free from hazards, and equipped with safety features. Safety gates and childproofing measures are essential.
By configuring your outdoor space this way, you'll seamlessly blend play and relaxation, creating a haven where you can enjoy quality time with your family. It's a win-win - your children get to play to their hearts' content, while you get to unwind and make the most of outdoor living.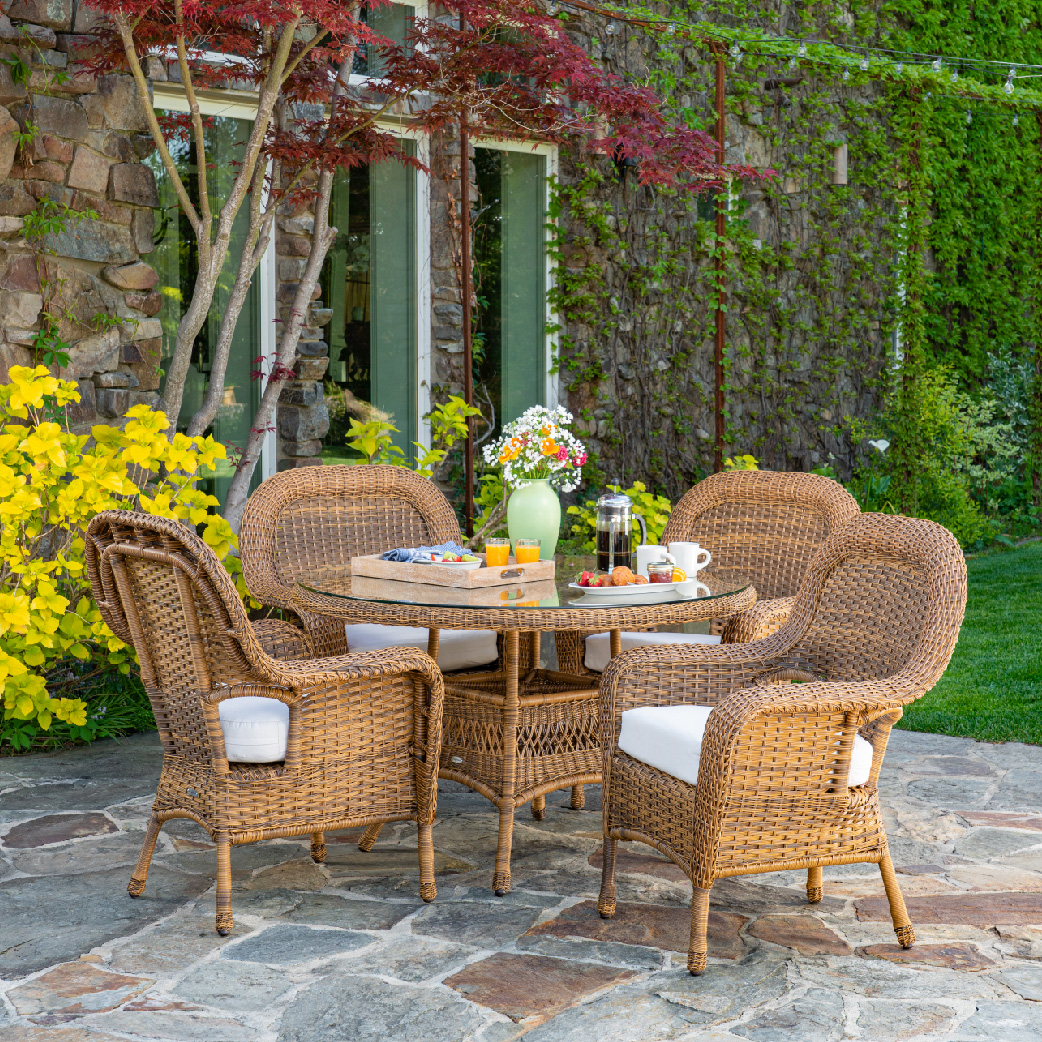 Why Choose Tortuga Outdoor?
When you choose Tortuga Outdoor, you're not only supporting a brand that delivers best-in-class outdoor patio furniture but also one that's committed to sustainability and giving back to the environment.
Here are some reasons why shopping with Tortuga Outdoor is good for your family, Mother Nature, and outdoor style:
Sustainably Sourced Teak Wood
Our commitment to sustainability is reflected in our use of teak wood from responsible sources. By choosing Tortuga Outdoor, you contribute to the preservation of valuable natural resources.
Supporting the Sea Turtle Conservancy
We are proud to be associated with the Sea Turtle Conservancy, a non-profit organization dedicated to protecting sea turtles and their habitats. With every purchase, you indirectly support their crucial conservation efforts.
Eco-Friendly Practices
We prioritize eco-friendly manufacturing processes, minimizing our environmental footprint. By shopping with us, you're endorsing a brand that cares about the planet.
Durable and Weather-Resistant
Tortuga Outdoor's furniture is designed to endure the elements. Our products are made to last, ensuring your outdoor oasis remains in great condition for years to come.
Stylish Designs
Our furniture isn't just practical; it's aesthetically pleasing. We prioritize elegant designs that complement your outdoor space, enhancing its overall appeal.
Variety of Choices
With a vast selection of outdoor furniture, from dining sets and wicker chairs to loungers, you have a range of options to choose from to match your style and needs.
Comfort and Relaxation
Your comfort is a top priority. We design our furniture to provide relaxation, whether you're dining, lounging, or simply enjoying the outdoors.
Seamless Play and Relaxation
We help you achieve a harmonious blend of play and relaxation in your outdoor space. Our wicker chairs are light and compact allowing you to harmoniously fit and blend with your backyard swing sets. By configuring your furniture strategically, you can supervise your kids while creating a comfortable oasis for yourself.
Outdoor Accessories
Tortuga Outdoor also offers a selection of accessories, such as cushions and storage solutions, to enhance your furniture and your outdoor experience.
By shopping with Tortuga Outdoor, you're making a responsible choice for your outdoor oasis and supporting efforts to protect the environment. Our sustainable practices and commitment to nature conservation make us a brand that not only enhances your outdoor lifestyle but also contributes to a greener, healthier world.
Discover Tortuga Outdoor's Best-Selling Gems
At Tortuga Outdoor, we take pride in offering a selection of high-quality outdoor furniture that enhances your outdoor lifestyle. Here are some of the most popular items that have captured the hearts of our customers:
Fire Table Sets
Our Fire Table sets are the perfect addition to your outdoor space, providing both warmth and ambiance. Gather your family and friends around the inviting flames for cozy evenings, roasting marshmallows, and creating lasting memories. These centerpieces are sure to bring joy, love, and togetherness to your family.
Teak Wood Collection
Our Teak Wood Collection embodies sustainability and style. Crafted from responsibly sourced teak wood, these pieces showcase the natural beauty of the wood while minimizing the environmental impact. Each item is a testament to the harmony of quality, elegance, and eco-consciousness.
Modern Aluminum Outdoor Patio Sectional Set
These elegant, modern, and versatile sectional sets bring a touch of sophistication to your outdoor space. Crafted with precision from durable powder-coated aluminum and poly-lumber table slats, these sets come with plush cushions, providing the ultimate comfort and style. The Modern Aluminum Outdoor Patio Sectional Set is the perfect choice for those seeking a contemporary outdoor oasis.
Wicker Rocking Chairs
Our Garden Wicker Rocking Chairs are a delightful addition to your outdoor retreat. Crafted with care and attention to detail, these chairs combine the classic charm of rocking chairs with modern wicker construction. They provide the perfect spot for relaxation and peaceful moments in your outdoor sanctuary.
Rio Vista Outdoor Wicker Hanging Egg Chair
Spice up your typical outdoor space with this unique resin wicker hanging egg chair. It not only adds a touch of contemporary style but also a cozy nook for you to unwind in comfort. The gentle sway and comfortable cushion make it the ideal place for you to relax and enjoy the fresh air.
With these best-selling gems from Tortuga Outdoor, you can truly elevate your outdoor lifestyle and create an inviting, stylish, and eco-conscious outdoor space.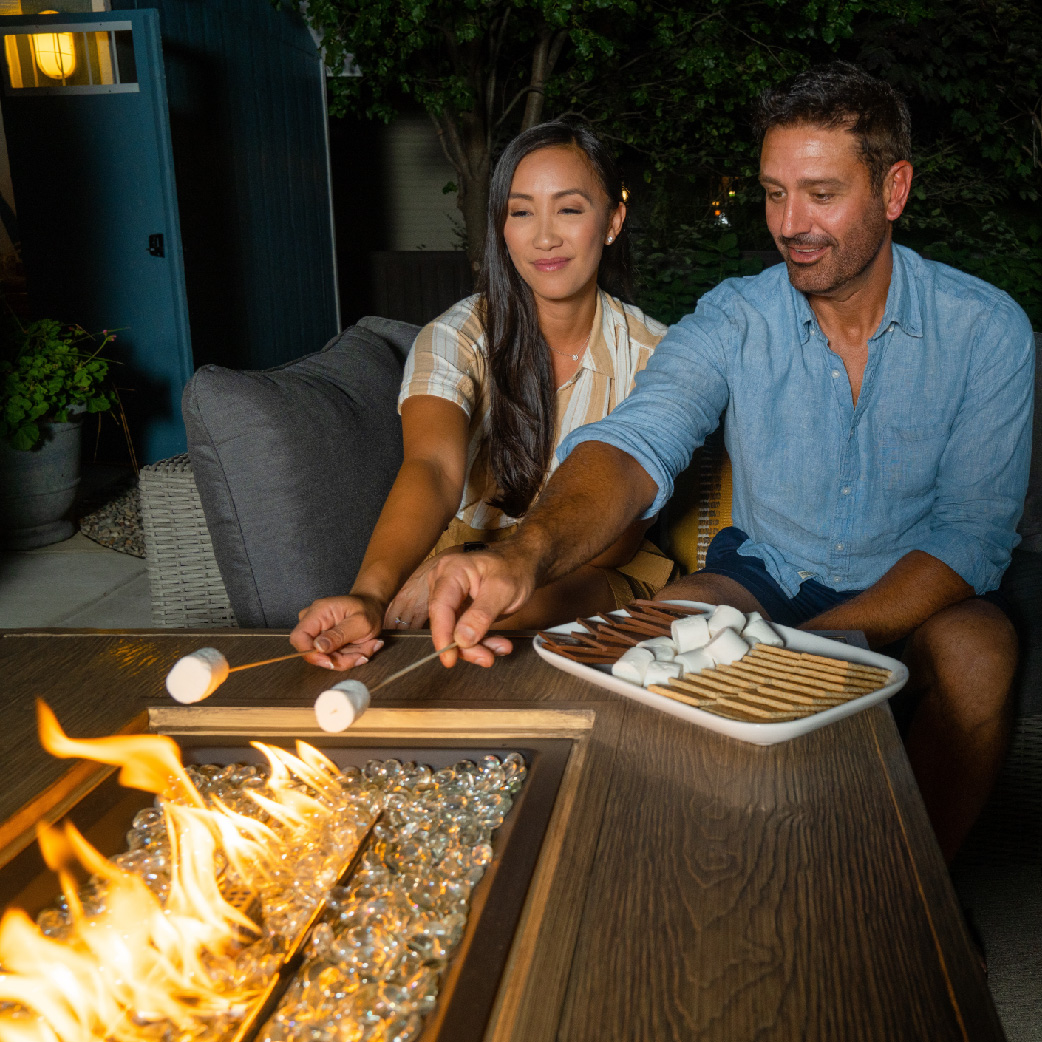 Elevate Your Family's Outdoor Lifestyle with Tortuga Outdoor and Gorilla Playsets
At Tortuga Outdoor, we are passionate about enhancing your outdoor lifestyle and providing a harmonious blend of play and relaxation for your family. We understand the importance of connecting with nature and creating an inviting outdoor space.
By combining the quality outdoor play structures from Gorilla Playsets with our high-quality furniture and accessories, you can transform your outdoor area into a haven of comfort, style, and eco-consciousness.
Browse our selection of best-selling items and discover the perfect elements to create an inviting, stylish, and environmentally conscious outdoor space for your family.