Different Types of Climbing Activities for Your Kids
Dec 6th 2022
Kids have a seemingly never-ending source of energy, which may leave you wondering what you can do to keep them occupied. Sure, the easy way would be to put them in front of the TV - but there are better ways to keep kids busy! What about climbing? It's an activity kids of all ages can enjoy and is a great way to keep them active. Every parent has witnessed their child climb their way to the top of furniture or the backyard tree. However, that kind of climbing is rarely safe and is why having a purpose-built way to climb is the way to go. Unfortunately, most climbing activities, like jungle gyms, are hard to access daily. You can easily fix that issue by having your own backyard play set. That way, your children will be just one step away from having engaging fun. Are you on the fence about purchasing a playset? In this article, we'll tell you everything there is to know about climbing equipment. We'll also give you our top picks, so we can make your job easier.
Rock Walls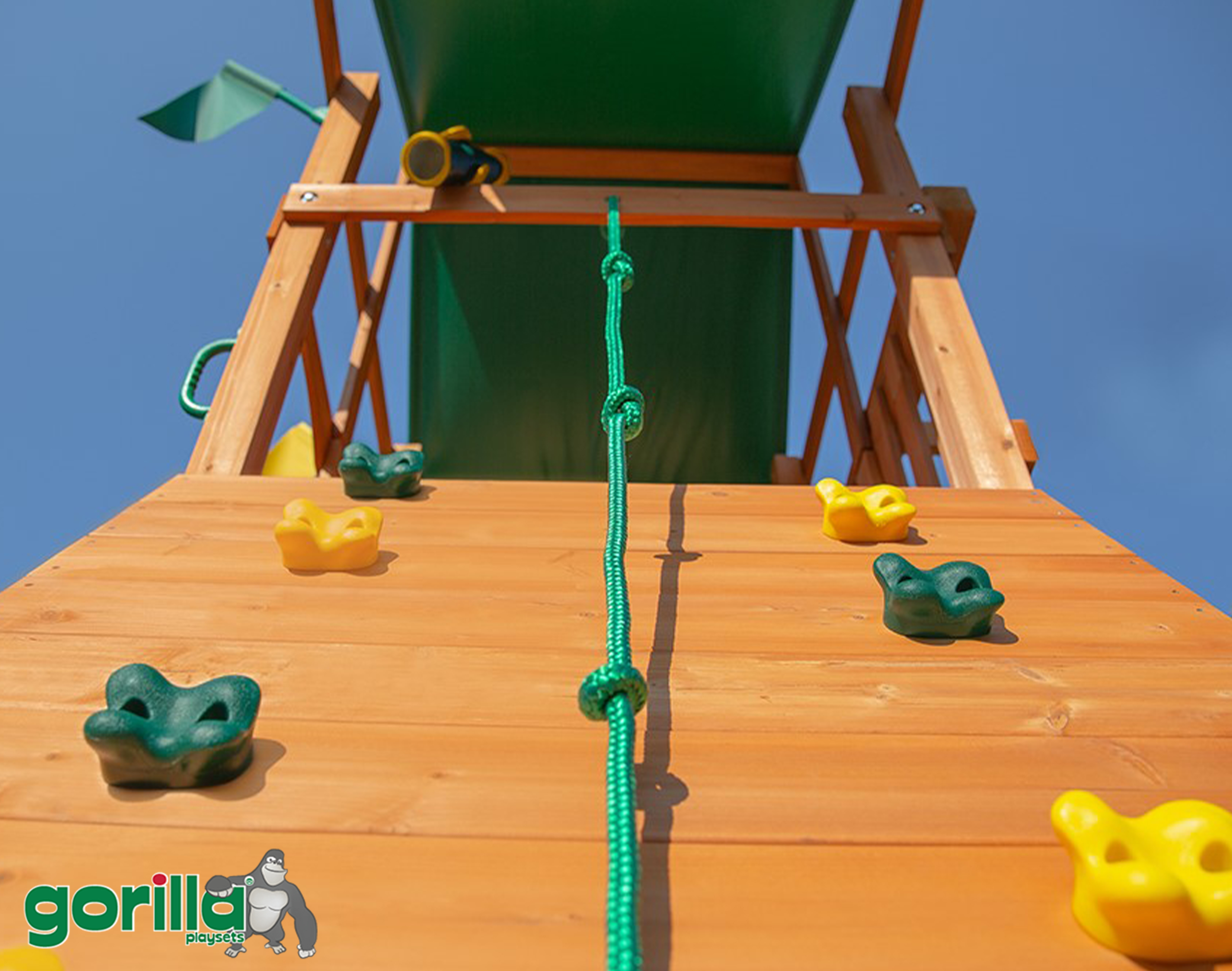 Climbing does wonders for physical development, especially for growing children. Kids have an easier time developing body and spatial awareness when they climb because they use every muscle to do so. Of course, there's more than physical fitness! When kids go up a wall or a tree, they use their minds to solve problems and think ahead, which works wonders for their cognitive health. Ladders and rock walls are the best ways for kids to learn how to climb. Our Adventure Wave Swing Set comes with a ladder that'll help young children get a hold of climbing before they can move to more difficult things like rock walls, which come in our Outing Swing Set. Both playsets are incredibly fun and full of surprises!
Monkey Bars
Monkey bars are like rock walls, albeit slightly more advanced. They offer many advantages for older kids and are the perfect way to add some extra healthy challenge to your set! You can probably guess monkey bars are incredibly fun - up to the point you may want to get there and use them yourself! Adding exciting ways to play and giving your set more longevity are only half of the advantages of owning this piece of play equipment, though. Studies show monkey bars help children develop a ton of skills and improve their confidence. For example, a kid's gripping strength goes through the roof when they use monkey bars daily. If that sounds like something you'd love to see your kids doing, the Homestead Swing Set presents the perfect opportunity to make that happen - and it also comes with swings, slides, and a rock wall! Other benefits of using monkey bars include strengthening the back, arms, and core muscles. Like the Homestead, the Navigator Swing Set comes equipped with everything your kids need to develop a strong body while they have fun, including ladders, slides, and a sandbox.
Step Ladders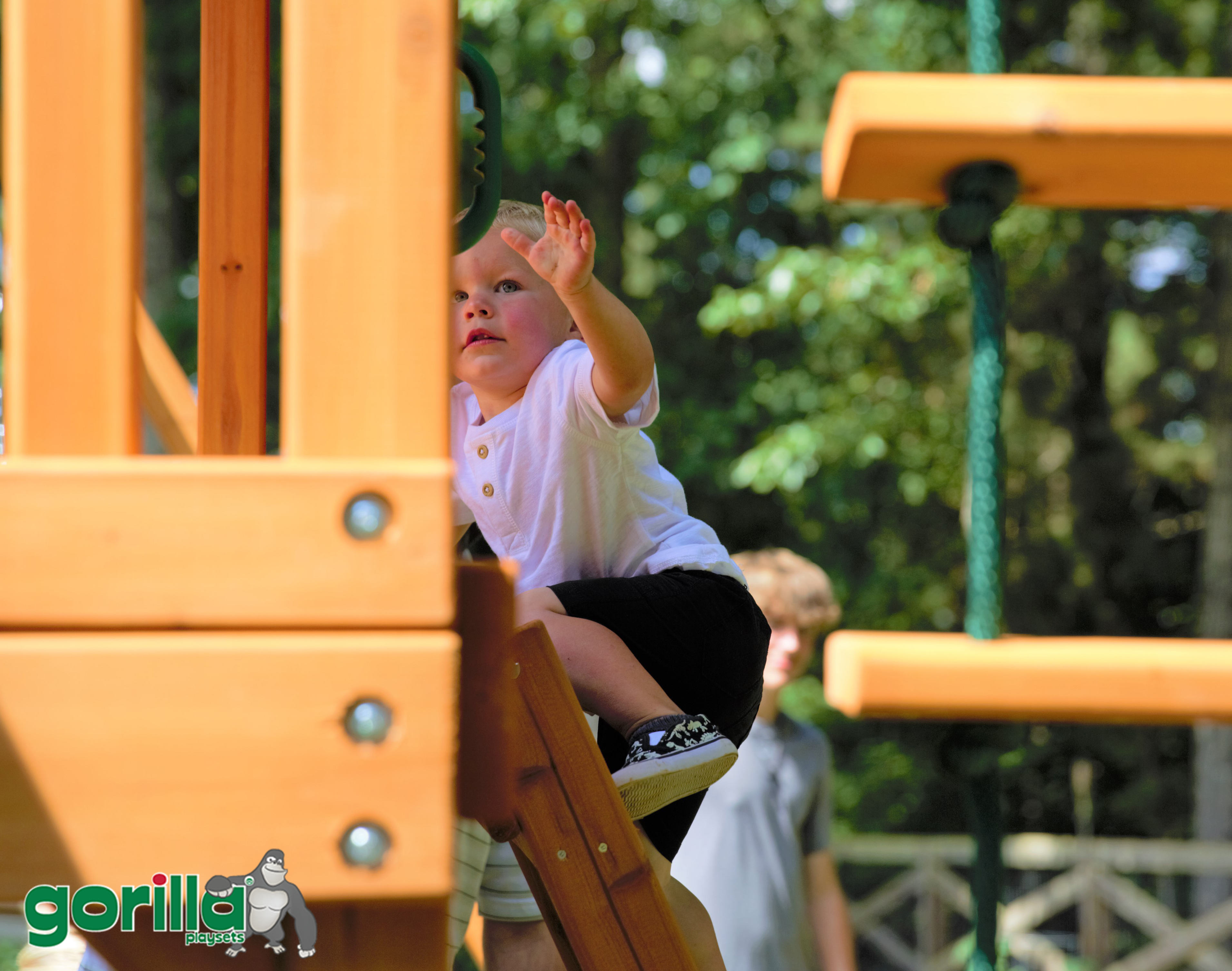 Early on, kids need to learn how to do everything, and climbing is no exception. For that reason, a step ladder is great for young children: it's the perfect structure that allows children to test their muscles in the safest way possible in a fun space. At the same time, having a step ladder ensures young kids can get to the top of the playset without much trouble. That way, kids will not get discouraged by having a hard time getting to a slide or swing. The best playsets with step ladders are the Mountaineer Swing Set (which comes with an incredibly fun tube slide) and the Pioneer Peak Swing Set (which comes with a tower so that kids can play in their imaginary castle all day).
Rope Ladders
Sometimes, you don't need to get anywhere when you decide to climb something, and rope ladders are the perfect example of that. Young kids love climbing a rope because it feels just like a jungle vine. Going up and down is the reward itself! Our Chateau Swing Set has a rope ladder children love using and plenty more creative activities that will ensure your kids love playing outdoors. Not only that, but its more compact design is great for families with limited space. Are you having a hard time picturing how children can have fun using rope ladders? Imagine your kids and their friends are having a blast going down the tube slide of the Wilderness Gym Set when someone shouts that the floor is lava, and everyone runs to the rope ladder to save themselves. It's this kind of simple fun that comes from having a quality way to climb. Plus, everyone will have a blast as they train their arm and back muscles while learning how to take turns and improve their socialization skills.
It's Time To Climb!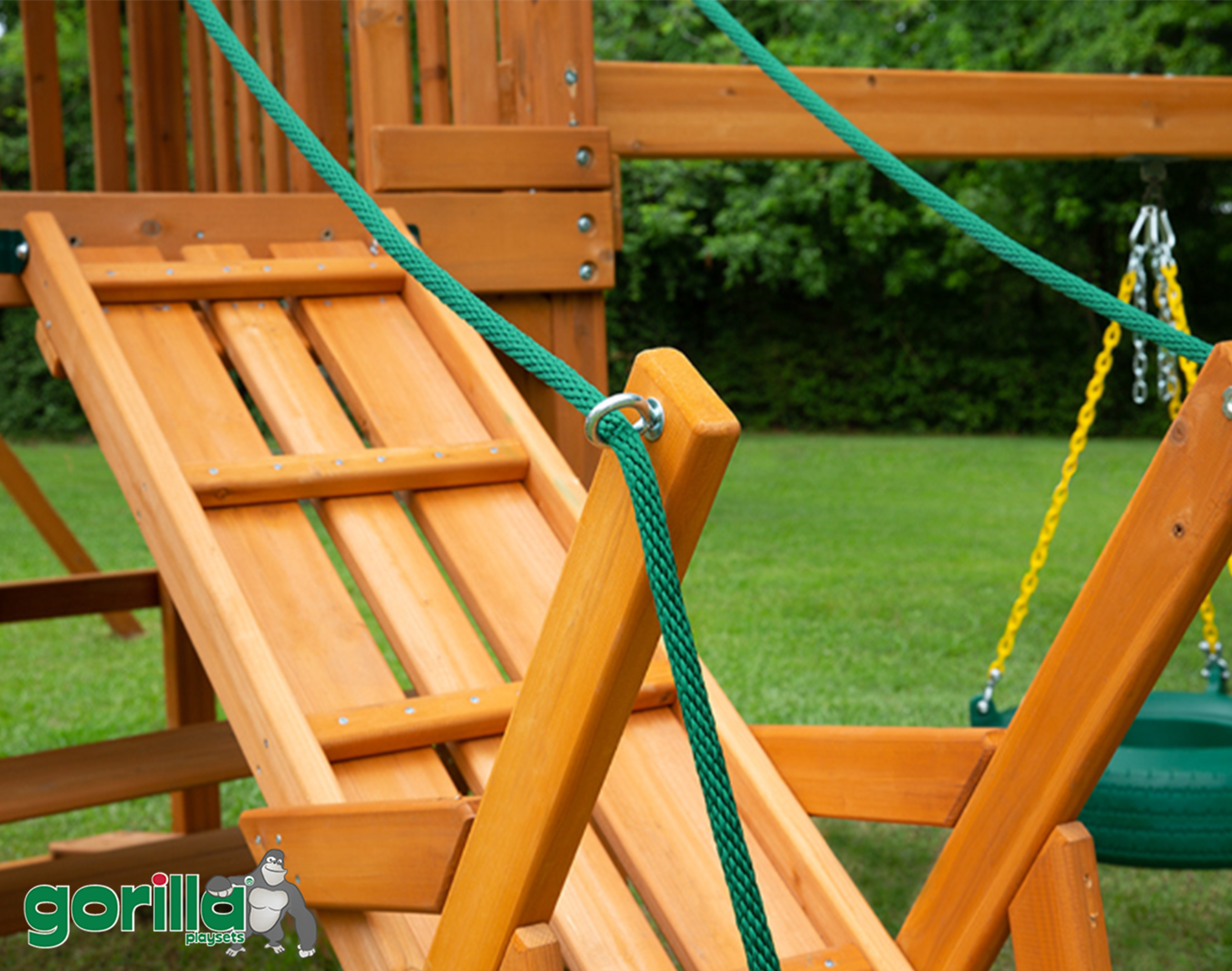 When searching for an engaging way to spark your kid's outdoor play, discovering the right one can be tricky. However, now that you have a better understanding of what's available choosing the best one will be easy. From the exciting rock walls that make your playset fun and efficient, to the monkey bars that offer an extra challenge, there is a climbing activity for kids of all ages! Not only that, but they will be getting plenty of exercise too. From building core strength and spatial awareness, to promoting cognitive development and imagination, climbing is perfect for those key years of growth and development. So don't wait!
With a playset that's safe, fun, and full of exciting climbing features, your kids will have the ideal outdoor space to play that's all their own. For birthdays, playdates, and afterschool adventures alike, a quality set is perfect for any occasion! At Gorilla Playsets, we know how important climbing is too. Do you need help choosing your next playset? Contact us, so we can help you get a structure your children will love to climb!