Choosing The Best Slide With Gorilla Playsets
Nov 30th 2022
When you think of the best, most engaging playsets what's the one thing they all have in common? Slides! They are the highlight of any quality set and offer the kind of safe, exhilarating fun kids can't get anywhere else. From zipping down the classic wave slide to braving the twister tube slide, with the right one your kids will have endless amounts of playset fun. Not only that, but they also promote healthy lifestyles by helping kids build core motor skills and confidence. From experimenting with slides that twist and turn, to racing their best friend on a dual slide, it's the kind of exiting playground activity that lets them learn and grow without even realizing it.
But how exactly do you start setting up a slide in your outdoor playset? With so many options to choose from and so many varied sliding experiences it can be hard to find the one that's right for your child. That's where we come in; Gorilla Playsets is one of the leading kid's entertainment recourse centers. In the list below we will go over the ins and outs of each slide so that you can discover the right slide for your kids. With our expansive set of slides, each customized to your kid's age, needs, and preference, you are sure to find more than a few that catches your eye.
Below is a list of a few of our slides and their key features. Once you determine the perfect slide for your homestead, we'll take it from there and deliver a slide your child will love. Our top slide options include:
Alpine Wave Slide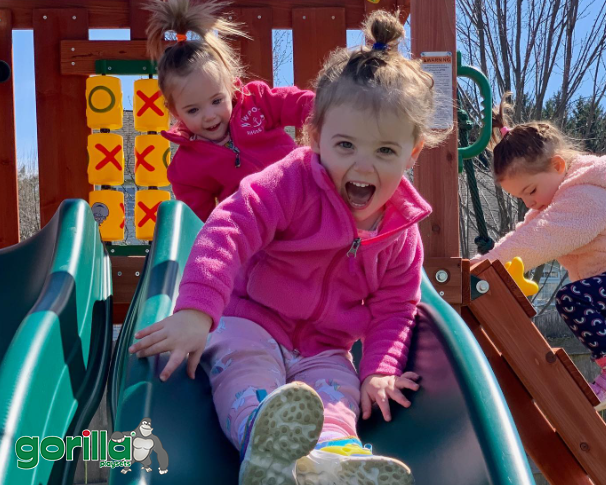 The Alpine Wave Slide is one of our top options. Kids love this slide since it has a soft wave right in the middle. This feature makes it feel like your kids are out on the beach and enjoying the ocean's waves. If your young one is fond of adventures, this is the perfect slide for them. Plus, its tall sides mean kids will have plenty of support and safety for an even smoother experience. Your child won't get enough of this slide, and your only challenge will be telling them when it's time to stop. Kids love the wavy motions, hence why this is one of the leading slides in playgrounds all over. This slide is ideal for decks with a 4-foot height, and it's easy to assemble. It has no wood components, and the slide is UV resistant, meaning it will last for years to come. The weight limit on the alpine wave slide is 150lbs.
Super Scoop Slide
The Super Scoop Slide will have your backyard the envy of the neighborhood. This slide is a smooth ride all the way and adds a thrilling sense as your child zooms right down. It also has lifted sides for your kid to grip on to control their speed and keep them safe. The durable material is UV resistant, supports up to 250lbs, and the slide can be mounted on decks from 5 to 7 feet. The slide has a lifetime warranty, meaning it will last through your kids growing up, and longer.




Extreme Tube Slide II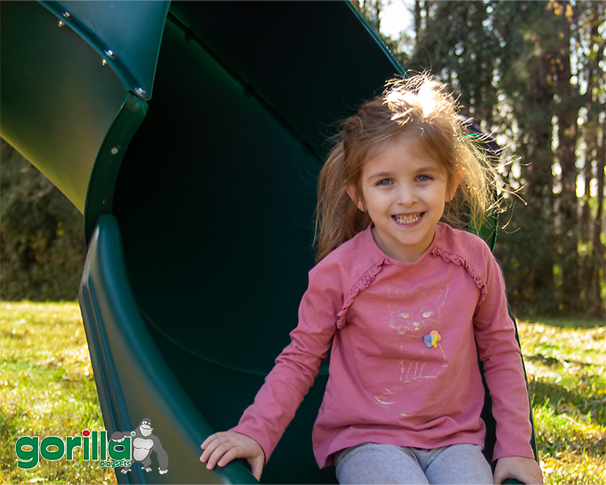 The Extreme Tube Slide II is another brilliant addition to our selection. This slide is a great way for your child to build confidence as they graduate from the wave slide and are looking for something more exciting. With its fun twisting design and enclosed tube shape your kids will fall in love with it after just one time down.
This custom slide has a descending 360-degree turn which offers a breathtaking experience for your kids. This slide is one of the most popular because of its unique design and fun level. The material is super smooth for the best sliding experience. The Extreme Tube Slide II has a 24-inch diameter, and best fits a 5-foot deck.
Side Winder Slide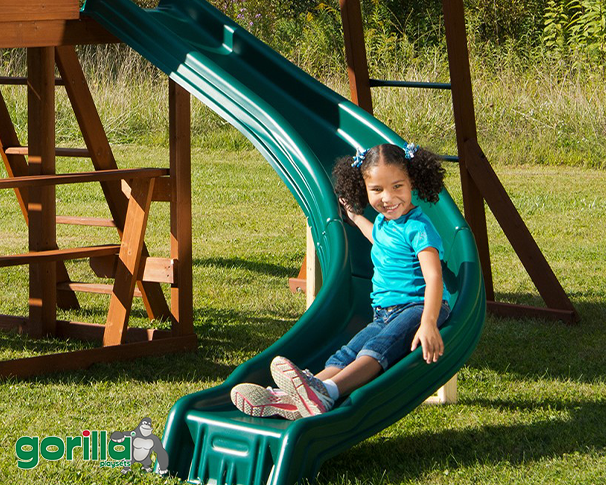 As your kids grow up, they'll look for more thrilling opportunities, which is exactly what the Side Winder Slide offers. This slide curves at a 90-degree angle as you descend, and kids can't get enough of it. Many parents report this is their kids' favorite slide, and your child can join in the fun and experience one of the best slides available today. Another great feature of this slide is how easily it can be incorporated into a playground set. Its more compact design means it can easily be added to yards with more limited space and easily mounts alongside a swing set platform. The 250-weight limit slide is made in the USA and has a lifetime warranty against cracks. This slide is ideal for kids ages two and above and is lightweight enough for easy assembly yet sturdy enough to last for a long time.
Summit Slide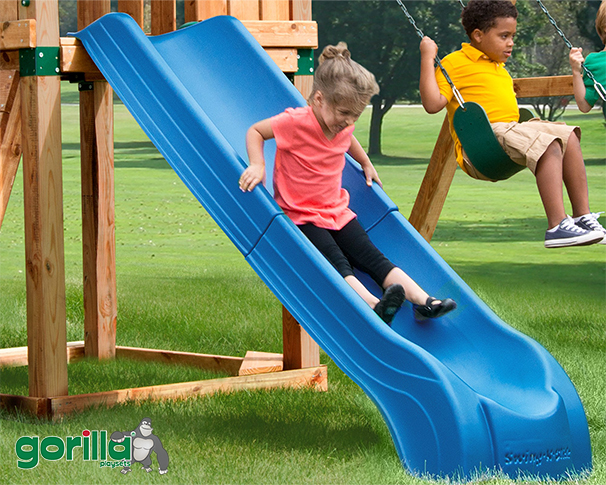 However, if you just want a classic sliding experience for your playset you can't go wrong with the Summit Slide. It doesn't have and gimmicks or crazy bells and whistles, but it does offer super smooth sliding action that can enjoyed by any kid. It easily mounts to four-foot deck heights and is versatile, meaning it can be added to most sets. The slide's design is built in such a way to cushion your young ones as they near the ground. A small but smooth bump at the bottom ensures kids stop safely. This feature means children can use the slide as young as 2 years. It is easy to assemble and has a weight capacity of up to 250lbs.
What is the best slide for your kids?
We offer a wide variety of slide sets, each customized to suit your kid's sense of adventure and pursuit of fun. You may be spoiled for choice and not know which slide is perfect for your backyard. Fortunately, you can always contact us to learn more about these slides to help you decide. We are dedicated to giving your kids the best outdoor experience. With these slides, you don't have to worry about your children being stuck indoors all-day playing games and watching TV. Feel free to contact us through our digital platforms and kickstart an active and fun lifestyle for your kids.