Captain Your Own Ship: Turn Your Playset into a Pirate Ship
Nov 8th 2023
Kids love imaginative play. Did you know you can transform your playset into a pirate ship? Gorilla backyard playground sets keep your kids safe while staying active outdoors and allow all kinds of opportunities for an imaginative twist during playtime. The professional quality that goes into making our playsets guarantees quality craftsmanship. With loads of styles to choose from, and tons of accessories and add-ons, you can even let the little ones rotate the wheel and take their imaginations on the high seas.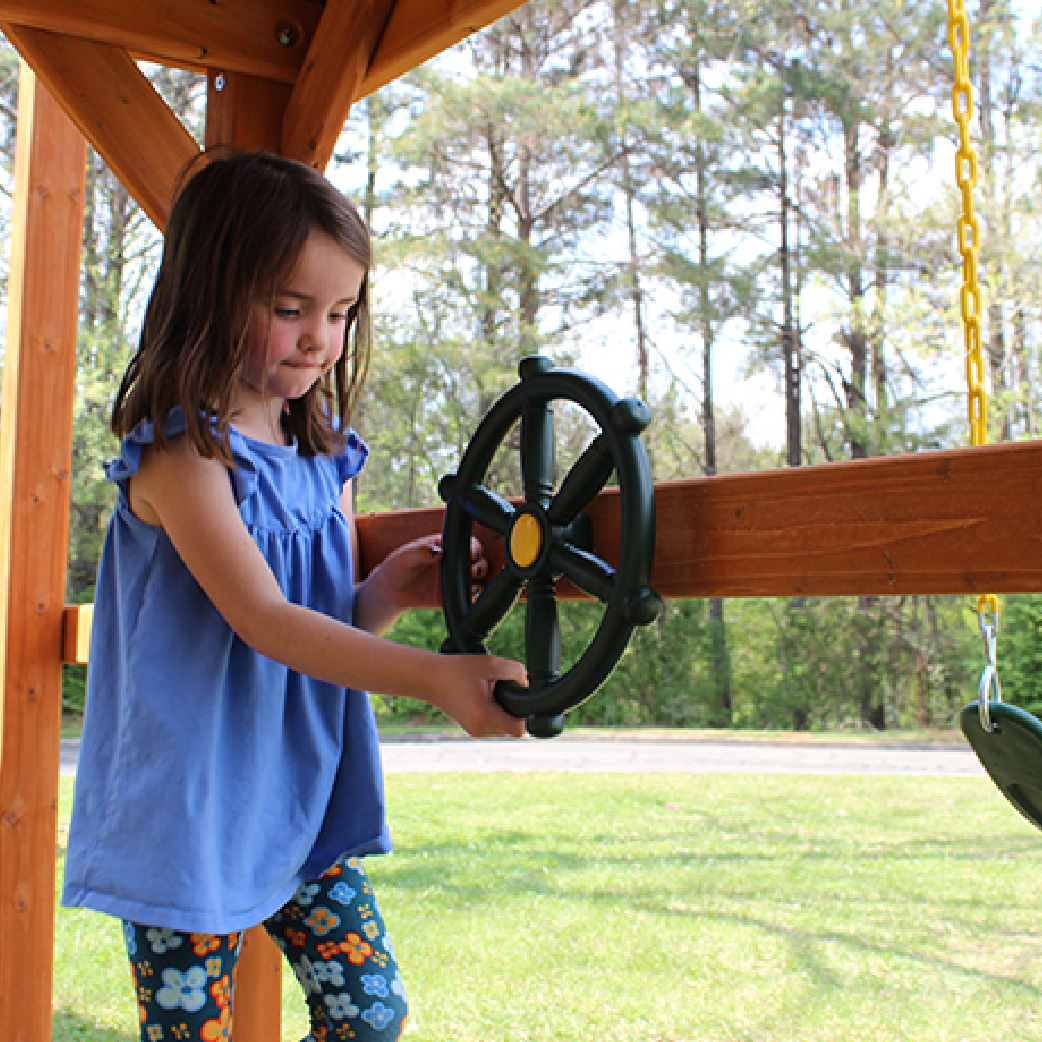 Pirate Ship Wheel
The pirate ship wheel can be attached to any playset. It's 12" in diameter and 2" deep. This accessory rotates at 360 degrees for a realistic feel. To ensure durability, the pirate ship wheel features a durable polyethylene design and mounting brackets for easy installation. It can withstand rigorous outdoor play without fading.
Gorilla offers all the mounting hardware necessary for assembly.
How the wheel enhance role-playing and storytelling during playtime:
The eye-catching design will instantly capture the attention of your kids. The intricate detailing invites the little ones to embark on an exciting adventure that sparks their imagination.
Your kid will enjoy endless hours of entertainment. This accessory encourages creative storytelling. For example, they can imagine they are commanding a spaceship or navigating high seas.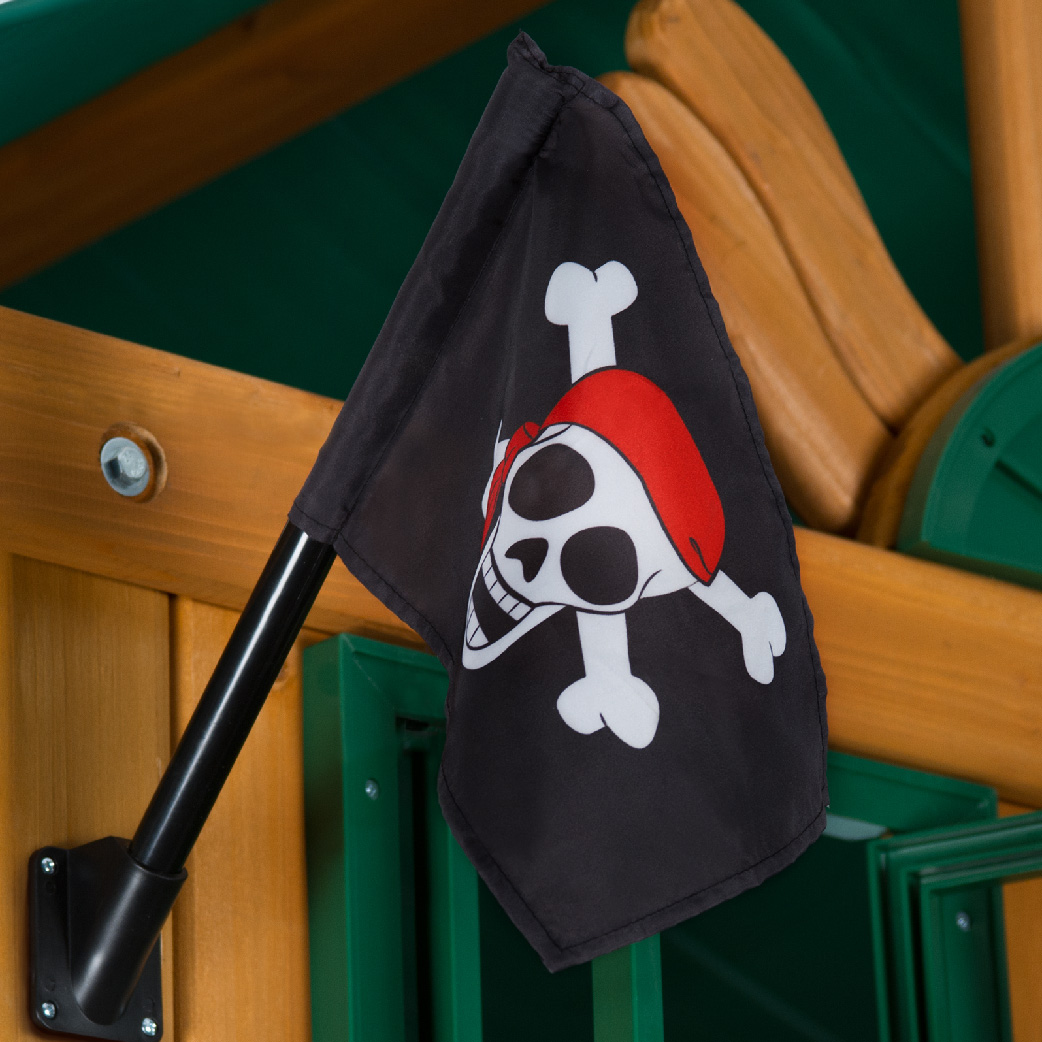 Pirate flag
The pirate flag attaches to the swing set using the four screws provided. The flagpole is 15" long.
The fancy monogram (skulls, skeletons, and bones) symbolizes a fearsome pirate ship. A perfect addition to imaginative play seekers and treasure hunters!
Mounting and caring for the pirate flag:
A private flag comes with a mounting bracket and a flagpole. You simply screw the bracket on a wooden surface. Flags must fly freely - avoid objects that can cause rubbing or tearing.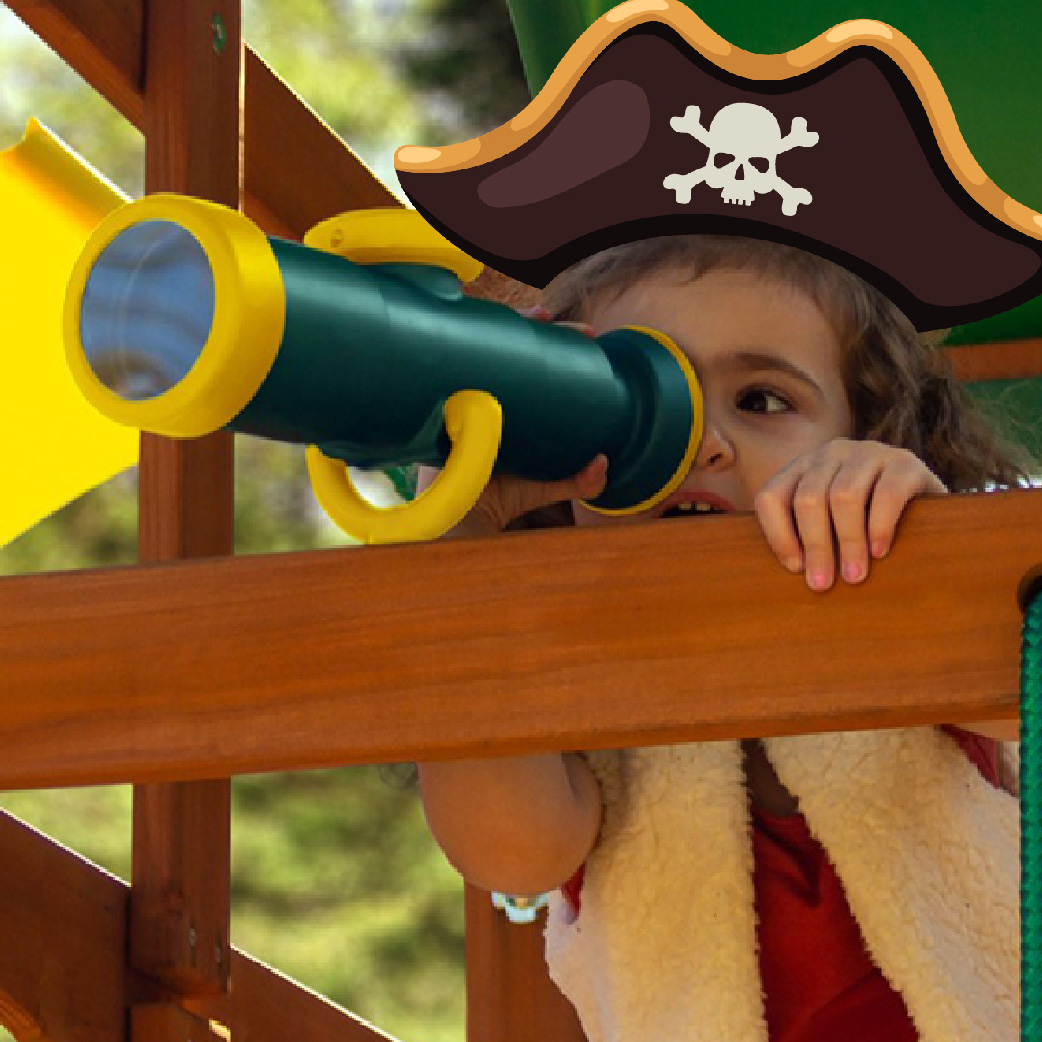 Telescope
A telescope is one of the most durable playset accessories. It's weather-resistant and meets the ASTM safety standards. Even better, it has a compass and rotates 360 degrees. The dimensions are 3.5" (width), 12" (diameter), and 3.5" (height).
Other signature details include clear lenses on each end and a polyethylene body. This playset accessory attaches to the deck's railing and two mounting brackets. It also includes hardware and mounting instructions.
How the telescope can encourage curiosity and imaginative play:
All pirates need a telescope! It allows them to learn about the universe from the comfort of your backyard. When kids hold telescopes, they can create and visualize stories.
How to install your telescope:
It takes a few minutes to install the telescope on a pirate ship. This accessory comes with the mounting tools you need. All you need is to screw it on a wooden surface - you must have a clear view.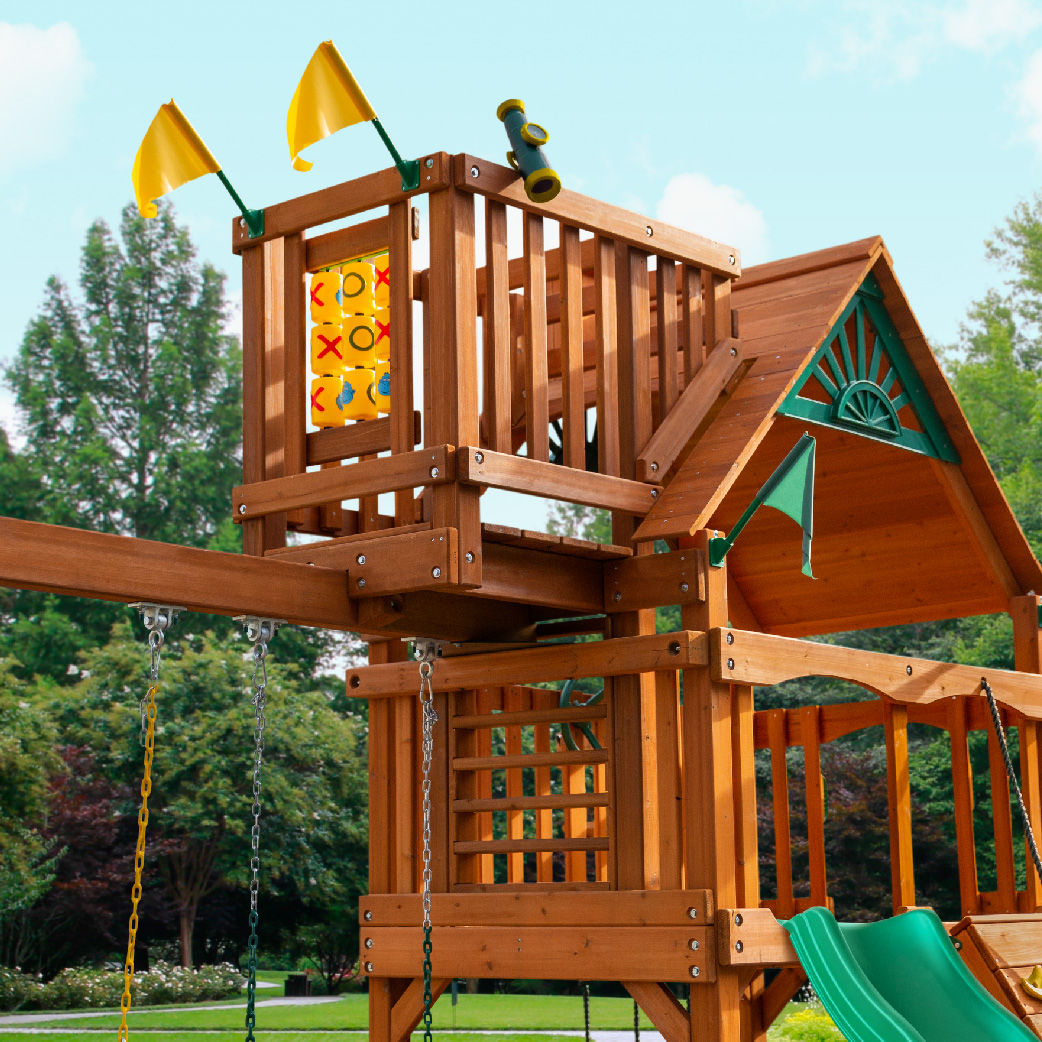 Sky Loft Upper Deck as a Pirate's Crow's Nest
There are many ways to use a sky loft upper deck. And because it's built at the main deck of the playset or in this case pirate ship, it makes the perfect pirate's crow's nest. The kids can use it for just about anything - from hiding, spying, or lookout.
Sky Loft Upper Deck doubles as a crow's nest. This position gives a wide field of view when on their adventures in their own imaginative world.

Benefits of Pirate Themed Play
The best swing sets offer many benefits like:
Encourages teamwork, creativity, and problem-solving skills:
Kids can spark out their imaginations on an ocean-themed adventure - how the crew members should cooperate to reach their destination. This is where they show their creativity like searching for treasures.
Think about it - learning takes place by engaging in memorable activities. With role-play, the children can build confidence and solve problems they find on the way. It's a fun way to learn how to handle day-to-day situations too. A gorilla playset can be personalized to add a special touch.
Engaging in physical activities:
At its core, outdoor swing sets allow the kids to build distinctive places and interact with each other. It also encourages creative play by building muscular strength and physical stamina. This can lead to a lifetime of healthy movement.
Other than that, the kids get united as they navigate the ocean waters. And because it's a unified play, they can connect with their schoolmates and other members of the community.
Engaging in physical Communication & Fine Motor Skills:
Kids can enhance their communication skills by sharing plans for the next course of action. By handling small objects, they improve their fine motor skills.
Engaging in physical Conflict Resolution:
If there are disputes on how to find treasure, the crew members can craft a plan to resolve them. The best swing sets bring a sense of independence.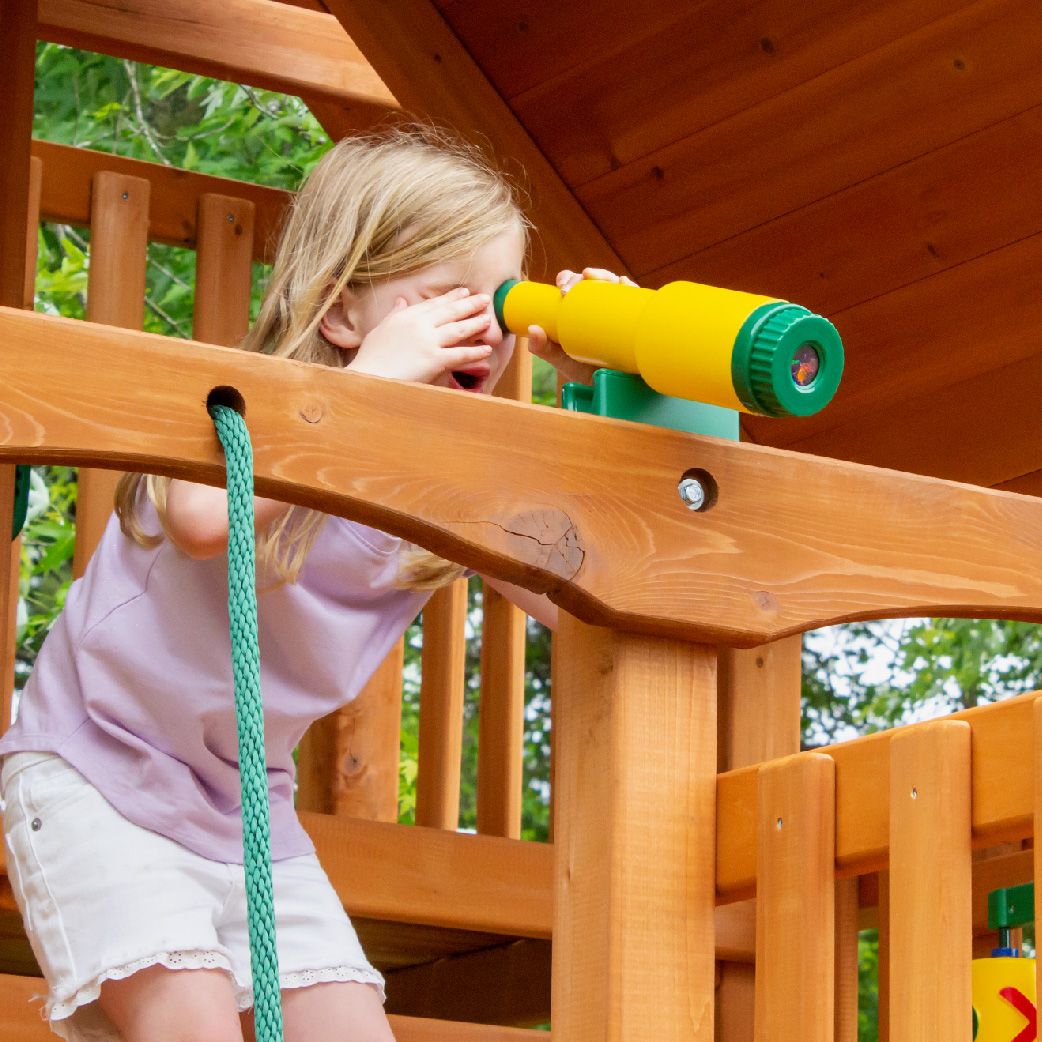 To sum it up
Gorilla allows you to transform your playset into a pirate ship and give your kids the freedom to enjoy thrilling adventures. Parents need to know the various components to help kids spark their imagination. That said, we encourage you to explore all components available on our website today! We have a wide selection of accessories - from a ship wheel, a private flag, a telescope, and so much more!
It's time you let your kids set sail on a private adventure with a Gorilla playset!