4 Easy Ways To Upgrade Your Playset
Jan 20th 2023
Does it get any better than having a backyard playset to provide healthy outdoor fun for your children? Hardly so! There is plenty of fun for parents and grandparents who decide to purchase a playset after their kids or grandkids reach a certain age. However, as children get older, certain adjustments and upgrades will make sure the little ones in your family still have tons of fun and face a few challenges to better develop their cognitive and motor skills. In fact, upgrading your set to match your kid's needs isn't hard at all. Children won't believe how fresh their outdoor playset they've loved for years looks if you manage to make a few affordable changes here and there. We're talking about action-packed accessories, faster slides, and stronger swings amongst other things. These new accessories and games will unlock tons of new fun for the little ones in your family. If you follow that guide, you'll be able to customize your playset and continue to provide engaging options for your kids to have a blast while they stay outdoors. It's all about choosing one backyard swing set and upgrading it as kids grow. Are you looking to change things up in your backyard playset? There's no need to worry! We have everything that you need down below.
Different Swings
The foundational piece of your playset is the swing. Almost every set we build has one because it offers countless hours of fun. Of course, there are different swings for different children. When kids start to get bigger, you'll need swing set seats that match them. Fortunately, we've always had that little information in the back of our heads when designing our swings. That's why you'll find adjustable swing hangers in our playsets. You'll easily switch and attach different swings to them! It doesn't matter how young or old your kid is: you'll always have the right length and size. For instance, our Basic Swing Set is perfect for providing that timeless swinging action kids love and can be easily customized. With two classic belt swings and a trapeze bar, it's enough for children to have tons of fun - but you can always upgrade it to something wilder! Something like the Tire Swing, the Stand-N-Swing, or the Buoy Ball. These all provide that next level of excitement older kids crave while also being super safe. The possibilities are endless!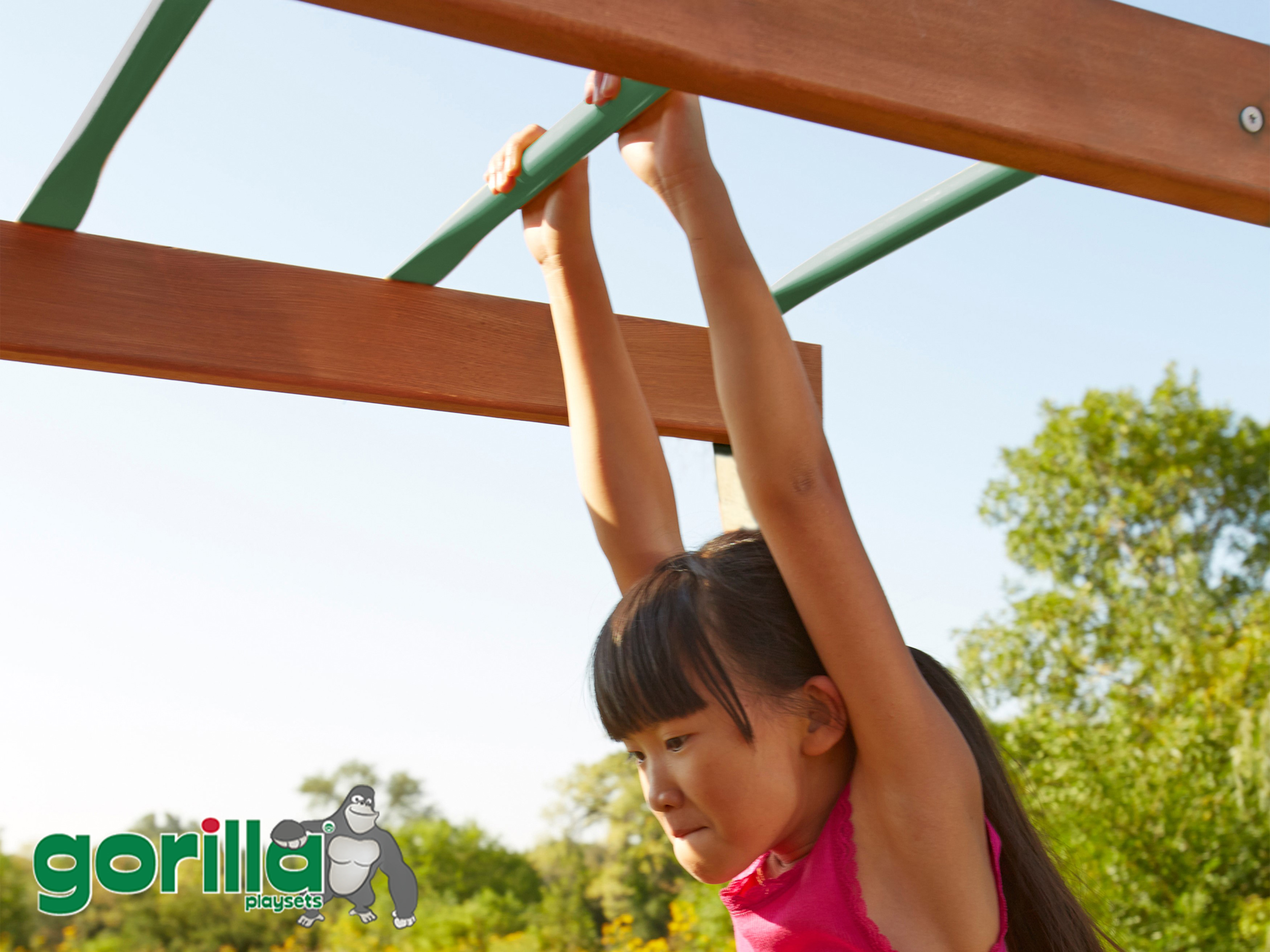 Monkey Bars Add-On
However, swings aren't the only way for kids to have fun and grow. We have plenty of goal-oriented accessories to improve your kids' athleticism, helping them have healthy fun outdoors. Take a look at our Monkey Bars add-on for playground sets. It's a classic option in most playgrounds for a reason: it's fun, provides a great workout, and helps develop motor skills. What's the best part about them? There's no need to feel you're exercising when you're using them! You'll see how your kids and their friends get around the monkey bars and have tons of fun, turning this experience into a game. It's the perfect combination between playing and exercising that helps children release energy and relieve stress. There's a freshness aspect to monkey bars too: having the same backyard playset will make kids get used to it, but it will look brand-new once you add a shiny set of monkey-bars.
Different Slides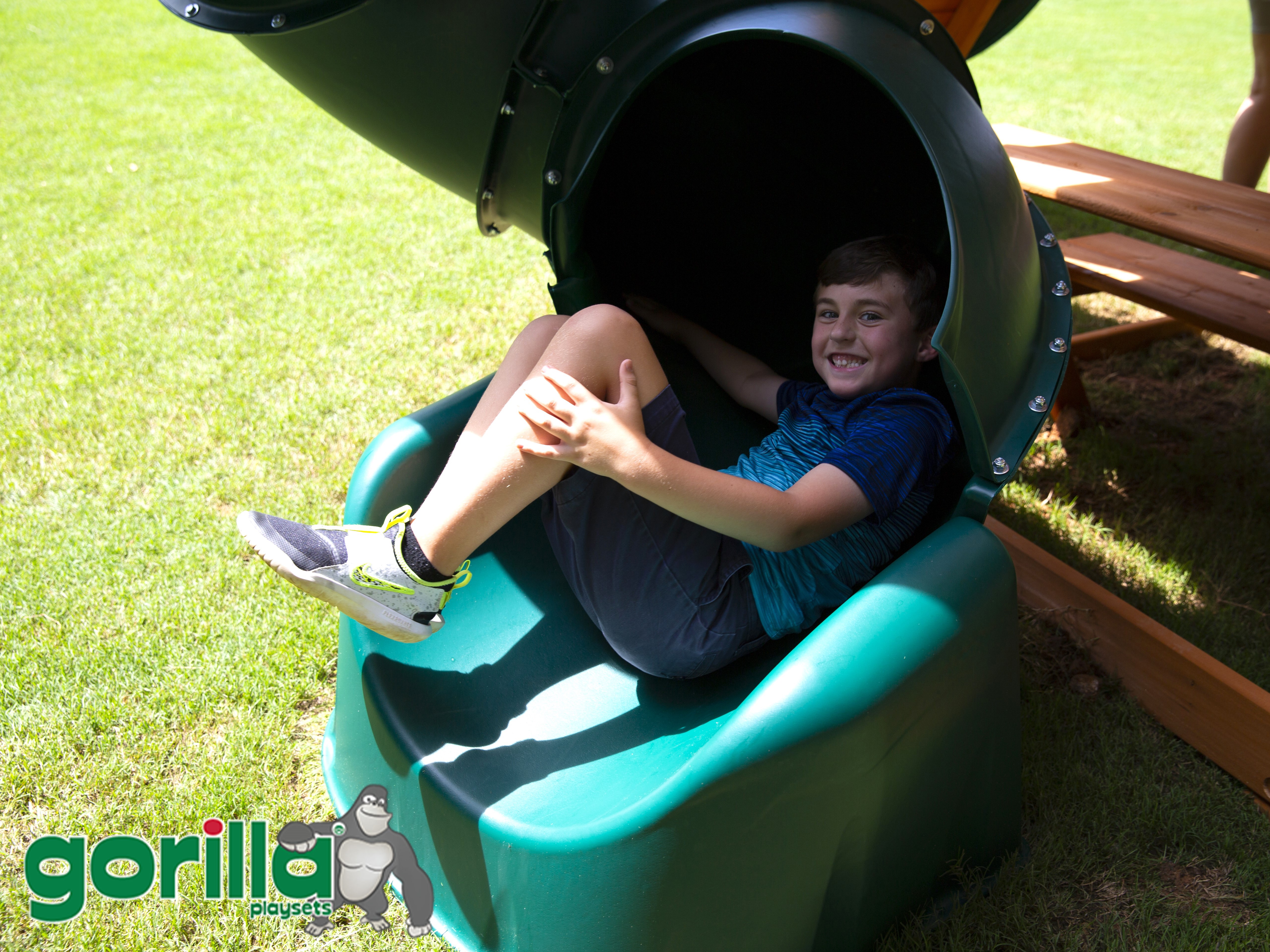 We've talked about swings and monkey bars - but we're missing a central piece of the outdoor play experience: a playset slide! Children get to experience where speed meets fun when they're sliding down and having a blast. Most kids love this activity, so they rush to get on top of the play set, slide down, and get back up again. It's a never-ending source of fun! It doesn't get any better than adding a slide if your kids are starting to get bored or you want to surprise them with something incredible. Of course, not all slides are made equal. You need to get something that's perfect for your kids. Do you have a hard time picking a slide? We have what you need: our Extreme Tube Slide will be the perfect new piece in your playset. It adds a unique touch to any wooden playset with a confidence building twist! Or you can go with the Alpine Wave Slide for some sliding action with smooth motion. Your kids will love feeling like they are riding a wave with the gentle hump in the middle. However, that's only the tip of the iceberg as we have tons of options to fit any age group and confidence level.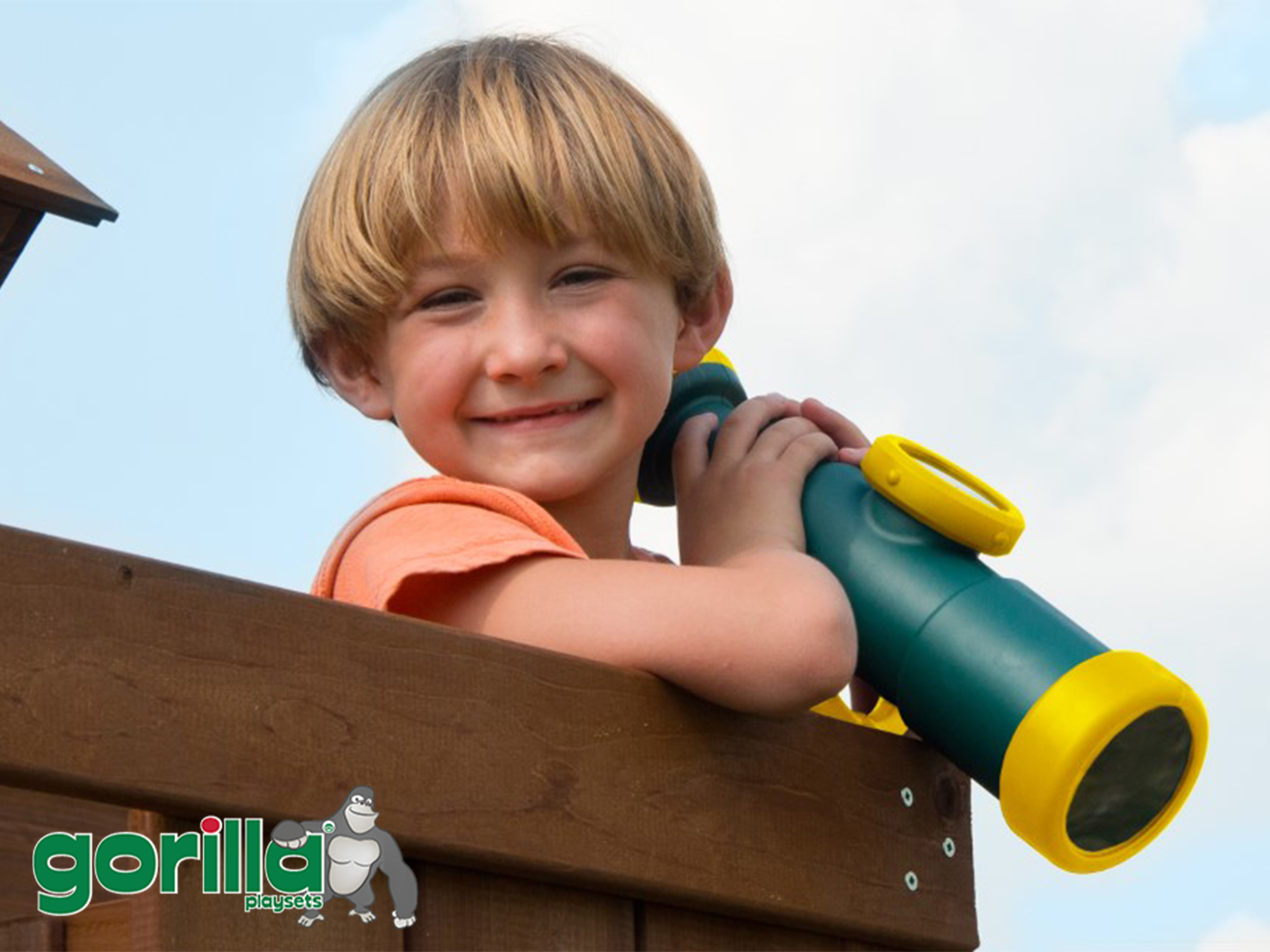 Sky Loft Add-On
Looking for new playset accessories is more than browsing for and exciting activity. Sometimes what kids really crave is a whole new way to experience their backyard playsets. Older kids need more challenging and exciting outlets for their energy. They also need outlets for structured and imaginative play. Are you looking to add a game-changer that will cover everything we have talked about above? Take a look at our Sky Loft Add-On: it's a whole new tower you can add to your play structures. It's one of the biggest and boldest investments you can make for your backyard - and the best addition to make your playset look brand-new. Providing a safe, raised platform and extra play space, it's the perfect place for kids to let their imaginations run wild or follow instructions when it's time to play a game. This tower comes with a tic-tac-toe panel, a telescope, a compass, flags, and more to keep the outdoor adventure alive.
Upgrade Your Set Today!
Your playset is an investment that'll amplify your little ones' fun and backyard adventures. Many parents and grandparents choose to purchase one for their kids and grandkids because it gives them a safe outlet for outdoor fun right in their own backyard. Kids need different stimuli as they grow older - and your playset is no exception. However, by following the simple tips we've provided turning your backyard playset into something truly amazing will be a breeze. Are you ready to make a few changes to your playset? At Gorilla Playsets, we're here to help. You can pick one of our sky lofts, slides, swings, and monkey bars for kids to have a blast. Do you need help picking one or several? Contact us and we will be happy to help!